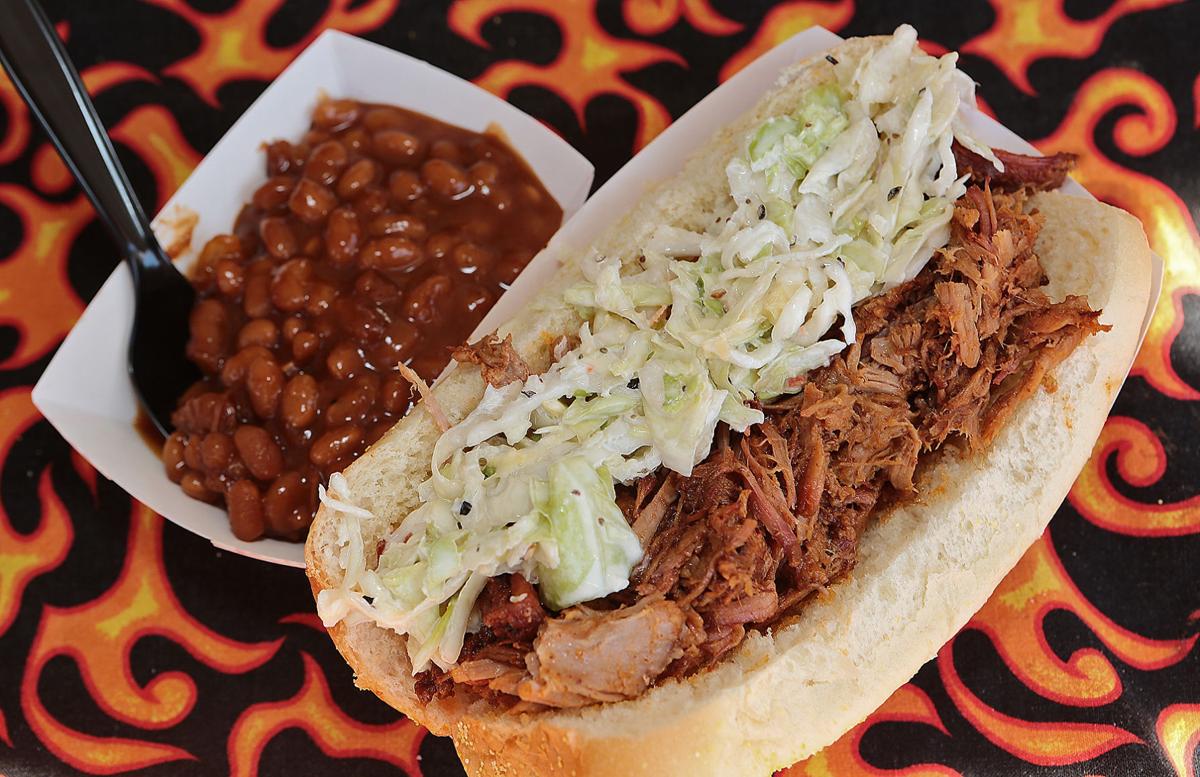 If you care about this lovely city of gastronomy, there has never been a more important time to support its culinary scene.
No doubt you've heard the small talk: restaurants emptying out, managers seeing up to an 80% drop-off in customers, and now, a city-mandate to close dining rooms, forcing restaurants to offer drive-through service or takeout only.
Restaurants already work off insanely thin profit margins, but the COVID-19 pandemic is a test like no other.
If this trend continues, many of our beloved Tucson restaurants will not make it.
Over the last week, restaurants worked to put in place new sanitation strategies — moving to paper menus, getting rid of table condiments, putting out hand sanitizer for customers, and changing seating arrangements for social distancing.
However, those plans were dashed Tuesday, March 17, when Tucson Mayor Regina Romero announced that dining rooms, along with bars, food courts, gyms and "other venues where groups of people congregate" within city limits would be closed until at least the end of the month.
The restrictions do not apply to drive-thru service or takeout. Businesses outside of city limits are not under Romero's jurisdiction.
Romero said the decision was made with the city of Phoenix, which also is limiting restaurants to take out-only. Flagstaff has also announced restaurants will be to-go service only, according to the Associated Press.
Here are three major ways you can support restaurants through this tough time.
Even if you can't go inside certain restaurants, you can still order takeout or delivery from Grubhub and other delivery services. Over the next few weeks, we'll see restaurants all over town upping their takeout games with curbside pickup and new delivery options.
Tip, even for takeout, whether it's to the restaurant directly or the delivery person. They're going to need it.
Consider buying a gift card and using it later, when the coronavirus scare blows over.
We've put together a list of places with reliable take-out situations. We've also broken down food delivery companies, telling you what makes them unique and which local restaurants they work with. And at the bottom we have a few places you can buy gift cards.
As the situation evolves, restaurants might change their policies. The list will continue to be updated at thisistucson.com online.
Local restaurants that are doing takeout
BrushFire BBQ Co.
Two locations at 7080 E. 22nd St. and 2745 N. Campbell Ave. brushfirebbq.com
In addition to working with food delivery services like Postmates, Grubhub and DoorDash, this barbecue joint also does takeout. The restaurant offers a variety of barbecue options, including smoked brisket, pulled pork and shredded chicken meals. The meals are paired with locally baked bread and made-from-scratch sides.
Welcome Diner
902 E. Broadway, facebook.com/welcomedinertucson
The Phoenix-based diner will also do takeout, and is adapting its menu as the coronavirus crisis plays out. We love their fried chicken sandwiches, but they also make a mean mac and cheese. You can also purchase a gift card over the phone; they will mail it out to you.
Ghini's French Caffe
1803 E. Prince Road, ghiniscafe.com
The French bistro posted an update on Facebook over the weekend, saying they're happy to pack up their food to go, with a picture that reads, "Buy local or bye-bye local." The post says: "We at Ghini's French Caffe have been blessed with your loyalty and love for over 27 years, THANK YOU! ... We continue to serve our excellent food from our hearts."
Renee's Organic Oven
7065 E. Tanque Verde Road, reneesorganicoven.com
East side bistro Renee's Organic Oven was ahead of the city, announcing on Facebook that it was closing its dining room and becoming a takeout-only operation. Orders must be placed over the phone ahead of time, and can be paid for with credit cards. "In response to the coronavirus and it's known rate of transmission, we are taking a huge step in limiting our operation to support and encourage social distancing as our best defense," the post reads. The restaurant is also offering a "comfort food special" of grilled cheese and tomato soup for $12.
The Cup Café and Maynards Market and Kitchen
311 Congress St. and 400 N. Toole Ave. hotelcongress.com
The Cup Café and its sister restaurant, Maynards Market, are offering their full breakfast and lunch menus, paired with 10% off their to-go orders. The Cup Café also has a limited dinner menu available to-go. The purchase of a $100 gift card through Hotel Congress and Maynard's comes with an additional $25 when you purchase online at tucne.ws/congresscard.
El Charro family restaurants
Flores Concepts, the owners of El Charro and its sister restaurants Charro Steak, Charro del Rey and Charrovida, announced its offering a 10% discount on all carry-out orders until May 1. The restaurant family is also busting out a limited delivery service for small group orders of at least $100. Deliveries must be within 3 miles of the location and need a minimum-two-hour advance notice.
Other options
A quick list of other popular takeout and meal prep restaurants in Tucson includes Roma Imports, Chef Chic, Tony's Italian Deli, Za'atar Mediterranean Restaurant, Urban Pita, Beyond Bread, Empire Pizza, Choice Greens, Jun Dynasty, Sher-e-Punjab, Miss Saigon, AZ Fit Kitchen and Stay Naked Kitchen.
Food delivery services
Please note that many of these companies extract hefty fees from the local restaurants they work with. So if you want your dollars to go the furthest, your best option is to do takeout directly from the restaurant. But these services do make it easier for all of us, and that's nothing to scoff at.
Onda Güey
This locally owned courier service has been in operation since 2014, and its services go beyond simple food delivery. You can use it to send out your laundry, process bank deposits, grab your pharmaceuticals and more. Onda Güey works directly with more than a dozen local restaurants, but will also deliver from other restaurants upon request. Their partners include: Urban Pita, 1702, Boca, Urban Fresh, The Taco Shop Co., Beaut Burger and more.
Information: You can head to their website ondaguey.com, or download their app from The App Store or Google Play.
Grubhub
National food delivery service Grubhub announced that it's waiving up to $100 million of commission fees for local restaurants that are hit hard by the coronavirus pandemic, writes the New York Post. This is very important, because these fees add up when restaurant profit margins are already slim. The website claims to have 1,773 different food options in Tucson, including: Kababeque Indian Grill, Goodness, Thuan Kieu Vietnamese Restaurant, Guadalajara Original Grill, El Güero Canelo, Za'atar, Charrovida and more. It also offers free delivery for first-time diners.
Information: Order from their website grubhub.com, or download their app from The App Store or Google Play.
Uber Eats
Uber's food delivery service is touted for its reliability and large range of options in Tucson and across the country. The app also has a function where you can send messages to your delivery drivers, allowing for contact-less delivery. They are currently running special offers on: Fish Wok, Mian Sichuan, Alibaba, Urban Pita and more. You can also order from Postino, Cafe Desta and Graze burgers.
Information: Go on their website ubereats.com, or download their app from The App Store or Google Play
Doordash
Customers are able to leave instructions for drivers in the app, allowing for contact-less delivery. This service touts 543 Tucson restaurants, including Inca's Peruvian Cuisine, Barista del Barrio, Miss Saigon, Beyond Bread, Seis Kitchen, Calle Tepa, Papa Loco's Tacos and Burgers, BrushFire BBQ and more. There are no delivery fees on the first order.
Information: Order at their website doordash.com, or download their app from The App Store or Google Play.
Postmates
This delivery service pays its drivers more per hour than other leading apps, according to a recent article in entrecourier.com. This San Francisco-based company works with local restaurants like Jun Dynasty Chinese restaurant, Tumerico, Fuku Sushi, Sushi Cho, Empire Pizza, Jimmy's Pita and Poke Bowl, Miss Saigon, Za'atar, Trident Pizza Pub, and more. It recently introduced no-contact delivery options in its app. And the website claims to give new users $100 in delivery fee credits.
Information: Head to their website at postmates.com or download the app at The App Store or Google Play.
Restaurants offering gift cards
5 Points Market & Restaurant announced on Facebook that it's exploring new options like call-in orders, delivery and curbside pickup. You can also purchase a gift card over the phone by calling 520-623-3888.
El Charro family of restaurants offers gift cards that work at all its sister restaurants El Charro Cafe, Charrovida, Charro Steak and Charro del Rey. More information is available at elcharrocafe.com
The Tucson Originals network of restaurants offers gift cards of up to $200 on its website.
Restaurants include Bisbee Breakfast Club, Fiamme Pizza, Mama's Hawaiian Bar-B-Cue, Rocco's Little Chicago, Trident Grill, Fresco Pizzeria and Pastaria, The Dutch and more.
Concerned about COVID-19?
Sign up now to get the most recent coronavirus headlines and other important local and national news sent to your email inbox daily.