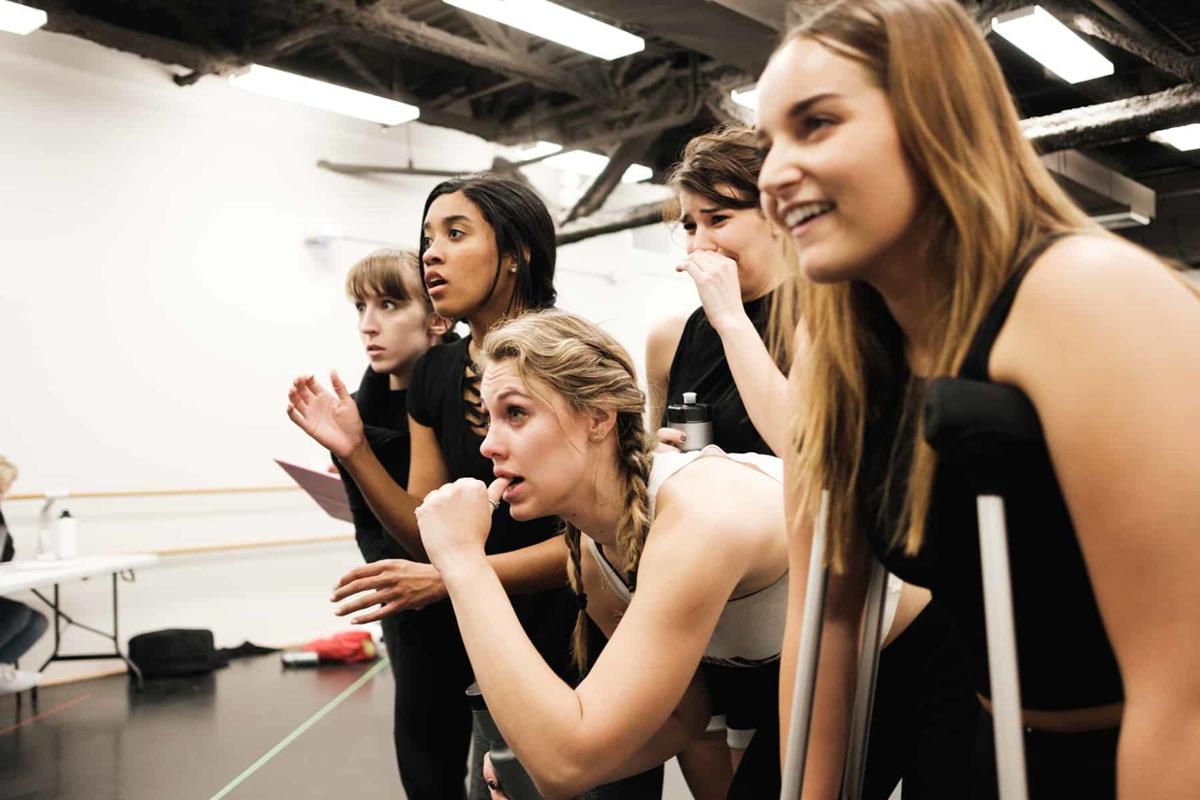 The painful angst, turmoil, questioning and exploring that mark one's teenage years blossom in Arizona Repertory Theatre's production of Sarah DeLappe's "The Wolves."
The Wolves is an under-17, all-girls soccer team. As the 90-minute, slice-of-life play opens, they are stretching on an indoor soccer field and talking over and to each other. Subjects include boys, menstruation, their often-drunk coach, the Khmer Rouge, genocide, and, yes, soccer.
There are no in-depth conversations; these girls talk with the urgency and inquisitiveness and faux confidence that define the mid-teen years.
The overlapping dialogue misleads one into thinking they are indistinguishable. But quickly, each girl establishes her own unique identity.
The coming-of-age play takes place over six games the often-winning team plays. With each scene, we learn more, feel more, get to know them and their insecurities and their pain.
The ensemble cast is, to the person, perfect. They are identified in the program by their jersey number, but the University of Arizona students kicking the soccer ball around the stage rimmed with netting and covered with AstroTurf give full life to their characters (kudos to scenic designer Ally Frieders).
To signal one out would be wrong; they were all equally strong. They are Eavan Clare Brunswick; Sophia Goodin; Vaune Suitt; Reagan Kennedy; Maggie McNeil; Paige Mills; Elana Rose Richardson; Lotus Rogers, and Lauren Vialva. Tucson actress Callie Hutchison has a small role, appearing late in the play.
Director Claire Marie Mannle directed with an affection for each of the characters and the play is imbued with such honesty that it is clear she remembers what being a teen was like.
At times it felt as though the playwright was determined to touch on every issue that could possibly haunt a teen girl. Among them: anorexia, sex, sexuality, pregnancy, immigration, injustice, death and how to win the next game.
It felt like an overload of issues, none of them explored in any depth. Then again, they are likely not explored in depth by teens, either.
Still, the play is a moving one, and this cast makes it vibrate with raw life.
Kathleen Allen covered the arts for the Star for more than 20 years.
Stay up-to-date on what's happening
Receive the latest in local entertainment news in your inbox weekly!