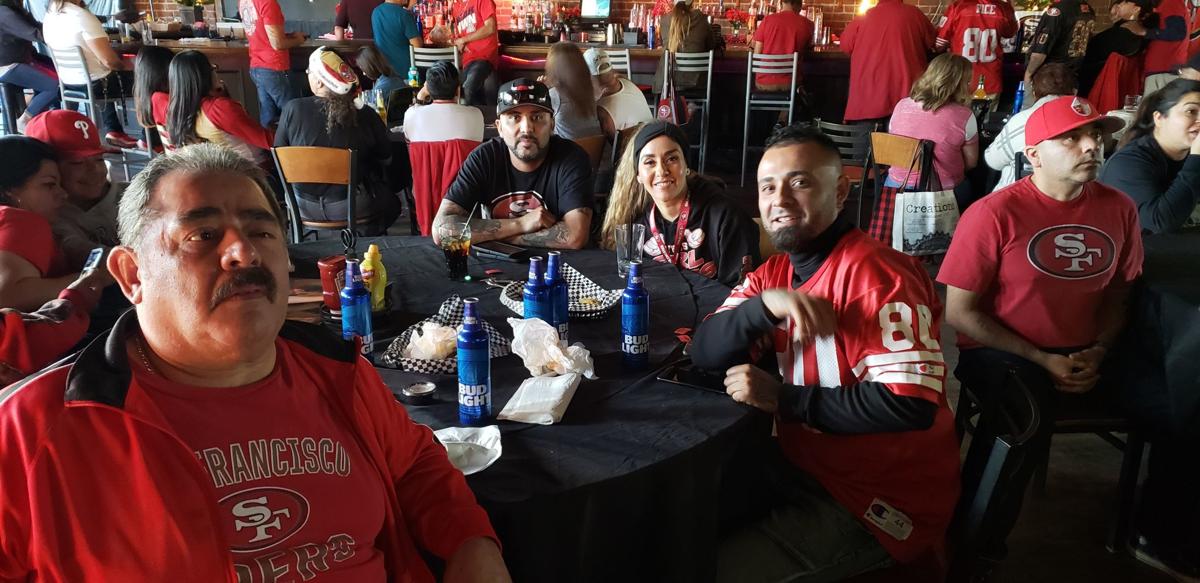 It's about 865 miles from Tucson to San Francisco, home of the National Football League's 49ers, and a whopping 1,239 miles to Kansas City, Missouri, home of the Chiefs.
But that's not stopping either team's most ardent fans living in the Old Pueblo from meeting up this Sunday, Feb. 2, to cheer on their respective teams.
While bars across the city are planning to air Super Bowl LIV, only a couple will serve as gathering spots for the teams' biggest supporters.
Fans of Kansas City will be heading to Home Plate Marana, 8579 N. Silverbell Road, to join Jose Monreal, founder of the Chiefs Kingdom — Tucson Facebook page.
Monreal said the group started holding Chiefs watch parties at the sports bar last year.
"We've tried other bars, but Home Plate has been very welcoming," he said.
Monreal said the space has a comfortable feel. There are numerous televisions, a game room, and, like the original Home Plate at 4880 E. 22nd St., batting cages.
If the game takes place in the morning, the bar offers its own menu, as well as a menu fromits sister restaurant Just Breakfast on Silverbell.
Monreal said their numbers are small but mighty and fluctuate depending on whether the game can be seen at home.
Monreal, a fan of the Chiefs since quarterback Joe Montana joined its ranks in 1993, said he regularly gets inquiries through his Facebook page from people visiting Tucson on where they can catch the game.
"We have people coming from Sierra Vista, Oro Valley, Green Valley," Monreal said. "We get a good turnout."
Monreal hopes to have fans out in force on Sunday. He is so excited about his Chiefs in the Super Bowl, he drove three hours from Omaha, Neb., where he's staying on business, to Kansas City over the weekend to pick up Chiefs giveaways for the Home Plate meet on Sunday.
The last time his team won a Super Bowl title was 1970.
"It is so great to know there is actually a solid following for the Chiefs in Tucson," he said. "I never knew it was so big."
Closer to downtown, the Tucson Chapter of the NinerEmpire will be setting up camp inside of O'Malleys Bar & Grill, 247 N. Fourth Ave.
Chapter president Bubba Avalos said the group has been gathering at O'Malleys for the last two seasons, after bouncing from bar to bar, places like Maloney's and the ill-fated Schrier's Sports Grill on East Sixth Street.
"O'Malley's offered us the back of the bar," Avalos said. "We have our own exclusive spot. It is perfect."
Avalos said the group has grown dramatically this past season. They know how to party, but keep it a family-friendly environment.
"People come to us after the games and thanks us for an awesome experience," Avalos said. "There are no issues."
The group is pulling out all the stops for Super Bowl Sunday.
There will be drink specials, raffles, giveaways and even a DJ, Avalos said.
Avalos said all Niner fans are welcome.
"There are no membership fees," Avalos said. "You come down and hang out with us. We get to know each other. Then you become part of our 49er family."
Stay up-to-date on what's happening
Receive the latest in local entertainment news in your inbox weekly!