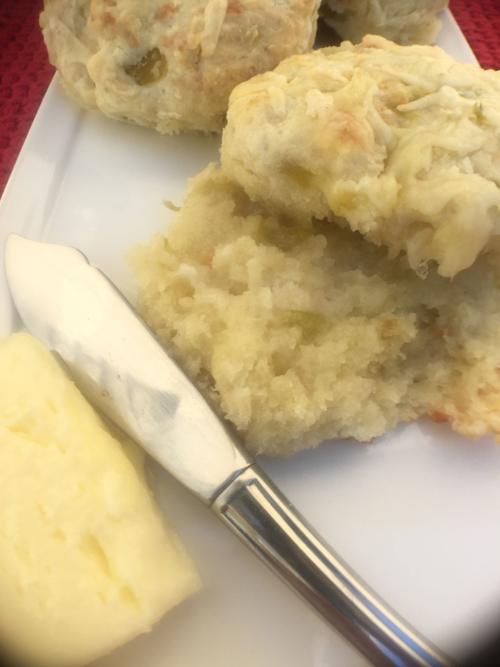 Sometimes a simple supper is in order. But simple doesn't have to mean dull.
If your menu includes a soup or salad for supper, or maybe plain baked fish or chicken, these chile-cheese biscuits will glam things up a bit. They're quick and easy to make, and you may already have everything you need on hand.
Here are some tips to make your biscuit ventures a perennial success.
Tucson's many carnicerias often keep lard in stock, and it's superior to the lard-in-a-block that you can find at grocery stores because it's not bleached. If you're really fortunate, you'll find lard from pastured pigs, particularly at farmers markets. I like lard for baked goods because it gives an especially tender crumb, and in cooking because lard has a higher smoke point than vegetable shortening, butter or oil — you can heat it to a higher temperature before it begins to denature. That's one reason why Southerners make such good fried chicken: It was traditionally fried in lard.
If you've steered clear of lard because you think it's bad for you, you may be interested to learn that lard has less saturated fat, and more monounsaturated fat, than butter.
Most of lard's monounsaturated fat is oleic acid, one of the compounds that gives olive oil its health halo, and lard has nearly twice as much oleic acid as butter.
Lard from the supermarket, while satisfyingly snow white, looks that way for a reason: It's been bleached in processing. That processing also includes washing with a variety of chemicals to remove impurities. It's just my preference but I'd rather have "impurities" than chemicals any day.
I don't use vegetable shortening in my kitchen for one simple reason: It is, by definition, hydrogenated — processed with chemicals to make it solid at room temperature. Hydrogenated oil is not our friend health-wise.
I will make biscuits with lard if I have it in the house, and with butter if I don't have lard. Vegetable-based margarines aren't an option, in my opinion.
Choose self-rising flour for biscuits if you can, for a couple of reasons. One is that it makes putting a batch of biscuits together even faster.
But the other reason is one that you may not know: Self-rising flour is typically made from "soft" — meaning low-protein — Southern wheat, which means it is less likely to develop the elastic gluten strands that we want in yeast-risen breads, but not in quick breads. Thus, lower-protein flours make more tender biscuits than those higher in protein.
Still, if all you have on hand is all-purpose flour, I've given directions here on how to make your own self-rising flour. It takes just a moment.
Choose a lively pepper jack type cheese, or a blend of pepper cheeses, for this recipe.
You certainly can make them with a blander mozzarella cheese, but in that case add as much as one-half teaspoon cayenne or a liberal amount of freshly ground black pepper to bring the biscuits to life.
I'll always reach for hot Hatch chiles if I have them on hand. These little biscuits are also good, however, with a blend of rehydrated ancho chiles, seeded and diced, and fresh jalapenos, also seeded and diced.
Use buttermilk if you have it to make these biscuits, but if you do, add one-half teaspoon baking soda to counteract buttermilk's acidity. Otherwise "sweet milk," which is the old name for what we just call milk these days, is fine. Please use whole milk, rather than skim or 2%, for this recipe. Half-and-half works, too; its higher fat will make your biscuits even more tender.
I typically make more biscuits than I need for a single meal. I like cold biscuits, but if you don't, place the remaining biscuits on a plate and cover with a lightly dampened paper towel or kitchen towel. Microwave for a minute or two until the biscuits are hot.
Chile-cheese biscuits
Fast and easy, biscuits are the mealtime solution when lunch or supper would be otherwise lacking in interest. With a simple soup or salad, or to squire an egg-based meal, these biscuits add the grace note that takes a meal from mediocre to marvelous. They are especially good with sausage gravy as well.
Ingredients
2 cups self-rising flour (see note below)
5 tablespoons butter or lard
1 cup grated pepper jack or a blend of grated pepper cheeses, plus additional for sprinkling (optional)
¼ cup diced roasted chiles
About 1 cup milk or half-and-half
Preparation
Preheat the oven to 400 degrees. Line a baking sheet with parchment paper.
In a medium bowl, combine flour and butter or lard. Using your fingers or a pastry blender, rub the fat into the flour until the pieces are pea-sized. Stir in grated cheese and roasted chile.
Little by little, add the milk, using a fork to stir the mixture. Stop adding milk when the mixture forms a cohesive dough. Tip the mixture out onto a well-floured board and knead five or six times. Pat the dough into a one-half-inch thick rectangle. Use a biscuit cutter to cut out biscuits and place, with sides touching, on the baking sheet. Gather scraps into a half-inch shape and repeat. Discard remaining scraps. Sprinkle the biscuits with a little additional cheese, if desired.
Bake the biscuits for 14 to 16 minutes, or until golden. Serve warm with butter.
Note: If you don't have self-rising flour on hand, make your own for this recipe by combining 2 cups all-purpose flour, 1 tablespoon baking powder and ½ teaspoon salt. Whisk to blend thoroughly before proceeding with the recipe above.
Robin Mather is a longtime food journalist and the author of "The Feast Nearby." Follow her blog as she writes her third book, "The Feast of the Dove," at thefeastofthedove.com.