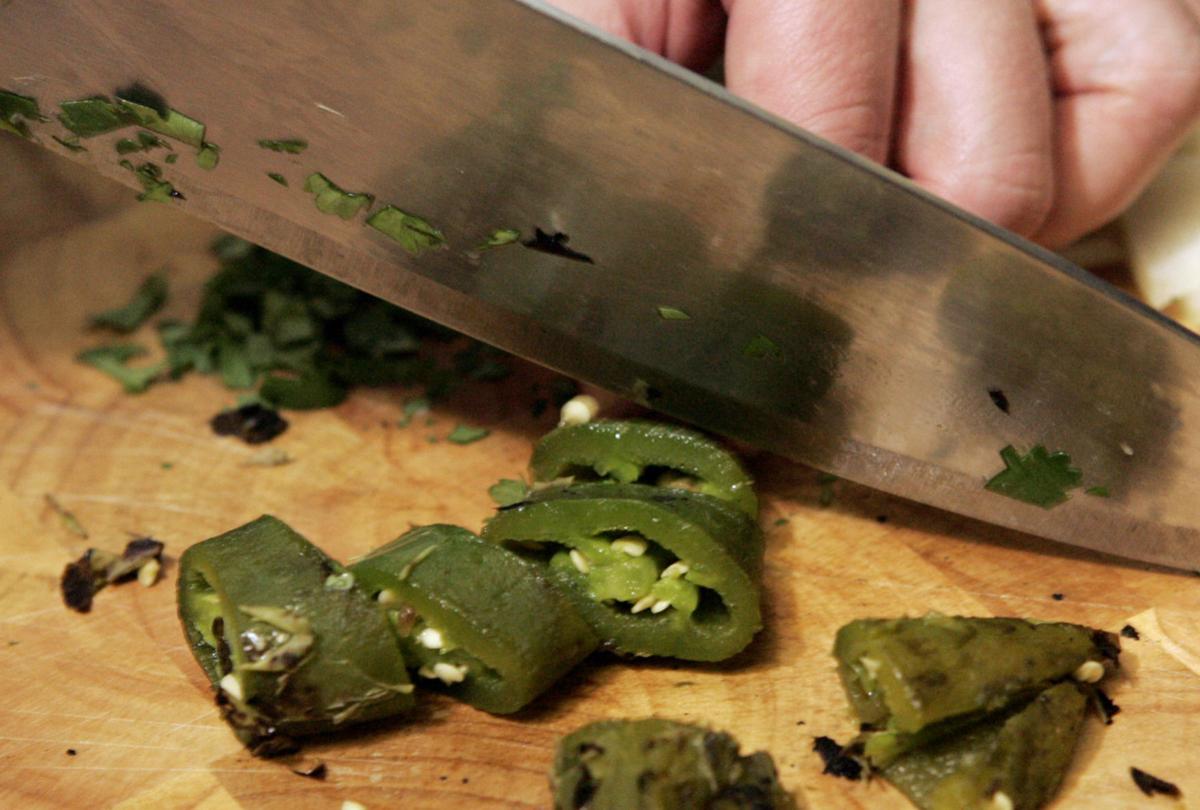 Are you having your groceries delivered? I am, and while I'm grateful for the service, it's always kind of a crap shoot.
Nope, no flour available at this time. And no, no bread, so sorry. Nope, our advertised special on tri-tip roast isn't available, so we're substituting a much smaller sirloin tip roast. Nope, no Parmesan so we're substituting shredded Mexican cheese.
Each delivery is like a crazy Christmas, where some of the gifts are just what you wanted and others, well, not so much.
These are times when it pays to be adaptable, both in general and in the kitchen.
I needed something to go alongside some gazpacho made in anticipation of this week's soaring temperatures, something that would make the chilled soup seem more substantial and filling.
But with less than a pound of flour on hand, what could that be?
With my plans dashed for a garlicky loaf with olives and lots of rosemary trimmed from the bush outside the front door, I surveyed the pantry and realized I had another solution available.
But the classic Italian version — with Parmesan and olives — was out of my reach since I had neither.
Once again, adaptability saved the day. My pantry continues to be well-stocked with Southwestern ingredients, so it seemed natural to make a sort of Sonoran version.
Roasted poblano, serrano and jalapeño chiles could top it, I figured. And gee, I had that package of shredded Mexican cheese on hand. To complement those flavors, adding cumin and chipotle powder seemed logical.
The classic Italian rustic bread makes use of a lot of yeast and a short rise, so it's ready quickly. Its flavor will depend on the quality of its ingredients, so use good olive oil if you have it. It doesn't have to be extra-virgin olive oil, though.
I'm a little bit of a renegade in that I rarely use extra-virgin olive oil in cooking because high cooking temperatures degrade it. I save the extra-virgin for salad dressings and reach for a flavorful plain olive oil when I plan to use it in cooking.
Leave out the seasonings and you could use this dough for pizza crust if you wish. The quantity in the recipe below would make two crusts, and you can freeze the extra dough easily. Just allow it to thaw completely at room temperature before putting it to use.
Because I had a virtual vat of gazpacho ready, I decided to use the full recipe to make focaccia. Twelve servings is a lot for a small household, though, so I figured I'd stash about half of the finished bread in the freezer for another time.
For my purposes, this was just the ticket. Another time, I might treat this almost as a pizza and add more toppings, depending on what I had on hand. Leftover machaca? Sure, why not? Cooked chorizo? That would be good. A few diced tomatoes, a scattering of diced onion, and voila! Another good supper on the horizon.
Now I just have to figure out how to use that sirloin tip roast. At 1 ½ pounds, it's too small to roast. If you have ideas, feel free to email me.
Sonoran Focaccia
Classic focaccia is a rustic bread made with quite a lot of yeast and a single short rise.
Because the dough itself doesn't have time to develop complex flavors through a long fermentation, it's common to add herbs and seasonings to the dough to give it a flavor boost. If you have them on hand, chopped good olives, tomatoes and onion can also go atop this bread before you cover everything with cheese. I like this as a side to gazpacho or chili.
Ingredients
1 tablespoon active dry yeast
1 teaspoon cumin (toast first if using seeds)
1 teaspoon chipotle powder
3 tablespoons olive oil, divided use
3 poblano, jalapeño or serrano peppers, seeded and chopped
1 cup shredded queso Oaxaca or mixed Mexican cheeses
Preparation
In a large bowl, stir together the flour, salt, sugar, yeast, garlic powder, oregano, basil, cumin, chipotle powder and pepper. Mix in 1 tablespoon olive oil and water. The dough may be shaggy.
Tip onto a lightly floured surface and knead until smooth and elastic, about 10 minutes. Shape into a ball. Wash and oil the bowl that the dough was mixed in. Place the dough into the bowl, turning to coat all sides with oil.
Cover with a damp cloth and allow to rise in a warm place for 20 minutes — I set yeast doughs into a turned-off oven with the light on.
Preheat the oven to 450 degrees. Oil a rimmed baking sheet or line it with parchment paper. Punch the dough down and place it on the baking sheet. Pat it into a rectangle about half-inch thick. Use your fingers to make dimples all over the surface of the dough. Brush the dough with the remaining 2 tablespoons oil.
Scatter the chopped peppers over the surface of the dough, and then scatter the shredded cheese over the surface.
Bake for 15 minutes or until golden brown. Cut into squares and serve warm.
Robin Mather is a longtime food journalist and the author of "The Feast Nearby." Follow her blog as she writes her third book, "The Feast of the Dove," at thefeastofthedove.com.