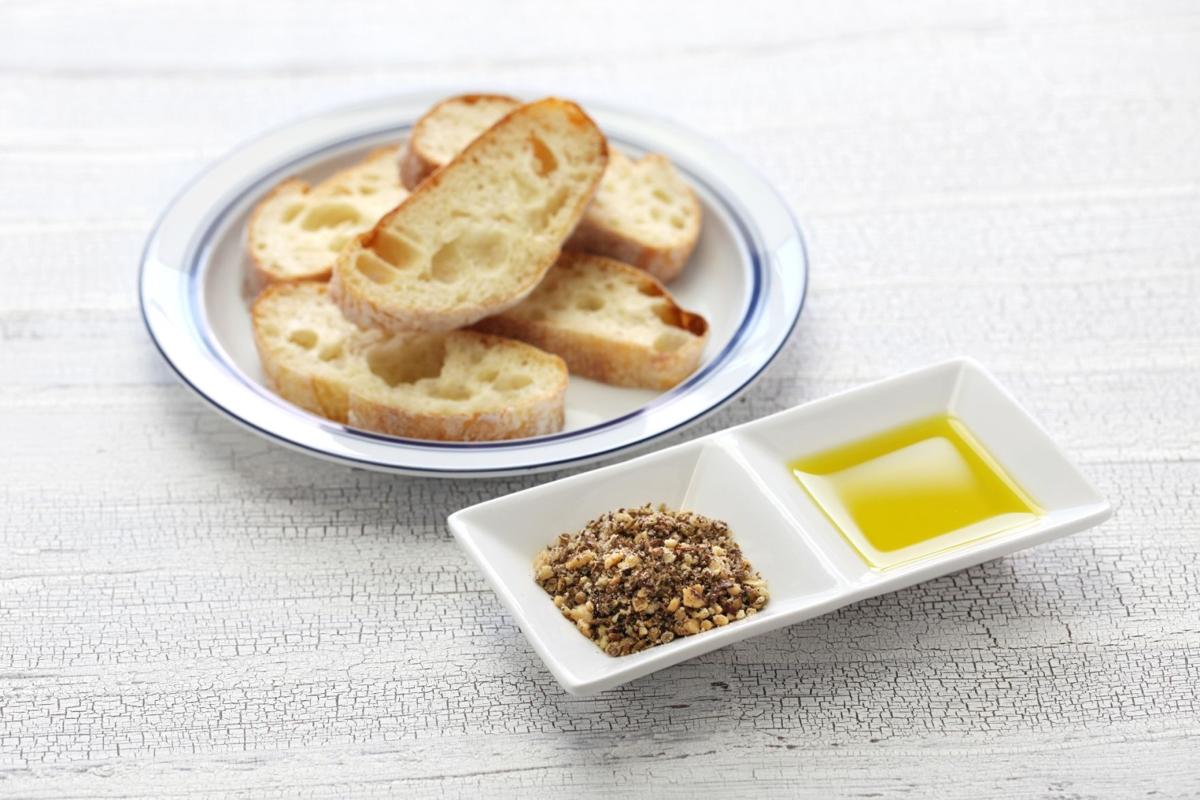 There is so much similarity between Mediterranean eating customs and our own. And why wouldn't there be? The foods that grow well in the Mediterranean crescent also grow well here because our climates are essentially the same.
Thus, the Mediterranean love of nuts and spices feels familiar to me. After all, we grow a lot of nuts here in Arizona, from pecans and pistachios to pine nuts.
The culture of snacking there and here also resonates with me. I'd much rather sit with a plate of mezze, the little bits and bites that the Spanish call tapas, than settle in for a meat-and-three-veg typical American meal — especially when it's blistering outside. Light and bright, the little bites sooth an edgy appetite without overloading the tummy.
This week, while tidying the pantry, I found myself with the remainders of several bags of Arizona-grown nuts. I immediately thought of dukkah, the Egyptian toasted nut-seed-spice mixture that's used as a dip for bread and olive oil. While the Egyptians typically use hazelnuts, I've made dukkah with all kinds of nuts, including a mixture of whatever's on hand.
In this case, I had pine nuts, pecans and pistachios. I also had on hand some hulled sunflower seeds and some hemp hearts. From the spice cupboard, I dug out sesame seeds, ground coriander, red chile powder from the San Xavier Co-op, ground cumin, and salt and pepper.
Now, I'm going to confess something here. A true Egyptian version of dukkah would start with whole spices. These would be toasted in a dry skillet, and then ground. The aroma and flavor of the freshly toasted spices perfumes the kitchen and makes the simple dish into something sublimely sensual. I've certainly gone to that trouble when making dukkah in the past, especially if I planned to serve it to guests.
But in my pandemic kitchen, what I had on hand were ground spices, and the only person who would be eating this would be me. And you know what? I didn't feel guilty at all about the substitution.
The goal in making dukkah is a nutty, spicy mixture that is just right for dipping into with olive oil-gilded bread. I prefer torn chunks of rustic bread to uniformly cut slices or cubes because torn bread has more crevices for both oil and dukkah to cling to.
Dukkah should be peppery; in Egypt, that comes from lashings of freshly ground pepper, but in my Southwestern variation, a little ground red chile powder adds a layer of complexity.
Because the olive oil is rich, and the nuts are rich, you aren't likely to overeat dukkah, making it a superb and healthful snack.
But you'll likely have dukkah leftover, even after grazing on it for a day or two. I've used dukkah as the crust for sautéed chicken breasts, fish, and pork with felicitous results. A tablespoon or two sprinkled over a salad makes a delightful alternative to croutons. Once its flavors implant themselves on your palate, you'll think of lots of ways to use it.
Best of all, dukkah keeps for a long time in the refrigerator — a month or more. Store it in a tightly capped jar or container so its spices don't waste their fragrance on the contents of the refrigerator.
But do make some to have on hand the next time you have some nuts begging to be used.
Southwestern dukkah
If you don't have coriander on hand, don't fret. It's optional but adds terrific herbaceous fragrance and a slightly grassy flavor. You can also add other ground spices if you wish to make the flavor even more complex. Dukkah keeps a long time in the refrigerator. Use it as a crust for sautéed chicken, fish or pork as well as its traditional use as a snack. This recipe halves perfectly if you'd like to make a smaller amount.
Ingredients
1½ cups mixed unsalted nuts: pecans, pine nuts, pistachios, hazelnuts or almonds
2 tablespoons sesame seeds
2 tablespoons unsalted hulled pumpkin seeds
2 tablespoons hemp hearts
1 teaspoon ground coriander, optional
1 teaspoon ground red chile powder
1 teaspoon ground black pepper
Rustic bread, torn or cut into pieces, for serving
Extra-virgin olive oil, for serving
Preparation
Line a baking sheet with paper towels or parchment paper. Heat a large, heavy dry skillet over medium heat. Add the nuts and cook, stirring often, to toast them, about two minutes. They are ready when they are fragrant. Tip the toasted nuts onto the baking sheet to cool.
Return the skillet to the heat and add the sesame seeds, pumpkin seeds and hemp hearts. Cook, stirring often, until the seeds are toasted, just a minute or two. Remove from heat and allow to cool.
In a food processor or heavy duty blender, combine toasted nuts and seeds, coriander, cumin, chile powder, black pepper and salt. Mix in pulses to chop the mixture; the pieces should be coarsely chopped but roughly even in size. Be careful not to overprocess; you don't want a paste.
Transfer the mixture into a jar or bowl for storage.
To serve, place a bowl of dukkah and a bowl of olive oil on a platter. Fill the rest of the platter with torn or cut pieces of bread. Invite people to dip a piece of bread into the olive oil, and then into the dukkah, to eat.
Robin Mather is a longtime food journalist and the author of "The Feast Nearby." Follow her blog as she writes her third book, "The Feast of the Dove," at www.thefeastofthedove.com.
Stay up-to-date on what's happening
Receive the latest in local entertainment news in your inbox weekly!