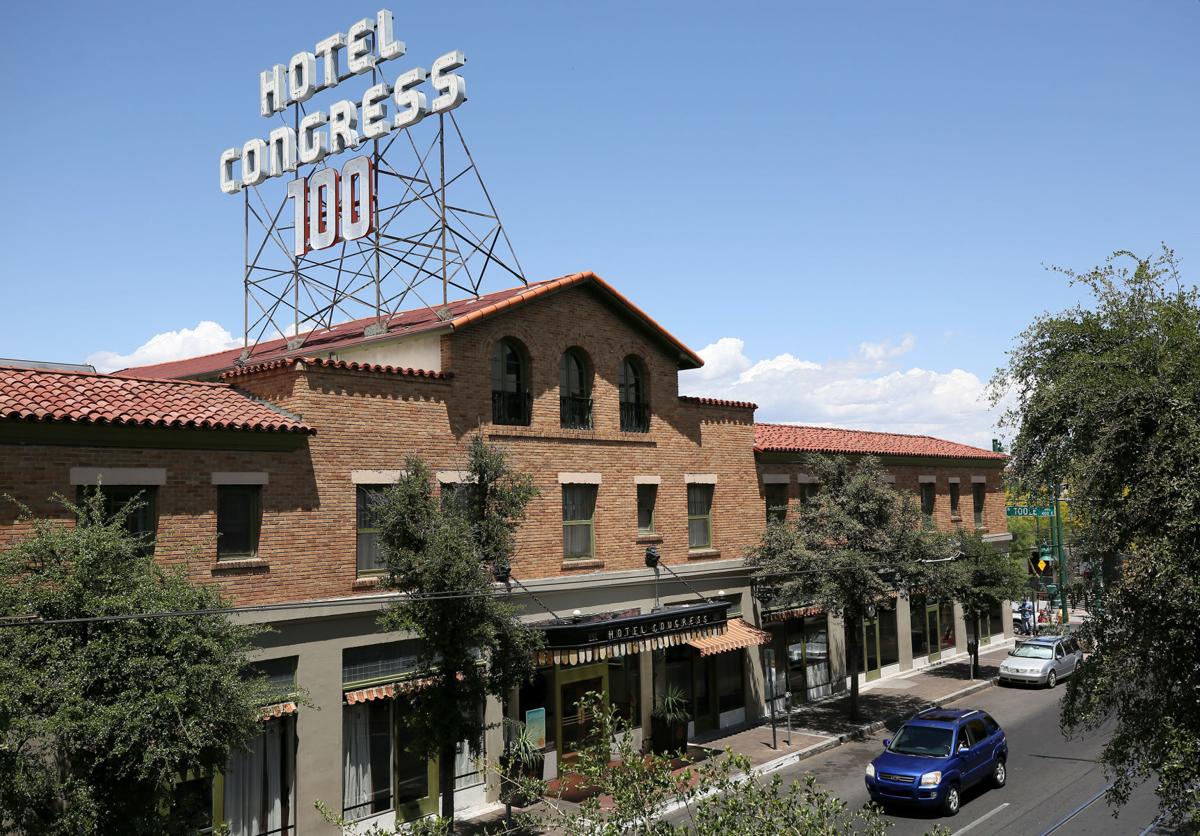 Hotel Congress is making king cake for Mardi Gras this year; the biggest king cake in Arizona, according to its website.
The downtown venue, 311 E. Congress St., will have slices to spare of the colorful dessert, a festive treat served in Louisiana during Mardi Gras season, when it holds its Fat Tuesday party on the plaza starting at 5 p.m. on Tuesday, Feb. 25.
The celebration, which will set you back $5 through hotelcongress.com, will include both Louisiana Mardi Gras and Brazilian Carnival food and drink options, including Abita Beer, hurricane cocktails, po' boys, jambalaya, gumbo, muffulettas and Brazilian caipirinhas.
Mardi Gras and Carnival both celebrate the period before the religious observance known as Lent, which begins next Wednesday.
The Hotel Congress party is one of several Mardi Gras events happening throughout Tucson.
Here are some others to check out:
Dillinger Brewing Company
Dillinger Brewing is starting the party early with two days of festivities, beginning Friday, Feb. 21, with a beignet and stout pairing from 4 to 10 p.m.
On Saturday, Feb. 22, the brewery will offer king cake penny draft beer specials from 4 to 10 p.m.
On both days, Dillinger will feature local jazz musicians who will teach you what it means to miss New Orleans, and games for beads and drinks.
Westbound
If this weather holds up (and it looks like it's going to), Westbound at the MSA Annex downtown, might be the perfect place to celebrate Mardi Gras this Tuesday. Scott and Rebecca Safford, owners of Westbound and both Tap & Bottle locations, know how to throw a party and plan to ring in Fat Tuesday with several local music acts providing the soundtrack, including the Backup Brass Band and the Tucson High Jazz Band. Hurricanes will be on draft. There will be wine tasting and face-painting. Best of all, the event is family friendly. Costumes are recommended.
Westbound's Mardi Gras takes place from 5 to 8 p.m. Tuesday. Admission is free.
Monterey Court
Tucson roots band The Quarter will help partygoers celebrate Fat Tuesday at Monterey Court this year. The band lists Bob Dylan, Guy Clark, Jesse Fuller and Dr. John as influences, so you can probably imagine the type of tunes it has in store for the occasion. Dance 'til you drop, order up some jambalaya, étoufée and gumbo, then wash it all down with a Sazerac cocktail or hurricane. The party runs from 6:30 to 9 p.m. on Tuesday, Feb. 25. Admission is $5.
Arizona Beer House
Tucson's east side craft beer haven is upping its Fat Tuesday game this year with a full-on crawfish boil on Tuesday, Feb. 25. For $45, you get a flight of beer, and an all-you-can-eat menu of Creole Caesar salad, crawfish, veggie gumbo, red rice and beans, baked mac and cheese, braised collard greens, and buttermilk cornbread muffins. Abita Beer will be on tap. Only 50 tickets are available. The event is from 6 to 8 p.m.
Stay up-to-date on what's happening
Receive the latest in local entertainment news in your inbox weekly!