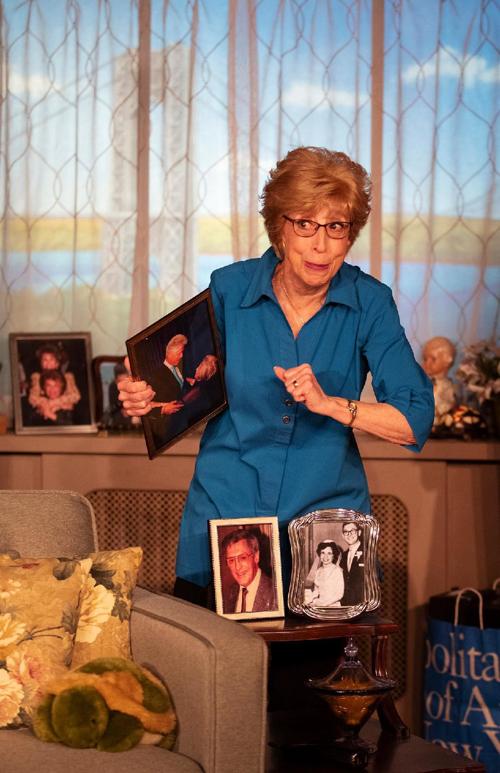 "Becoming Dr. Ruth" is about survival, not sex.
There is some sex talk, as expected, but it does not overwhelm or distract from the gripping story of Karola Ruth Siegel, the only child of Orthodox Jews who was born in 1928 in Germany and grew up to be Dr. Ruth Westheimer, U.S. radio and television sex therapist.
The Invisible Theatre opened "Becoming Dr. Ruth" Wednesday to a packed house. It continues through Saturday, Feb. 29.
The Invisible Theatre's managing artistic director Susan Claassen, with a wavy blond wig over her dark, precision-cut hair, gives a high-energy performance as the pop-culture icon known for her witty, down-to-earth talk about sex on her radio call-in show "Sexually Speaking," which debuted in 1980 and was followed by TV shows and 40-plus books.
The one-woman show is set in 1997 as Westheimer is packing to move from the New York apartment that she shared with third husband Fred Westheimer for 36 years.
The apartment is jam-packed with books, photographs and bric-a-brac, like a Shirley Temple doll and dollhouses. As Westheimer wraps her pictures and objects and puts them in boxes, she reminisces, shares anecdotes, answers sex questions, and tells a deep, personal story of family and the Holocaust.
The knickknacks in the apartment are not clutter. They are meaningful mementos that tell her story.
Westheimer's father, who instilled the importance of education in his young daughter, was taken by the Nazis a week after the 1938 "Kristallnacht" or the Night of Broken Glass, when the windows of Jewish-owned stores, buildings and synagogues were smashed and destroyed.
When she was 10, Westheimer was one of 300 Jewish children shipped by train on the "Kindertransport" from Nazi Germany to safety in Switzerland. She learned to throw hand grenades and shoot as a young adult in the Jewish underground in pre-Israel Palestine. Her marksmanship would later amaze her grandson. And as a single mom in New York, she fought for her education and her career.
Claassen gives a compelling performance, capturing Westheimer's plucky personality and her distinctive multi-country, polyglot accent. She exudes Westheimer's warmth and humor, and breaks the fourth wall and treats the audience in the intimate, 80-seat theater as guests in her home. Westheimer's intense, deep-seated sorrow over losing her childhood family and the joy and love of the family she creates with her husbands, children and grandchildren permeates the production.
Westheimer's family and celebrity photos are projected on a TV monitor as funny, sweet and saucy anecdotes about the likes of Bill Clinton, Paul McCartney and David Letterman are told. The monitor and harsh red lights also project the exploding shell that seriously wounded Westheimer during the 1947–1949 Palestine war.
Playwright Mark St. Germain uses the souvenirs and date-filled dialogue to artfully weave the past and present, humor and sorrow in this nonlinear story.
Directors Annette Hillman and Fred Rodriguez keep Claassen in constant Westheimer-like motion. She wraps, packs, steps up on a stool, putters around the apartment, chats on the phone, uncovers tucked-away treasures, and swivels her hips like she's skiing.
The Invisible Theatre's production of "Becoming Dr. Ruth" reveals Westheimer's motivation to teach the facts and responsibility of sexuality and the ceaseless impact of the young Karola not being among the 1.5 million Jewish children who died in the Holocaust.
While a few lines might make you blush, "Becoming Dr. Ruth" is not a sexy story. It is a straightforward, honest tale of triumph, filled with love and laughs.