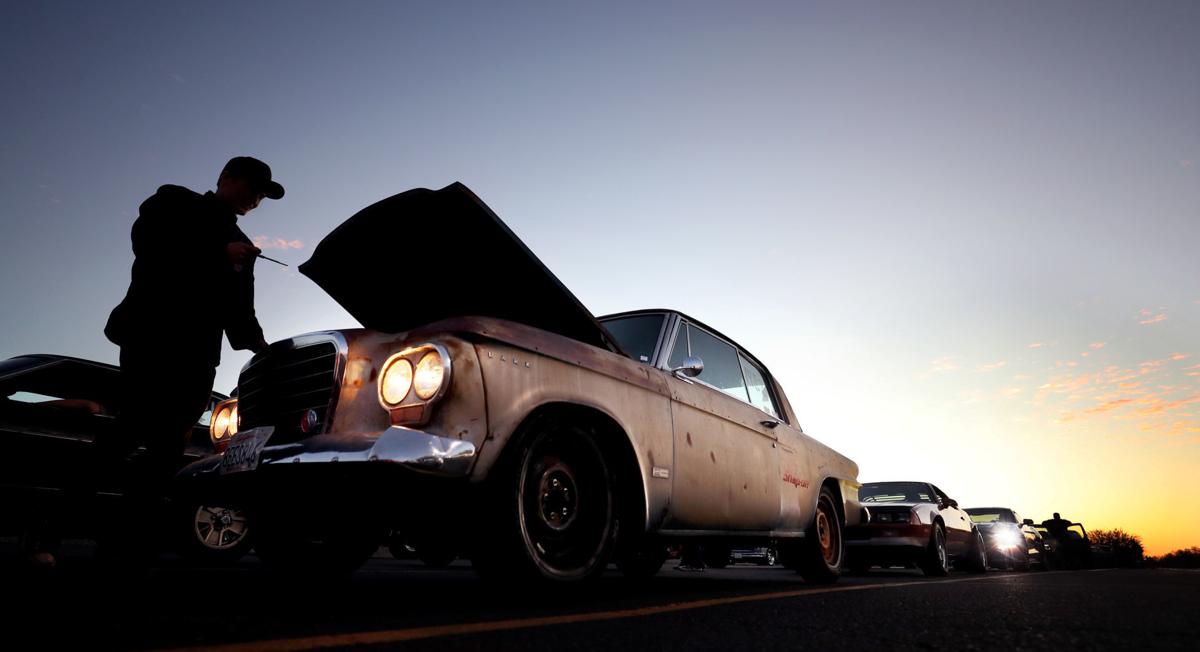 A sea of RVs and passenger cars fill the paved parking lot and the giant plot of dirt land outside the front gates of Tucson Dragway on South Houghton Road.
Thousands have traveled to the southeast-side racing venue, from as far away as California, New Mexico and Nevada, to celebrate "Roadkill," a MotorTrend series, streamed online and on television, that follows hosts David Freiburger and Mike Finnegan as they push the limits of project vehicles that they put together using junkyard parts in a very short amount of time.
The two-day fan fest, called Roadkill Zip-Tie Drags, throws the senses into overdrive. The smell of burning rubber fills the air as smoke rises from the tires of souped-up, low-end vehicles doing doughnuts in what has been dubbed "The Burnout Box" to classic AC/DC and Motorhead songs.
Along the drag strip, "Roadkill" enthusiasts line the stands as Finnegan and Freiburger take vehicles from the show, with names like "Draguar" and "The Disgustang," and race them against cars resurrected by members of their loyal fanbase.
Rob Brohner, a manufacturing engineer from Phoenix and participant in the event's car show, sits in a lawn chair, smoking cigars next to his post-apocalyptic-looking Volkswagen Beetle rat rod.
The car, a 1963 Beetle sporting plenty of patina and accentuated with a mismatched collection of car, boat and airplane parts, was trailered in from the Valley of the Sun.
"I chickened out driving it down here," Brohner said. "It already looks like a squished bug. I didn't want to risk driving it on the freeway."
Brohner has six Volkswagen vehicles at home, but chose to bring his "Volksrod" because he felt it best captured the spirit of the event.
"I do have pretty cars," he said. "I have to wash them and wax them. If I want to wash this car, I just hit it with a leaf blower."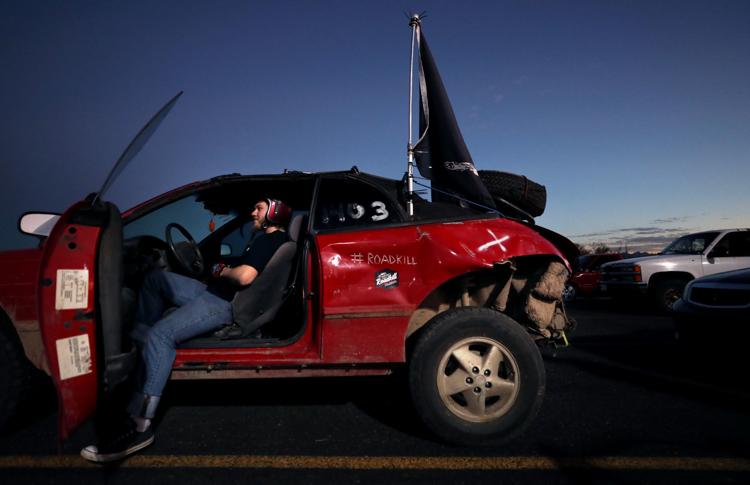 While higher-end hot rods are in attendance, the majority of vehicles on display are cars that were probably never expected to run again once they were sent to the scrapyard.
Harrison Card, events director for MotorTrend Group, said the abundance of low-end cars is par for the course for the "Roadkill" fan festivals.
"We want people to have fun with their cars again," Card said. "Most of the cars on 'Roadkill' were created with the idea that they would be cool to make; to do it as cheaply as possible and have fun with it, but not really care about the aesthetics.
"A lot of shows and events are not having fun with cars. They are auctioning off $5 million cars, but they will never be used as cars again."
"Roadkill" first launched as a series on YouTube in 2012 and moved to MotorTrend's own online streaming service in 2018. The show celebrated its 100th episode last October and can also be seen on the MotorTrend channel on most television cable services.
Card said the program's legions of fans have taken to the idea that cars don't have to be high-end to be worthy of attention.
"You can see people at this event make cars in the same vein as the show," Card added. "They say, 'This car is kind of a piece of crap, but it is my piece of crap and it is fun.' "
It was "Roadkill" that served as the inspiration for Charles Vanenwyck of Benson when he set out to build a turbo-charged version of a 1976 Ford Pinto wagon.
Vanenwyck had the Pinto on display at the Zip-Tie Drags event.
"I watched the 'Roadkill' videos and saw how cool it was," said Vanenwyck, who was born more than a decade after the Pinto he drives was originally produced. "It didn't occur to me that I could get something running before that."
Vanenwyck found the bones of the Pinto in a wrecking yard. Many of the pieces after that were picked up from the scrapyard where he works and paid for through trade.
"I was scared to build a car because all of the money involved," Vanenwyck said. "But I got it running using junkyard parts."
Card said the amount of people bringing their resurrected cars to the show reflect the "Roadkill" mission.
"Anybody can fix up a car and it doesn't have to be a rare Mustang or a cool Camaro," he said. "Just make it something fun you can enjoy."