Briannon Wilfong contributed to this story. 
For many Tucsonans, riding, roping and romance are all within the realm of possibility this weekend.
Valentine's Day is Friday, Feb. 14, and the 95th annual Fiesta de los Vaqueros Tucson Rodeo kicks off Saturday, Feb. 15, and runs through Feb. 23.
While the sights, sounds and smells of your typical rodeo don't generally lend themselves to the art of romancing, there are plenty of rodeo-themed ways to show your significant other you care.
Here are some date ideas that you and your rodeo sweetheart can use in Tucson this weekend or year-round.
When true love is at steak, you eat 
Nothing says rodeo quite like a good steak, and same goes for love. Here are a few cowboy-themed steakhouses that fit the bill.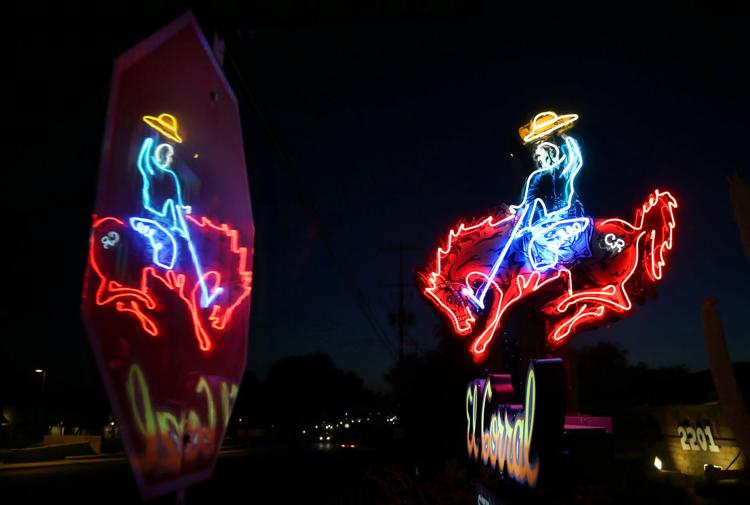 El Corral
Hours: 5 p.m.-10 p.m. daily
The menu: There is no special Valentine's Day or rodeo menu here because everything on the menu fits both occasions and pretty much has since its beginning in the late 1920s. They grill up a mean steak and fall-off-the-bone ribs night after night, but they are regionally famous for their thick-cut prime rib. They also do a brisker business in Rocky Mountain oysters, made with veal, during rodeo week, even though the $9.99 appetizer is on the menu full-time.
And while you won't find any red roses on the tables or chocolate dipped strawberries on the dessert menu, manager Debbie Backous says El Corral is the perfect backdrop for "the double 'R': Romance and rodeo." There's a lovely desert garden and servers who dish up cowboy humor with your tamale pie — another signature.
Price point: Entrees run $11.99 to $31.99
Reservations: Only for parties of six or more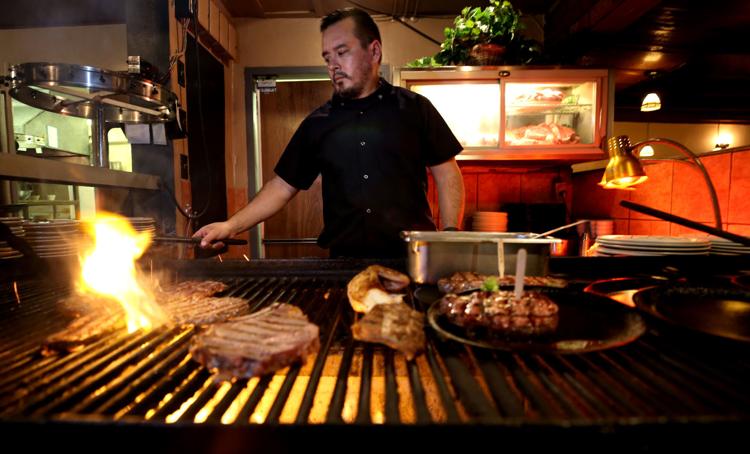 Silver Saddle Steakhouse
Hours: 3-8:30 p.m. Mondays; 11 a.m.-8 p.m. Tuesdays-Thursdays, until 9 p.m. Fridays; 2 -9 p.m. Saturdays; and 1-8 pm. Sundays
The menu: They serve authentic cowboy beans with their steaks, ribs and chicken, all mesquite grilled out in the open on a steel and brick pit in the middle of the dining room.
This is the place where Southwestern traditions are celebrated from that quintessential open pit to the antique buggy wheel and horseshoes that are fashioned together to pull the grill up from the flames. Word about Silver Saddle, which has been owned and operated by the Alva family since 1984, has apparently extended beyond Tucson. Back in 2015, comic actor Adam Sandler, apparently in town visiting relatives, had dinner at the restaurant.
Price point: Entrees start at $17 and go as high as $33 for a 24-ounce porterhouse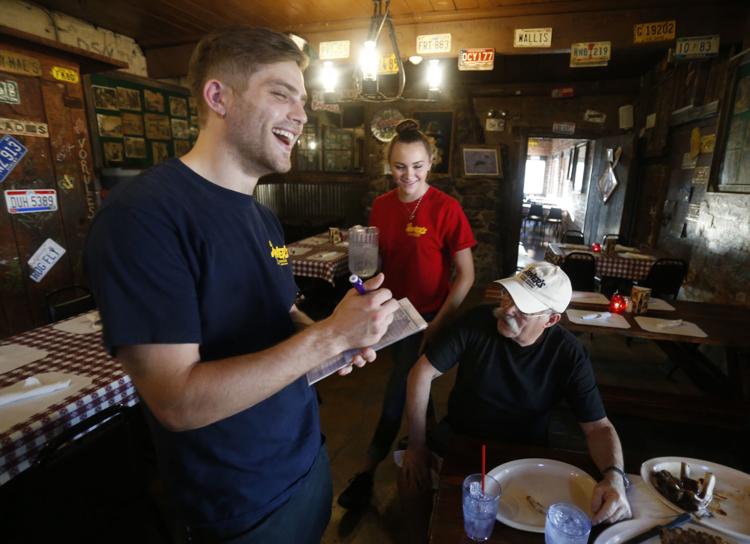 Li'l Abner's Steakhouse
Hours: 4-9 p.m. Sundays through Thursdays, until 10 p.m. Fridays and Saturdays
The menu: Nothing says cowboy romance better than a big hunk of steak, and at Abner's their motto should be "Go big or stay home." Porterhouse steaks come in a pound or two, served with ranch beans, a salad and bread. You can also get a ribeye in 12 ounces or 16, or opt for the more manageable 7-ounce filet or 8-ounce sirloin.
Li'l Abner's, which has been a Tucson institution since it opened in 1947 and has been run by the Hoffman family since 1981, is bringing a little romance to the table for Valentine's Day weekend. On Friday, Feb.14, Scotty and the Flying Diamonds will take the stage at 6:30 p.m. On Saturday, Feb. 15, Mama Coal and Buddy Woodward will perform famous country duets — think Johnny Cash and June Carter, and Dolly Parton and Kenny Rogers.
Price point: The most expensive item on the menu is that 2-pound Porterhouse at $44.95. Entrees start at $16.
Daisy Mae's Steak house
Hours: 4-10 p.m. Mondays through Saturdays, until 9 p.m. Sundays
The menu: Steak grilled on Daisy Mae's open flame serves a dual purpose this weekend: the perfect "I love you" or the perfect end to a day of watching the roping and riding at the Tucson Rodeo Grounds. The westside steakhouse mesquite grills its signature 14-ounce ribeye or the 18-ounce T-bone on an open flame whose smoke has a way of floating into the dining room and making your tummy growl.
And while the decor might not scream romance, you might discover some romantic stories written on the dollar bills papering the walls. It's a Daisy Mae thing going back to the opening in 1990 when people would scratch out a note on a dollar bill and tape, pin or glue it to the walls. After 9/11, the owners famously peeled $9,000 in bills from the walls and donated it to the victims of the terrorist attacks.
Price point: Entrees run $18 to $40
Reservations: Not necessary except for larger parties
Cattletown Steakhouse & Saloon
Hours: 11 a.m.-10 p.m. daily
The menu: This is more of a place you bring the whole family rather than date night, even though the restaurant opened on Valentine's Day 26 years ago. They serve up a popular chicken fried steak alongside their weekend special roasted prime rib and chicken strips for the kids. Steaks here are grilled on a open flame of mesquite wood and they all come with cute names. There's the Texan's T-bone — clocking in at more than a pound — or the lighter three-quarter pound Baby T-bone. There's "The Baron," a boneless ribeye, City Slickers New York strip and the 1½-pound Gunslinger's Porterhouse.
Price point: Steaks start at $13.99 and go as high as $28.99
Reservations: Not necessary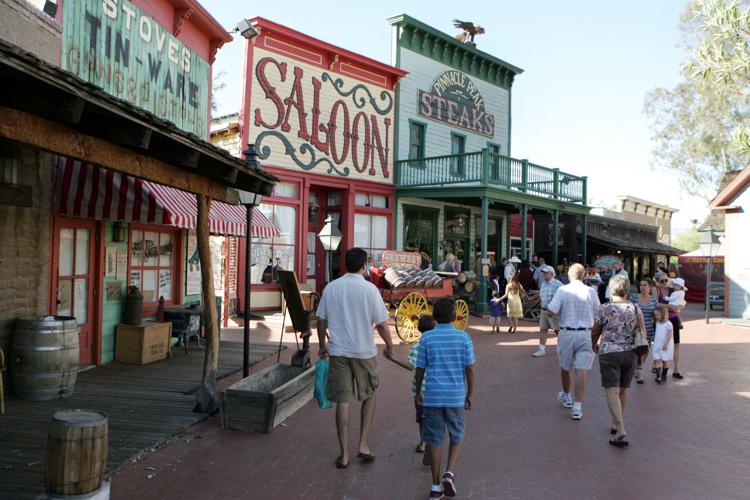 Pinnacle Peak
Hours: 5 -10 p.m. Mondays through Fridays, 4:30-10 p.m. Saturdays and Sundays
The menu: If you're heading out here for a romantic dinner, keep in mind: This is the place where Tucson casual is not only the norm but the dress code. If you get all fancy and wear a tie, they will snip it off. And you'll want to be dressed casually here so you can comfortably tuck into what Pinnacle Peak likes to boast is their "world famous" mesquite grilled cowboy steak.
On Valentine's Day, they are offering a half-rack of ribs and New York strip dinner special.
Price point: The house special three-course cowboy steak dinner that comes with a salad, steak, sides and dessert is $29.99. Steaks start at $22.99.
Reservations: Always first-come, first-served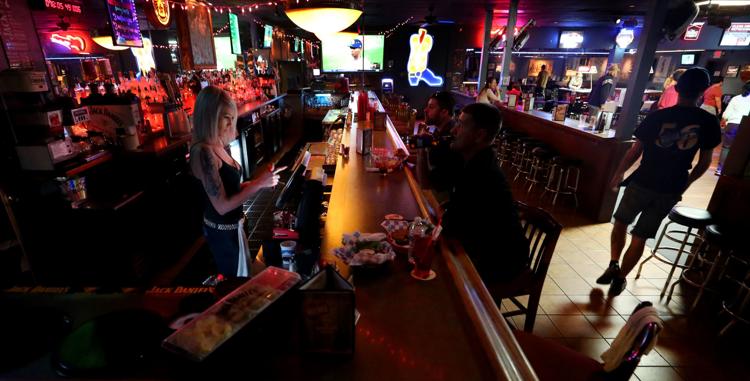 After-dinner dancing and drinks
Once you finish off those steaks, head to these cowboy clubs for some live music and line dancing.
The Maverick
Hours: 5 p.m.-midnight, Tuesdays-Saturdays
The Maverick has been a staple for all-things country since the 1960s – first at East 22nd and South Swan Road and, for the past 18 years, at 6622 E. Tanque Verde Road.
In its early days it brought in such live acts as Willie Nelson, Merle Haggard and Johnny Paycheck.
Bring your sweetie to the venue this Friday and two-step around its ample dance floor. Line dancing begins at 7 p.m. and, because it's Valentine's Day, The Maverick will offer sweet $6 deals on chocolate covered strawberries and champagne.
Need help on those dance moves? Instructors will give country dance lessons every night during rodeo week.
Whiskey Roads
Hours: 4 p.m.-2 a.m. Tuesdays-Thursdays, 11 a.m.-2 a.m. Fridays-Sundays
Whiskey Roads is the new kid on the block but has already earned the title of the official watering hole and nightclub for the Tucson Rodeo, according to the club's website.
The country music venue will keep you and your rodeo squeeze moving on Valentine's Day with live music from the Robert Moreno Band, Chauncey Jones and a set from DJ DU.
Don't worry about working up an appetite. Whiskey Roads offers a full menu that includes appetizers — spare rib nachos, cheese crisps and the like — that you and your partner can share.
Bring your date back on Wednesday, Feb. 19, to see Phoenix-based country musician Harry Luge perform, as part of an official Tucson Rodeo concert event.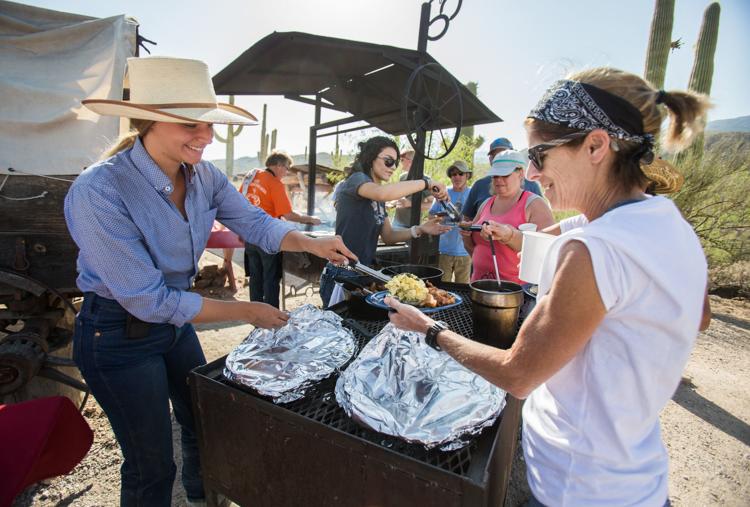 Spend a Wild West weekend together
Take your rodeo romance to the next level by booking a weekend at one of Southern Arizona's remaining dude ranches.
The Dude Ranchers' Association website (duderanch.org) list six in the area.
Tanque Verde Ranch
Head to the end of Speedway on the far east side of town and you'll find the Tanque Verde Ranch, a property with more than 150 years of history, sitting on 640 acres of land, at the base of the Rincon Mountains.
The sprawling property is close to town, but secluded, with scenic desert views in every direction. Take your partner on a trail ride, a sunset walk to set the mood or a cowboy poetry recitation while sipping margaritas at the ranch's Dog House Saloon.
White Stallion Ranch
Tucson-area couples on the northwest side of town looking for a getaway a little closer to home might consider White Stallion Ranch, located on West Twin Peaks Road. A dude ranch since 1940s, White Stallion sits on 3,000 acres.
Like Tanque Verde, White Stallion has plenty of serene desert scenery and offers an array of activities, including a rock-climbing excursion, lasso demonstrations and a weekly, on-site rodeo, according to its website.
Further afield...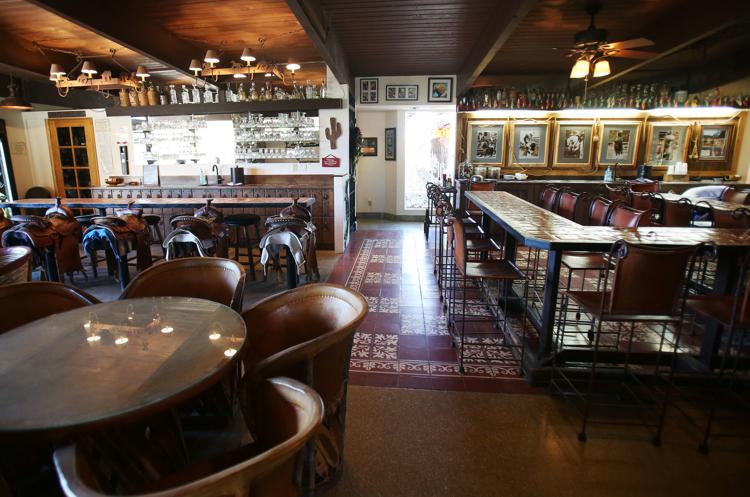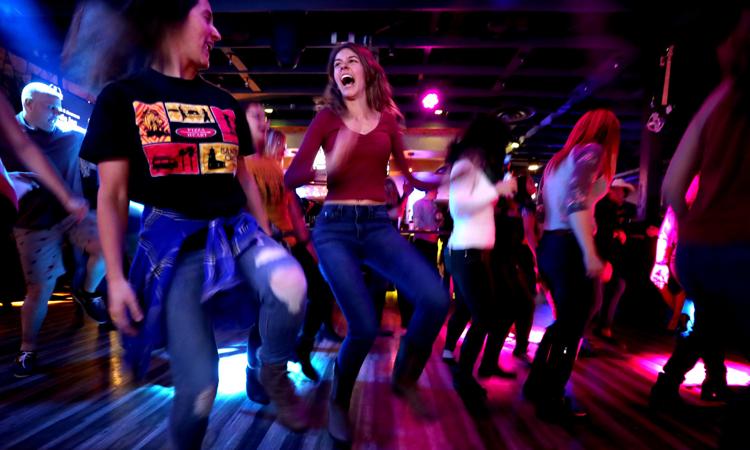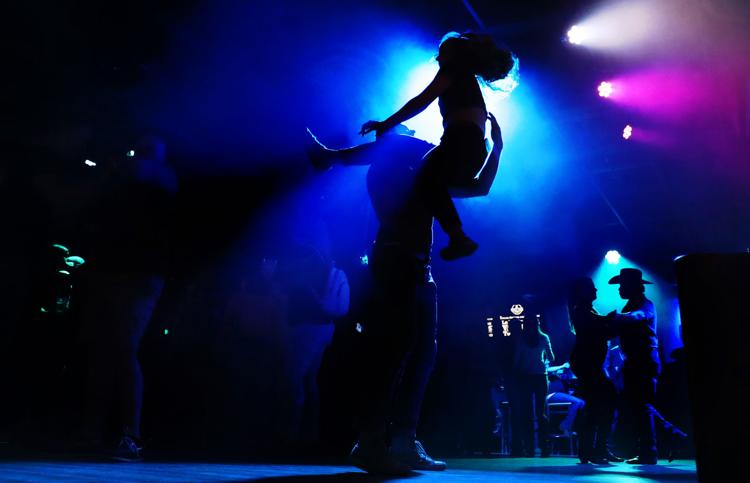 Stay up-to-date on what's happening
Receive the latest in local entertainment news in your inbox weekly!