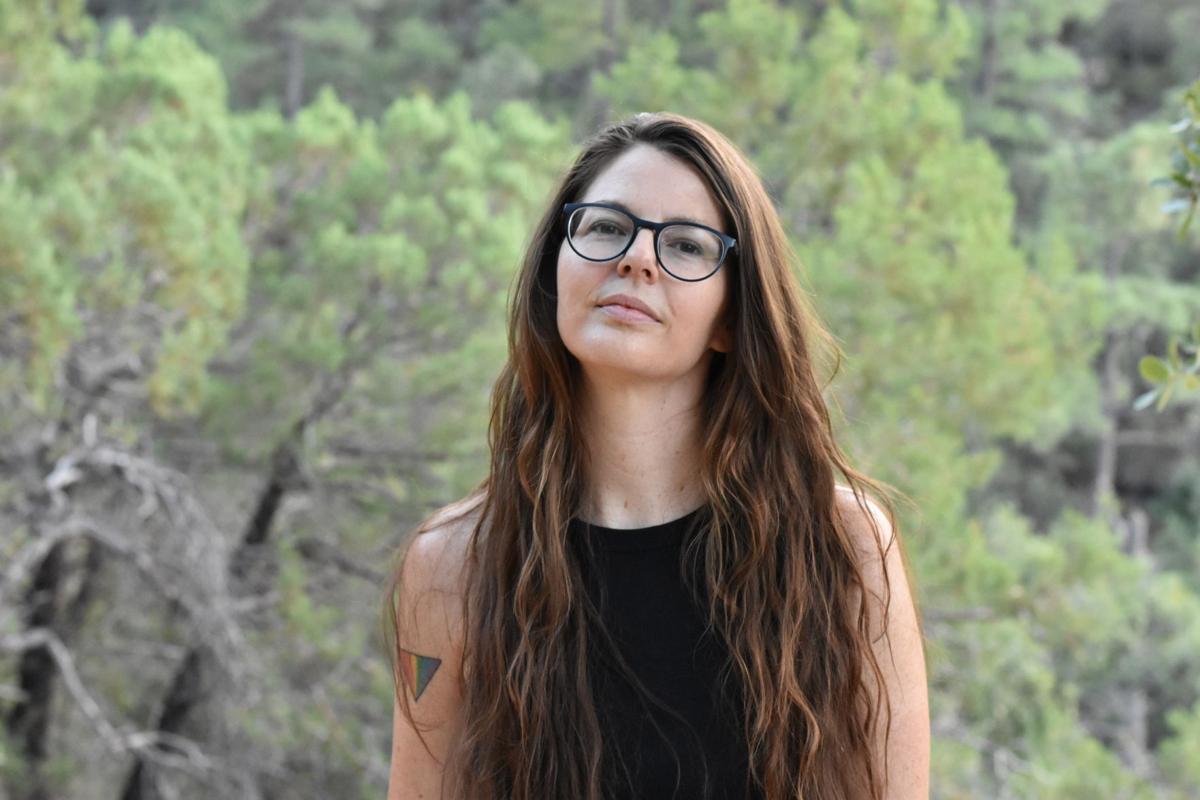 Back when she was in a band in Colorado in 2016, following a summer of touring out of an old airport shuttle bus with 400,000-plus miles on the engine, Lara Ruggles and her bandmates tried to come up with unpronounceable band names.
"It started as a joke," the singer-songwriter said. "The joke was so dumb: What band name would be hardest for Americans to understand if said with a British accent."
The No. 1 contender: Sharkk Heartt.
The band broke up but the name stuck. Soon after moving home to Tucson, where she spent most of her childhood, Ruggles adopted Sharkk Heartt as her solo stage name.
On April 16, Sharkk Heartt will release her debut album, "Wars Our Mothers Fought." On April 8, she will perform a virtual concert with Arizona Arts Live's The Tucson Studio.
Ruggles said she wrote most of the songs three or four years ago, influenced by her move from Colorado back home, a romantic breakup, and Donald Trump's presidency.
"Literally the day after Trump got elected I was driving back to Tucson to move in with my father and stepmother," said Ruggles, 35, whose family moved to Tucson when she was 10 and she left at 18. "I think that I was really in a place with Trump coming into office where I felt like it was really important to be as much as an ally as I could and it was really hitting home for me that I needed to do a lot of work to understand intersectionality in activism."
"Wars" explores the world through the prism of women demanding to be heard and respected. "Call Us What We Are" admonishes mansplaining with the biting refrain "don't call me sweetheart unless you're my sweetheart."
"We're still waging wars our mothers fought / We're still taking what we can make to give it all we've got / You say that we earn what we work for, you say if it sells it has a worth / You say sorry darlin', we can't do more."
Ruggles said the seven songs on "Wars" speaks to "the cyclical nature of progress."
"We like to think that this arc of history and justice bends towards progress … and sometimes there is more of like a backlash," she said. "There are incremental steps forward and there is backlash ... and we have to fight those fights all over again."
Ruggles infuses electronica throughout the album with percussive effects that are especially effective in "This Is A Test," which asks "can you be all things at once / can you fall, fall again?" and "Hush We Found" when "our breathing is the loudest sound." She cries out for a voice on "One Step" — "I am the voice that knows what the truth is / I am a small child, can't open my mouth" — and lobbies for a lover's attention on the pop song "Work Fires" — "I wanna be one of your work fires / Gotta stay late to put me out."
The album's most political statement comes wrapped in "This Will Hurt," which some listeners will interpret as a breakup song.
"But I absolutely meant that as a political song," Ruggles said, adding that the message is aimed at people who retreated to their political corners over the last four years and refused to budge.