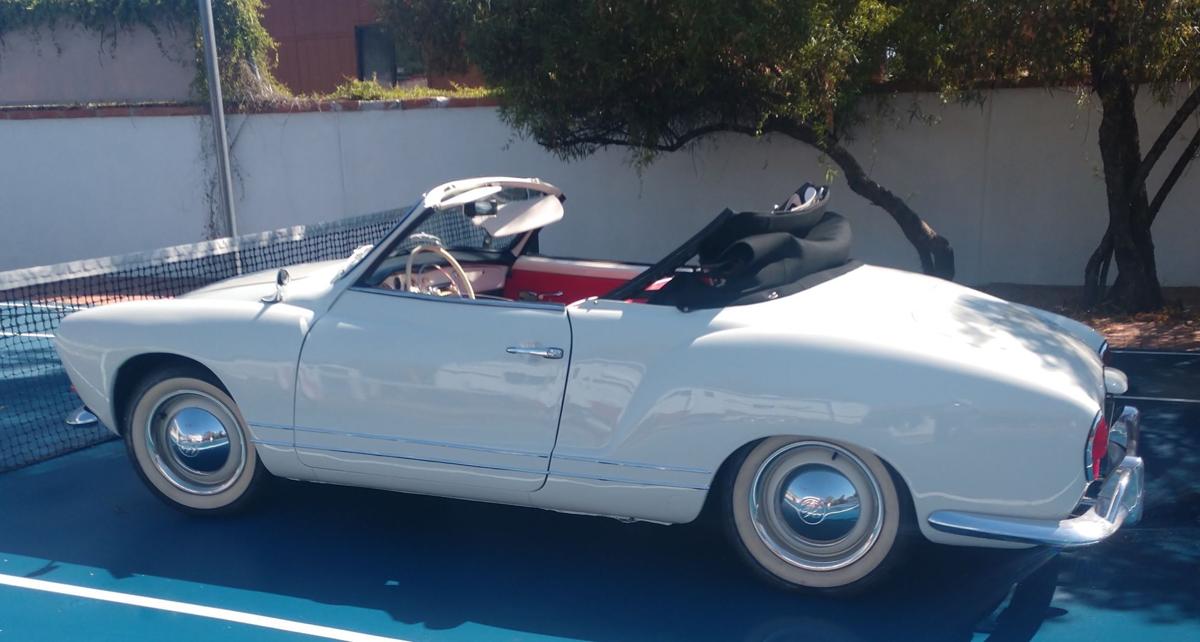 Editor's note: This story was originally published on Dec. 3.
Some radio station contests offer concert tickets, a couple hundred dollars or restaurant gift cards to listeners.
But when your station is nicknamed "The Drive" … you see where this is going.
Tucson's newest radio station, 101.7-FM/830-AM KDRI The Drive, is giving away a car to one lucky listener.
And not just any car: a fully restored, 1965 Karmann Ghia convertible that has spent the years since it was restored in 2013 in a garage with the exception of a monthly cruise around the neighborhood.
"It has this beautiful white opal paint job that is just unbelievable," said Bobby Rich, The Drive's program director and morning show host. "This was a chance for us to have … one of the most unique prizes offered. It is so not typical, and it's something that maybe not everyone would want to have — a 55-year-old rebuilt classic vehicle. It's something most people would not go out and buy on their own, so it has the feeling of an adventure."
But there's a catch: The winner has to be from the Tucson area, which the station has identified as anyone living in Pima, Santa Cruz, Cochise, Graham or Pinal counties.
"We want this to be about Tucson," said Fletcher McCusker, one of the three owners of the 15-month-old station whose target audience is folks 45 and older. "We really want to impress this market. We want to attack our competitors, and what better way to do that than to give away a car?"
From now through Jan. 22, whenever you hear the station play one of its Official Drive Songs, jot down the title. Throughout the day, every day, DJs will drop hints about when an Official Drive Song will play. Five songs will be featured between 6 a.m. and 8 p.m. daily including weekends and holidays, and you must correctly name three of them to be entered into a drawing for the car.
The drawing will be held on Jan. 25. The winner will be announced on the radio.
Volkswagen produced more than 445,000 Karmann Ghia cars between 1955 and 1974. McCusker, who restores classic vehicles as a hobby, said he bought the car in 2013 and set about restoring it from top to bottom with stock parts. It was the third Karmann Ghia he restored.
McCusker, Rich and longtime Tucson radio/TV broadcaster Jim Arnold launched The Drive in August 2019 from McCusker's old downtown office at 64 E. Broadway — former headquarters of Providence Service Corp. that McCusker operated from 1996 to 2012. The station plays music from the 1950s to today.
One year later, the station in September ranked in Nielsen's top eight commercial stations in Tucson for its target demographic.