Couples pushing a stroller or holding the hand of a curious toddler peered through the plate-glass windows into the former retail space that Southern Arizona Arts & Cultural Alliance has transformed into a hub of creativity. The faces of the passersby conveyed confusion, curiosity and outright disbelief.
Just beyond the floor-to-ceiling wall of windows, 16 string players from the volunteer Southern Arizona Symphony Orchestra, all wearing masks and seated 6 feet apart on a makeshift stage, were performing.
It's been months that seemed like a lifetime since we've seen an orchestra perform live.
It hardly mattered that the folks outside couldn't hear a bit of SASO's spirited performance of Dvorak's triumphant Serenade for Strings. They were mesmerized by the very appearance of people playing instruments and a small masked audience sitting inside enjoying it.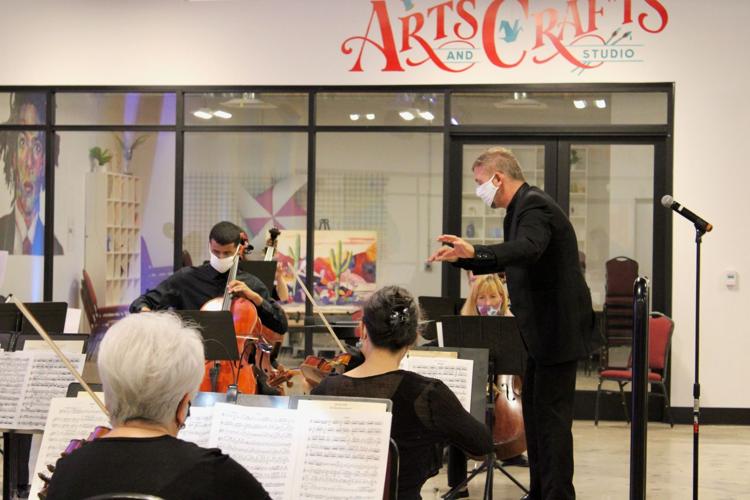 The last time an orchestra performed before a live audience in Tucson was last March, when Conductor Linus Lerner led SASO on the eve of the state COVID-19 shutdown. Fast-forward nearly seven months to the day, and here they were again, the first orchestra in Tucson to perform a live concert with an actual in-person audience.
And this weekend, they will get some company when True Concord Voices & Orchestra opens its fall season with its "bubble" choir — 18 vocalists from around the country who will spend the next five weeks in near isolation while they perform six concerts a total of 26 times — 24 of them before live audiences — between now and Nov. 15. Two of the six concerts, both holiday-themed, will be streamed only in early December.
Both ensembles are navigating how to perform safely before live audiences, which includes following CDC guidelines: Musicians and audience members are required to wear masks and social distance and hand sanitizer is set up around the venue.
SASO performed indoors with seats scattered 6 feet apart in half of the Catalyst performance space. True Concord took its performance to the courtyard of Dove of Peace Lutheran Church, where its founder/conductor Eric Holtan is the music director. Both groups limited their live audience to 50.
Lerner, who has spent the past seven months in his native Brazil, billed last weekend's concerts as "Serenading with SASO." For just over an hour, Lerner and the string section of his volunteer ensemble did just that, opening the program with Mozart's familiar and delightful "Eine kleine Nachtmusik" before performing Dvorak's popular and elegant Serenade for Strings in E major.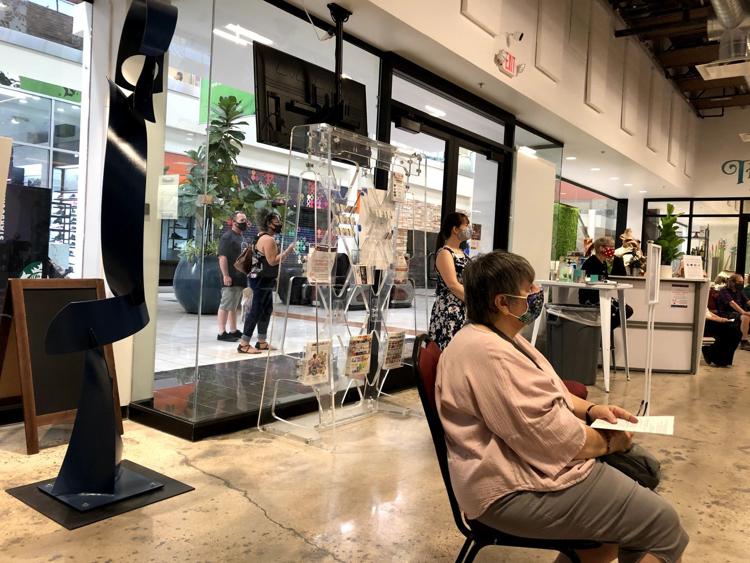 Lerner brought the program full circle with a sweeping performance of Tchaikovsky's Serenade for Strings in C major, a work inspired in part by Mozart. It's one of Tchaikovsky's signature compositions largely because of the second movement Valse Sentimentale, which is often played outside of the full work. Lerner captured the essence of a full orchestra throughout, drawing a lush performance throughout the 30-minute performance.
"I miss playing," Lerner told the audience. "I miss conducting and I'm sure you miss seeing this."
True Concord performed the first of six concerts of the Brahms Requiem on Tuesday, Oct. 20, before an audience of about 40 scattered in the courtyard of Dove of Peace Lutheran Church.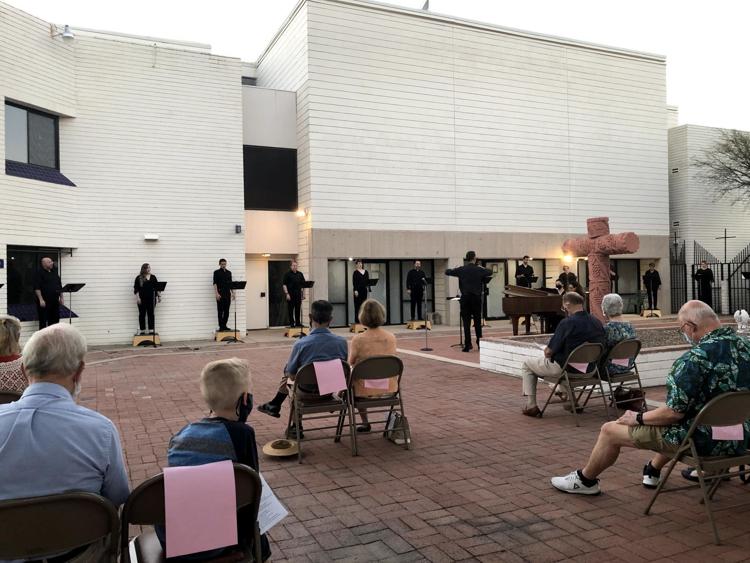 It was the professional ensemble's first live performance since last spring when they had to cut short their 2019-20 season because of the pandemic.
"Over 1 million lives lost to this pandemic. We dedicate this concert to every one of them," Conductor Holtan said, then paused for a moment of silence that stretched into several moments.
When the choir broke the silence, their sweet voices filled the courtyard and rose above the din of rush hour traffic zipping along the adjacent Oracle Road. Birds hanging out in the towering mesquite trees circling the courtyard seemed to chirp in time to the music. But when baritone Edward Vogel took his solo turn, all you could hear was his soaring, majestically nuanced voice.
Soprano soloist Chelsea Helm stole the spotlight moments later with equally impressive vocal chops. Her commanding high register pierced the breezeless sunset and lingered until the choir joined in.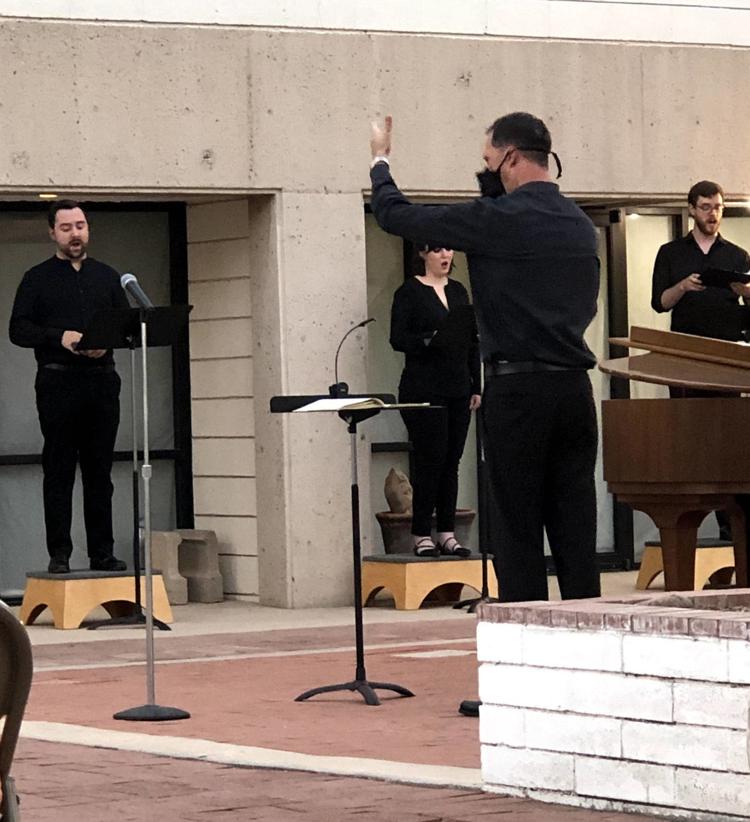 Holtan decided to start the ensemble's reimagined 2020-21 season with London version of Brahms' Requiem, recast for chamber-sized choir and piano four hands, performed by the very talented duo of Elena Miraztchiyska and Marie Sierra. Unlike the requiems penned by his contemporaries who focused on the dead, Brahms celebrated the living, offering words of comfort .