Beer helped tame Endiku, the half-wild man half-animal in the 2100 BC epic poem "Gilgamesh."
Egyptian writings from 1600 BC included medical prescriptions calling for beer.
Even Noah and his crew were said to have beer on the ark.
Throughout history, beer has been big. So it's no wonder that Beer Week is celebrated across the state. This year, the week (more like 10 days, but let's not quibble) runs Feb. 8-18.
Arizona Beer Week launched statewide in 2011. While some in the Old Pueblo celebrated, it wasn't until last year that the Tucson area jumped in with force.
We can thank the growing number of breweries here — and the savvy brew imbibers.
This year, there are almost 70 beer-related events hopping all around our 'hood. You'll find beer release parties, beer dinners, and even pairings of brews and sweets.
Here are some we find intriguing — while there is no cover cost unless otherwise noted, you've got to pay for your own beer and food. And if you don't find something to your liking here, check out the AZ Beer Week web page  — there's plenty more that's happening:
Beer + Bikes + Brunch
11 a.m. Feb. 11, Button Brew House, 6800 N. Camino Martin, Suite 160 in Marana, 268-8543, buttonbrewhouse.com. This one will allow you to work off the calories. Bikers take off from Button Brew at 11 a.m. and ride the roughly nine miles to 1912 Brewing Company, 2045 N. Forbes Blvd., sip a brew and turn around for a trip back to Button Brew and a brunch served up by Mama Bear's Cafe food truck. Conversely, bikers can meet at 1912 at noon, cruise to Button Brew, and return for brunch from Rancho Preciado.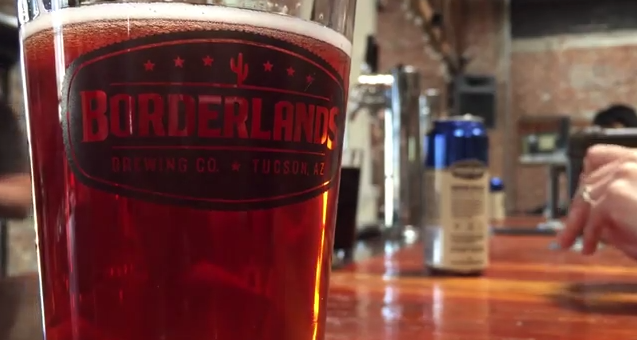 Got a sweet tooth?
Batch Cafe & Bar, 118 E. Congress St., will whip up doughnut holes and pair them with Borderlands Brewing Company's German Chocolate Cake Porter, Dopplebock Lager, and Hazelnut Coffee Stout. That's happening 6-9 p.m. Feb. 15.
Hop Spelling Bee(r)/Mother Road Tap Takeover
6-9 p.m. Feb. 16, Arizona Beer House, 150 S. Kolb Road. Flagstaff-based Mother Road Brewing Company will be pouring what they call "rare and fan favorite" beers. And then there's that spelling bee(r) —brush up on hop varietals from around the world and you could win prizes.
The Rio Nuevo Tucson Craft Beer Crawl
You don't want to miss the grand finale of Beer Week. Nine venues across downtown will serve up specialties from 30 brewers. The $40 (in advance; $50 at the door) includes drink tickets for 30 2-ounce pours, and a commemorative tasting glass. It's 1-5 p.m. Feb. 17. Get tickets and more information at tucsoncraftbeercrawl.com.