Francisco Valencia, an 11-year-old patient at Diamond Children's Medical Center, just beat three princesses at a game of Uno.
Three college students dressed head-to-toe in outfits inspired by Snow White, Rapunzel and Tiana sat on the floor surrounding Francisco's hospital bed, their colorful dresses spilling on the tile.
After his glorious Uno victory, Francisco shows them a magic trick.
"Who wants to be the one to pick the card?" he asks. Rapunzel volunteers.
Francisco covers his eyes with a pillow as Rapunzel shows the other princesses her card. After she hides it back in the stack, Francisco shuffles them a few times.
"Let me know when you want a drum roll," Snow White says.
"That's at the end," Francisco smiles.
After a few minutes of magic, he pulls out Rapunzel's card — the same one she chose moments ago — and everyone in the room gasps.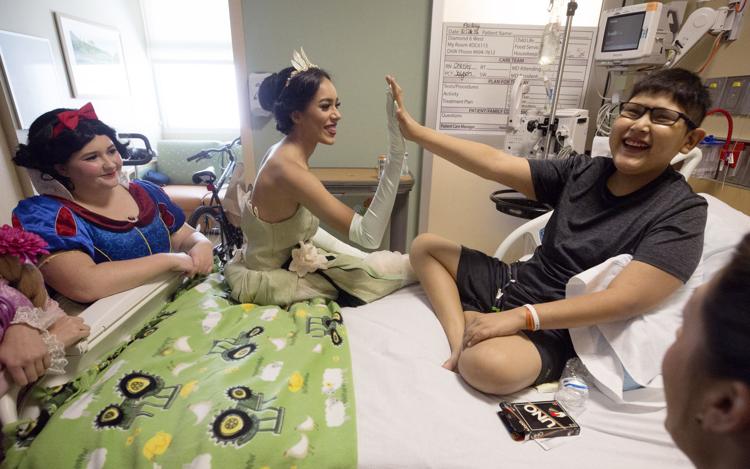 That's a typical visit with the princesses from A Moment of Magic, a nationwide organization of college students who dress as iconic characters and visit children — primarily ones in the hospital — that is now available in Tucson.
And it's not just princesses. There are also superheroes, fairies and other characters inspired by children's movies.
A Moment of Magic started four years ago in the New York area when two college students wanted to spread a little magic at children's hospitals.
The organization has since blossomed into 500 volunteers across the U.S., visiting more than 20,000 children. They run with the motto: "Brave like the kids. Strong as unit. Fearless in ourselves."
A Moment of Magic made its Tucson debut last year when Camille Mero, a University of Arizona pre-med student, was searching for volunteer opportunities for medical school.
She wanted to do something that gave her the chance to interact with hospital patients, but had a hard time finding anything that fit the part — until she stumbled upon A Moment of Magic.
After finding the organization through a viral Facebook video, Mero reached out to A Moment of Magic's director and decided to start a chapter at the UA.
The chapter, made up of UA students, visits children's hospitals across the Tucson area. They also work with foster kids and children with disabilities, participate in charity walks, do birthday parties, and partake in a whole lot of other activities to help keep smiles on kids' faces.
"I think it's important that A Moment of Magic exists because most of the adults that come into these kids' rooms are there to poke them or give them medication or take their blood pressure," Mero says. "I think it makes a difference when someone goes in just to play with them, and it's even better when it's someone they might idolize, like a character."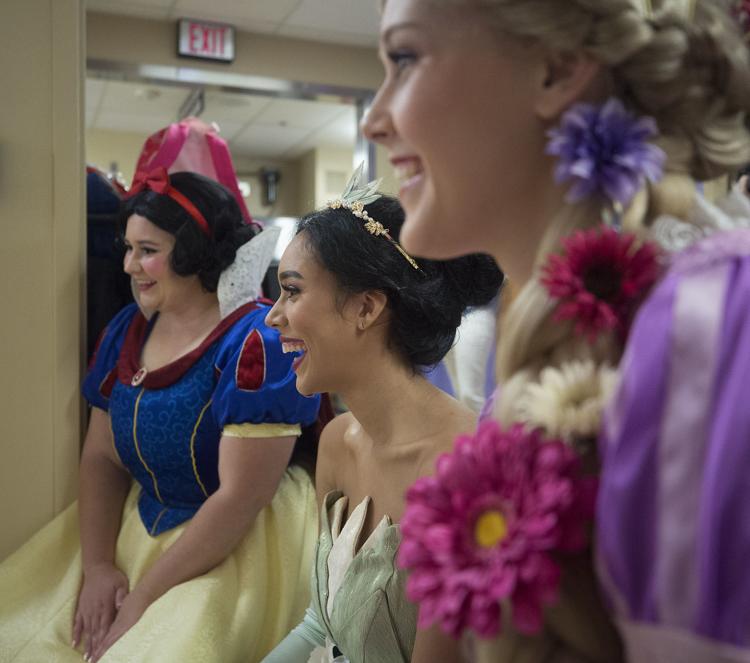 When the princesses first enter the room, the children instantly perk up. Many of them believe the princesses are the real ones straight out of the films. It's not uncommon to hear a child ask a princess how their kingdom is doing or what their prince is up to.
The princesses will watch movies with the kids, read books, play video games, sing songs or even have a tea party.
On Friday's visit, a little girl said her favorite board game was Candy Land. The princesses happily obliged and accompanied her for a game.
"When we go in, we never talk about their illness," Mero says. "We just go in there and play with them and do what we can to have them forget their surroundings. It's really awesome to see how the whole room lights up."
When Mero first met with folks from Diamond Children's Medical Center in hopes of bringing the princesses to the hospital, she was given a fast "yes" and was invited to come back two hours later to play with the kids.
So, she went home, threw on her princess dress, and passed out Thanksgiving dinner to kids at the hospital.
"I met this little girl who I'm really close with now," she says. "I played with her for an hour and a half, just playing hide-and-go-seek in her room."
Mero says she'd playfully look under pillows and other places in search for the girl. After a while, the girl started to mimic Mero.
"Obviously I'm 5-2, so I can't fit under a pillow," Mero says, adding that the encounter is one of her favorite memories.
And if the princesses can't reach a child, they'll also do Skype visits. Because at A Moment of Magic, the princesses will do anything to make a child smile.
"It's whatever the kids need," Mero says. "We're able to make it work."