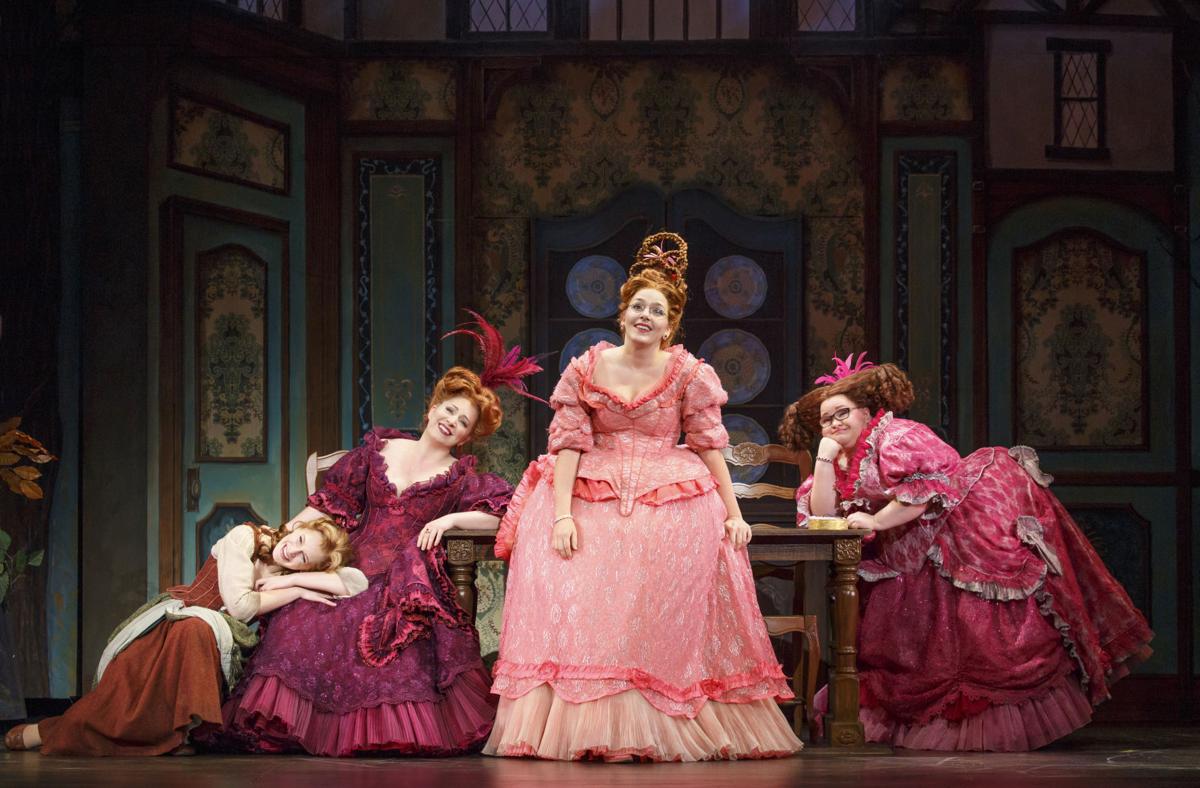 There are endless variations on the story of "Cinderella," dating back to ancient Greece.
So there's a history of tweaking the tale.
Which is exactly what Douglas Carter Beane has done in his rejiggering of "Rodgers and Hammerstein's Cinderella." The road show of the musical is currently on stage at Centennial Hall, courtesy of Broadway in Tucson.
Beane, who wrote the script, has eliminated the prince's parents and softened up one of the vain stepsisters.He mixed up that whole glass slipper snafu and made Cinderella a feisty gal with a feminist vibe, dubbed the prince Topher instead of Prince Charming and we discover Cinderella's name is really Ella.
And he brought democracy to the kingdom.
Ah, but the essence — poor, mistreated gal with a golden heart finds her prince and lives happily ever after — is still there.
This is a pretty production. William Ivy Long's costumes float across the stage, and a few times they make stunning transformations — Cinderella's peasant clothes magically transform into a gown for the ball before our eyes.
Tatyana Lubov has a sweet soprano and, while her Cinderella doesn't seem to have much of an interior life, she gives the character sparkle.
Her prince charming is played by Louis Griffin, a recent college graduate who started out a bit tentatively in the Dec. 5 opening night. But once he began to sing, he settled into the not-hampered-by-nuance character.
Joanna Johnson made good use of her pristine comic timing in her role of the self-absorbed stepsister Charlotte. And she has a knock-out voice. Her character is a hefty woman and, unfortunately, there's enough fat-shaming in the script to make an audience squirm.
There were smaller roles that delighted: Leslie Jackson as the fairy godmother and Vincent B. Davis as town crier had gorgeous voices, Sarah Smith's evil stepmother would terrify anyone.
The almost-cinematic Rodgers and Hammerstein score has some beautiful songs, though most not nearly as memorable as tunes from other musicals they wrote.
This play, a doctored version of the 1957 made-for-tv musical, can cause more than a few eyerolls in its self-conscious attempt to be relevant ("You need to open your eyes to what's happening in your kingdom," Cinderella says to the prince just before the clock strikes midnight — oh please).
And this non-Equity production has its charm (much of it garbled up in the muddy sound at Centennial Hall).
But it's a shrug-your-shoulders musical. Little stands out, other than the costumes, to make it linger beyond the theater exits.
Contact reporter Kathleen Allen at kallen@tucson.com or 573-4128. On Twitter: @kallenStar