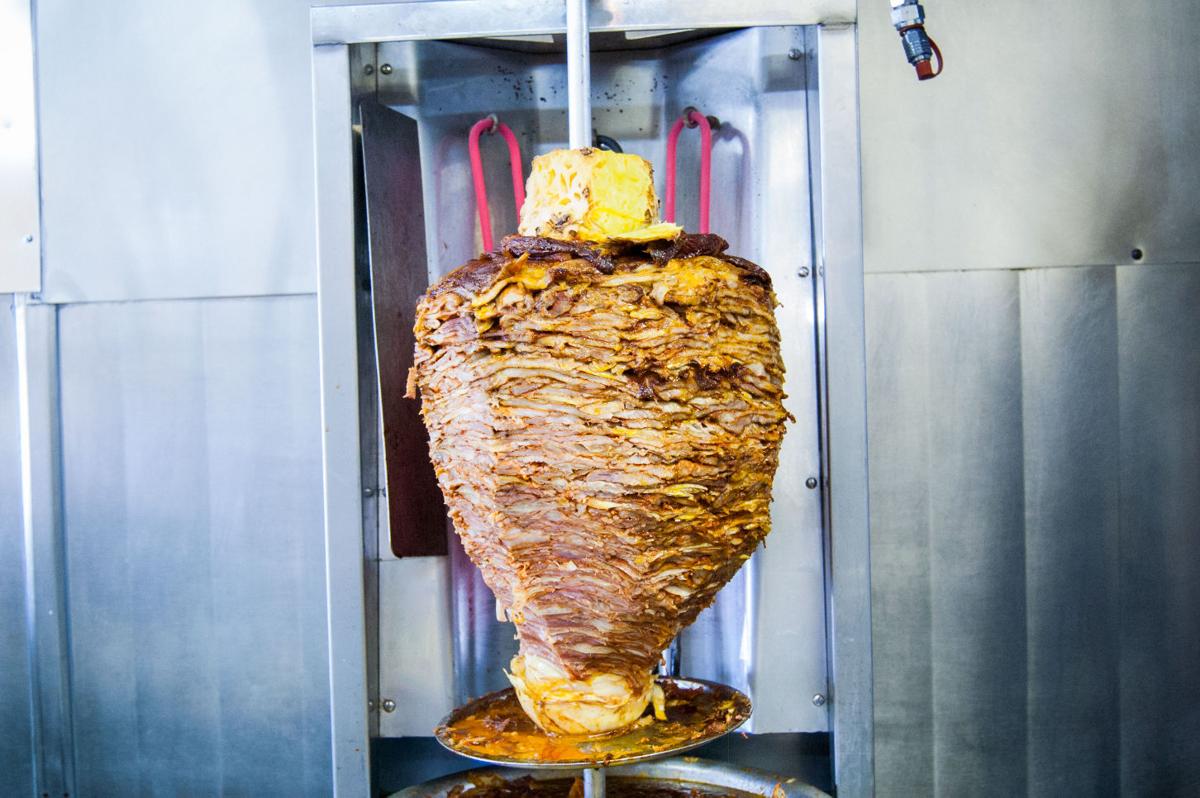 In Tucson, it's actually very difficult to marinate slivers of pork shoulder in a fragrant red adobo paste for two days and then slow-roast it on a rotating spit topped with a pineapple. 
The local health department usually frowns on these sort of things, and when Leopoldo "Polo" Moreno applied for a permit to open an al pastor restaurant three years ago, he was rejected. So he took his trompo down to the Tohono O'Odham Swapmeet, a weekend market near Casino del Sol where vendors sell everything from Salvadoran pupusas to pig skin boiled in copper pots. 
Polo is from Michoacán and Mexico City, where spit-roasted al pastor is very common. After the style developed in the early 1900s from the skewered lamb shawarma of Lebanese immigrants, it spread throughout Mexico and became sort of a national dish. You can find the spits all the way up in Sonora, spinning like lighthouses guiding your way to late-night taco trucks in Rocky Point ... drippy monoliths of meat in Nogales, smooth and fatty or small and flappy.  
But seventy miles across the border, they're practically nonexistent. Yes lots of Tucsonans claim they serve al pastor, but unless it's cooked on the spit it's really just pork adobada, Polo says. (Although I did recently spot a miniature spinning trompo downtown at Street Taco & Beer Co.) Usually the difference between al pastor and adobada is rather subtle. But real taco lovers, they can tell.
Even though the cards were stacked against him, the former Arizona miner kept trying to get his permit to operate in Tucson ... and finally it paid off. Polo opened his brick and mortar restaurant Polo's Taqueria earlier this month in a little west-side shopping center next to a gun shop and a dry cleaner. For the grand opening, he wheeled in an old karaoke machine and blared Mexican cumbias into the empty parking lot. 
Inside, the space is actually pretty spiffy. The kitchen has been opened up since its days as a burrito buffet joint, so you can see the stately al pastor spinning around a backdrop of stainless steel paneling. The trompo is electric powered, and features a sanitary hood to keep out stray particles.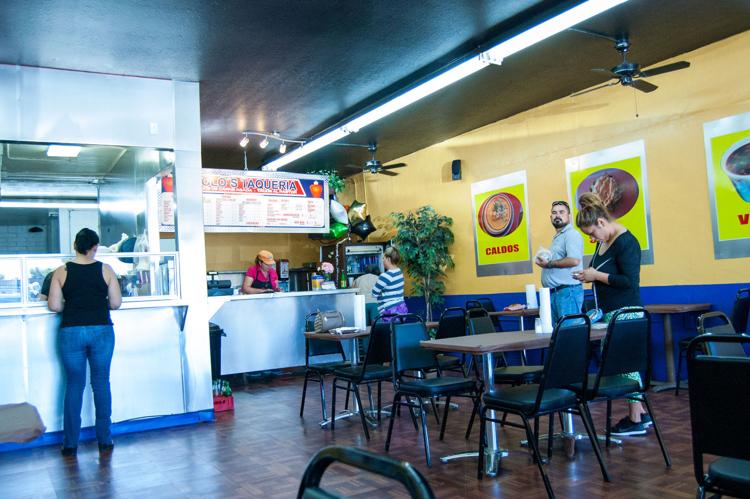 Polo prepares the pork shoulder himself every day, slicing the hunks into thin slivers and then slathering each with a paste of pasilla chiles, vinegar, orange, garlic and other spices. The meat must marinate for two full days before it's ready for the skewer. Then Polo props it up, placing a whole onion on the bottom for fragrance and then adding meat, onion slices, meat, onion slices ... In classic style, the pineapple goes on top so that it drips its sugary juices onto the roasting pork. 
The heat coils on the trompo actually broil the meat from the outside, so that you're only cooking one layer at a time. Polo makes a quick cut about a quarter of an inch deep, and then slaps some pineapple on top. It's not an exact science: Our first order of al pastor tacos was cut fresh from the spit and came out a little softer. The second order of the day (yeah, we went back for more) had been crisped up on the flattop so it was crunchy and crackly.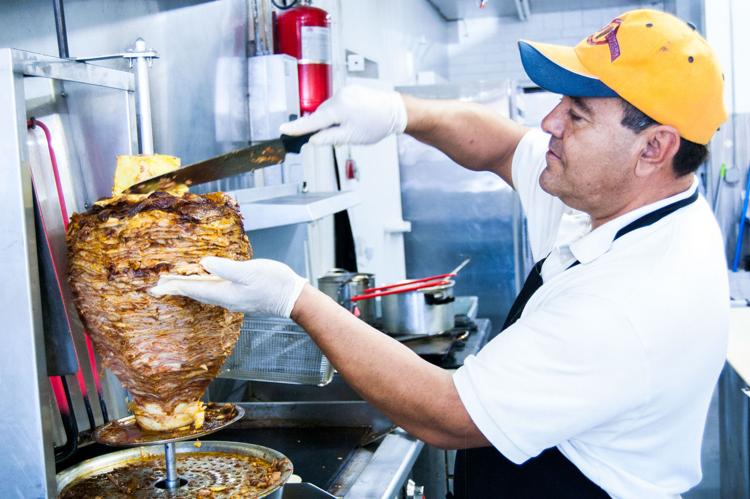 I ate my al pastor in corn tortilla tacos, in lush corn masa sopes topped with salty queso and crema, and also in a fat puck of a burrito (a true Sonoran hybrid). I loved it all. The wisps of meat are completely infused with the peppery sauce, but have a delightful springy texture that sets them apart from adobada. 
There are two special salsas made for the al pastor, which are both quite outstanding. A hit of the smoky red morita sauce brings out the tartness of the pork's vinegar marinade, making it a heavier affair. The pork gets lightened up with a droplet of gorgeous salsa verde. An uncooked salsa, it smacks of green tomatoes and fresh cilantro, creamy and viscous with just a hint of avocado.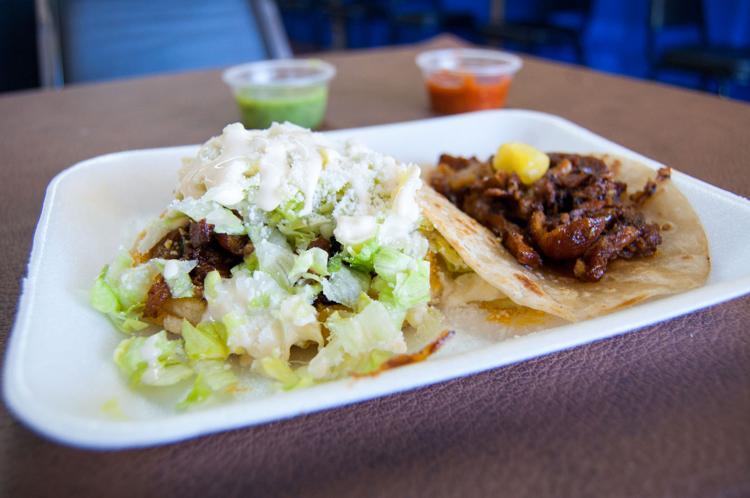 The new space features an expanded menu with Mexico City favorites like shredded chicken tinga, the mixed meat torta Cubana and housemade masa sopes. There's also the Sonoran recipes like burros and vichis courtesy of Polo's wife Marisa, who is from Hermosillo. The restaurant serves carne asada, cabeza, birria and even tripe. They're probably great, but I wouldn't know ... I have fallen hard for the al pastor. Let's just say, I'm stuck on it. 
Polo's Taqueria is located at 918 W. Prince Road, 520-407-5569. Its hours are roughly 9 a.m. to 7 p.m. every day. Debit and credit cards accepted. You can also still visit Polo's on weekends at the Tohono O'Odham Swapmeet, where he gets to make the trompo substantially bigger. 
Stay up-to-date on what's happening
Receive the latest in local entertainment news in your inbox weekly!