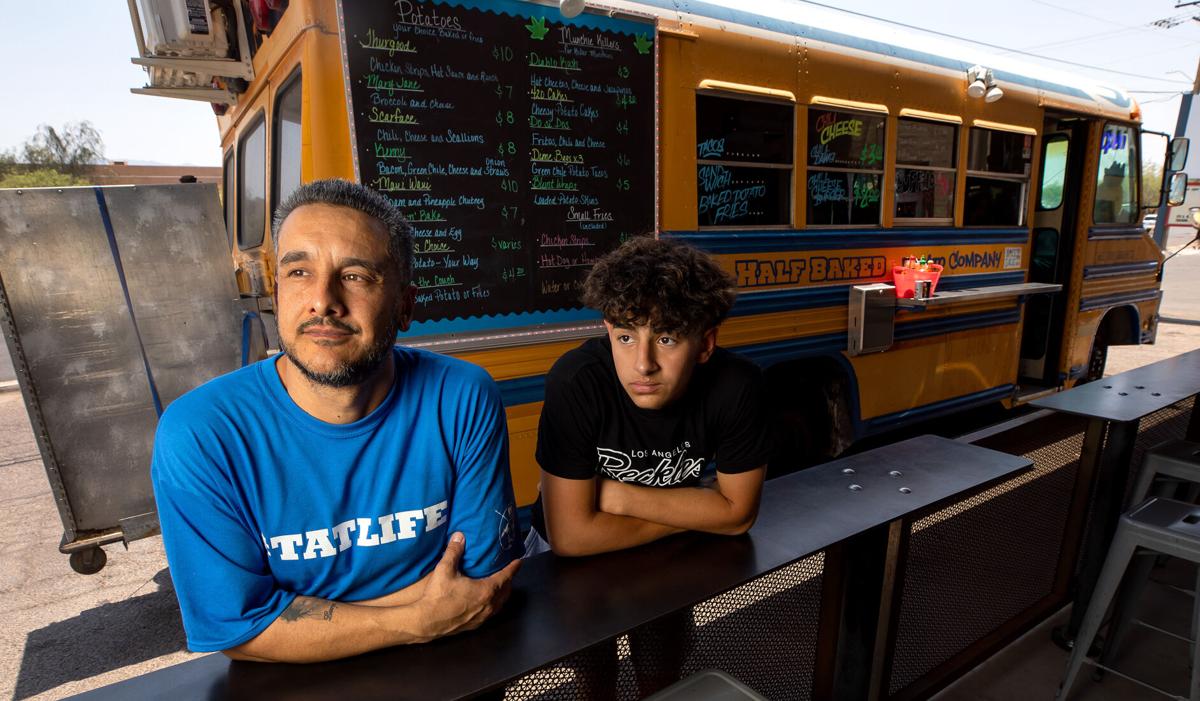 The school bus parked outside of Arizona Beer House several days a week isn't a sign that the state has lowered the legal drinking age.
The only education being offered by Angel Hightower, Sr., the owner of the bus, is lessons on making the perfect spud-based meal to go with your pint of choice.
Hightower purchased the vehicle in Phoenix and, using his skills as a mechanic, converted it into a mobile kitchen for the Half Baked Potato Co., a fully functional food truck that specializes in stuffed potato dishes.
Hightower said he was looking for something beyond the average food truck aesthetic.
"I was trying to go vintage first," he said. "I looked at some old trailers, but space was an issue. Then I stumbled onto this bus."
Hightower said the previous owners were attempting to turn the bus into a mobile smoke shop, which is fitting, because Hightower's menu is an homage to marijuana culture.
Order a Diablo Kush and you'll receive a plate of Hot Cheetos, cheese and jalapeños. Blunt Wraps is what he is calling his loaded potato skins.
Many of his stuffed potato creations are named after characters from the 1998 Dave Chappelle stoner comedy, "Half Baked," including the Thurgood, the Scarface, the Kenny and the Mary Jane, a simple potato topped with broccoli and cheese.
More adventurous potatoes include the Maui Waui, which comes with Spam and pineapple chutney. None of the meals from the bus contain actual marijuana.
"I am a pothead," Hightower said. "It is fully legal now. I wanted to do something to remove the stigma, to help make it mainstream."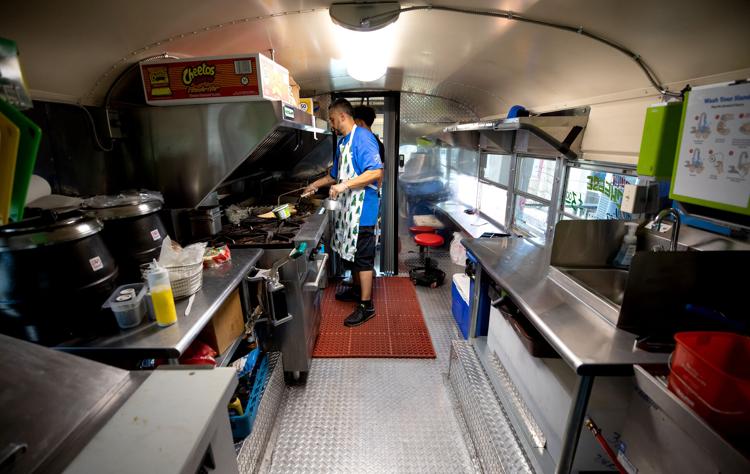 Hightower spent years working as a power plant operator and engineer for local entities, such as Tucson Medical Center, Tenet Healthcare and the University of Arizona.
His pre-pandemic dream was to launch a business that would allow him more time with his family.
"The jobs I had were 24/7," Hightower said. "I was missing my son's football games, other things."
Now, Hightower said, he can set up his food truck at his son's Sahuaro High School football games and shut down operations when it is time to watch him play.
His son, Angel Hightower Jr., is an integral part of his business. With his food handling certification, Hightower Jr. helps with Half Baked in the evenings. Hightower Sr.'s 19-year-old daughter, Haley Hightower, handles the social media. His 15-year-old daughter, Lauryn Hightower, takes orders.
Hightower's wife, Liz Hightower, assists with the recipes and the inventory.
"It's all hands on deck," Hightower Sr. said.
Hightower struck an agreement with Arizona Beer House that allows him to serve as the east-side taproom's go-to food truck from 11 a.m.-4 p.m. Mondays-Thursdays and fill in when needed in the evenings.
"I was a patron there for many years and part of developing the idea was sitting there and seeing how well it worked for others," he said.
On the weekends, you can find Half Baked Potato Co. serving outside of Empire II Tattoo, 6516 E. 22nd St. Hightower Sr.'s ultimate goal is to set up outside of marijuana dispensaries to help support the industry.
"I am going to throw wake-and-bake parties," he said. "Before they even open, I am going to feed their 15-20 employees with weed-shaped pancakes and things like that."