If it's good for the soul it must be good for you too, right?
We're bringing back this list from 2015 just in time for the holiday season. 
Food that fills the soul
It's no surprise that Tucson — are we not known for our warmth? — dishes up some of the most soothing specialties around.
Before presenting our top 9 comfort dishes served up in restaurants here, we should mention we automatically disqualified some foods: no pizza, no chocolate, no mashed potatoes (all way too obvious) and no menudo (too polarizing).
Some are obvious, some not, but all hit the spot.
Grilled Cheese Sandwich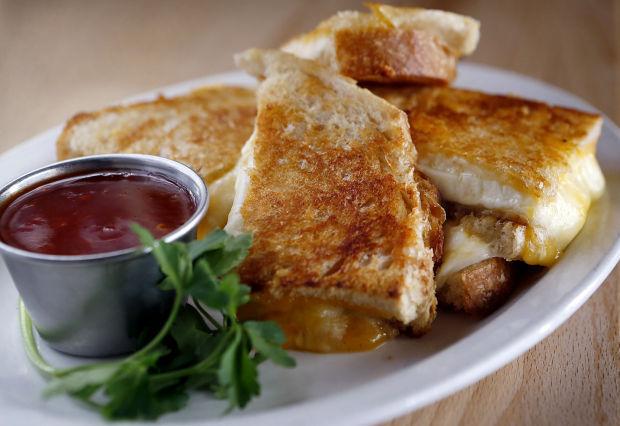 Grilled Cheese Sandwich at 47 Scott, 47 N. Scott Ave. 47scott.com. Calling this a grilled cheese sandwich almost does it a disservice. Smooshed between toasty, buttery sourdough bread brushed with a whisper of garlic oil are cheddar, fontina and a made-there mozzarella, all melted and mixing and marvelous. This is grilled cheese for grown ups that offers the warm fuzzies of childhood.
Posole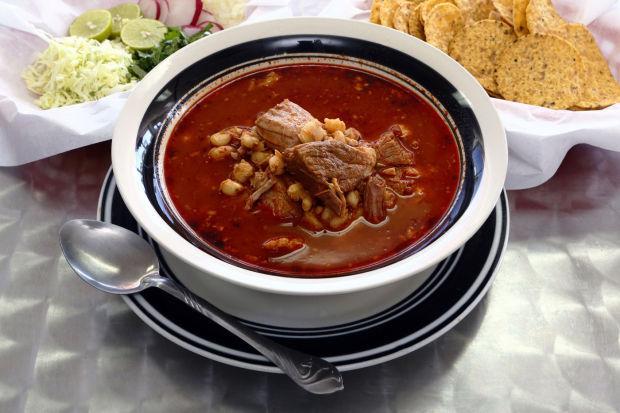 Posole at Michoacan Taqueria Raspados, 3235 N. Flowing Wells. We are reluctant to even mention the posole here — we feel as though it's our secret little place with the best posole we've had since that long vacation in Mexico. The rich, red broth has oversized chunks of pork that flake apart with a tap of a fork, and fat, tender hominy. There's a low-key heat to the dish — just enough to say "ahhh" rather than "whoa." Squirt the lime on top, spread the lettuce, add the jalapeño if you dare. This hearty soup is in a most unlikely place — really, isn't the best Mexican food in South Tucson? That's what we once thought. Now, when the comfort of posole is needed, Michoacan on North Flowing Wells Road south of West Prince Road satisfies like no other.
Green chile cheese enchiladas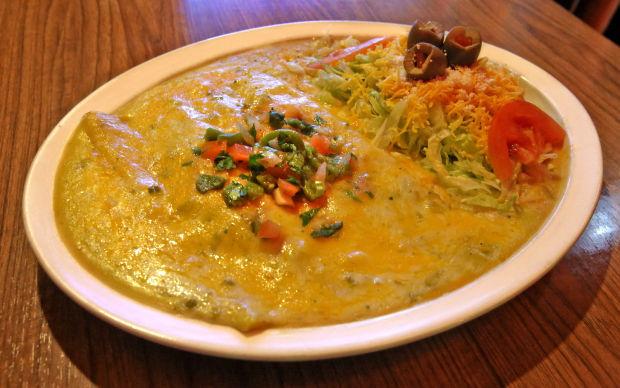 Green chile cheese enchiladas from Mi Nidito, 1813 S. Fourth Ave. minidito.net. We have nothing against the red-sauce kind, it's just not as unique as these 'ladas, which come three to a plate. Melty strings of mild cheddar and creamy Jack cheeses stretch from fork to mouth and are wrapped in velvety-soft corn tortilla blankets. The green-chile flecked sauce boasts roasted richness but is still mild enough for the wimpiest of palates. The creamy refried beans on the side deserve a story all their own.
Cinnamon rolls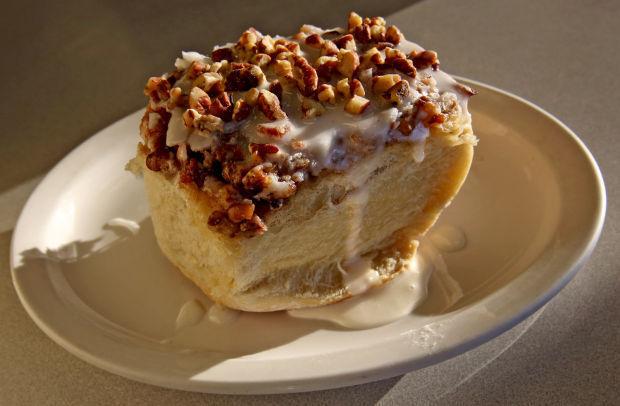 Cinnamon rolls from Robert's Restaurant, 3301 E. Grant Road, robertstucson.com. For an upcharge, you can order one of these babies cut and grilled. We prefer them as they come right out of the pan. Tall as the Yellow Pages and fluffy as a pillow, the begs-to-be-pulled-apart-with-your-fingers bread is swirled with gooey cinnamon and topped with a sweet white glaze that perfectly accents the roll. They're exquisite plain, but we also love the added texture and depth of the chopped, toasted pecans.
Crab-stuffed chicken breast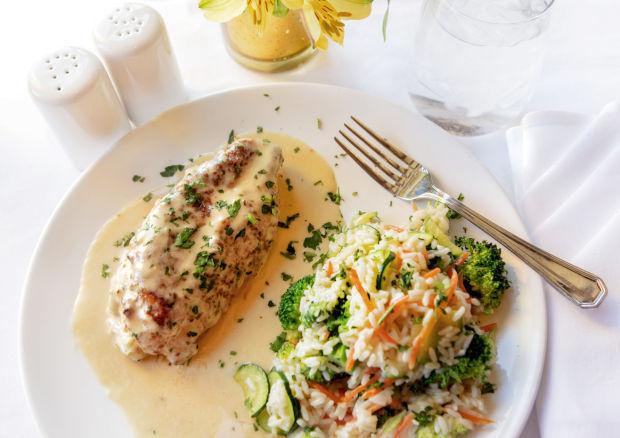 Crab-stuffed chicken breast from Vivace Restaurant, 6440 N. Campbell Ave., vivacetucson.com. Vivace boasts many memorable dishes, and we've tried nearly everything on the menu, but the one we always come back to — that sings to us as we're still in the parking lot getting out of the car — is the crab-stuffed chicken breast. The juicy chicken is crispy-crunchy on the outside and tucked around sweet, succulent crab meat. It's a match made in heaven. The rich cream sauce and vegetable rice on the side are just the icing on the … chicken.
American Mac and Cheese
American Mac and Cheese from The Fix, 943 E. University Blvd., thefixaz.com, Mac and cheese comes in all sorts of styles — fancy cheeses, add-ons such as bacon or spinach, different noodles. They come in all sorts of ways at The Fix, too, but at the base is the best way: rich with cheddar, creamy, elbow mac and crusty on top. That's the American. Oh sure, we might want bratwurst added ($6.99), or lobster ($8.49), but when it comes to cozying down with warm memories and hot mac n' cheese, nothing beats the good ol' just-how-mom-made-it American.
Liz's Biscuits & Gravy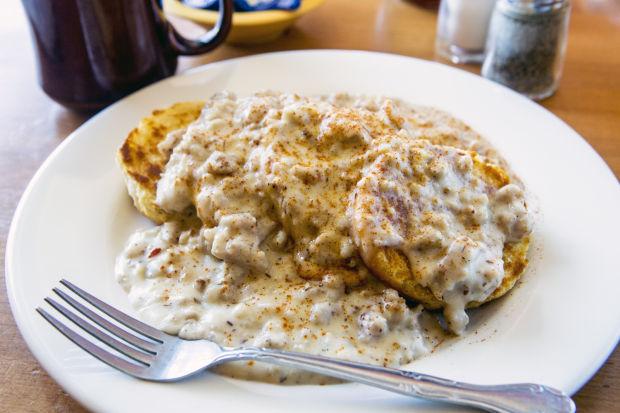 Liz's Biscuits & Gravy from Baja Cafe, 7002 E. Broadway,  bajacafetucson.com. Full disclosure: We adore b&g, we know good b&g and we are often horribly disappointed by leaden biscuits and lumpy, flavorless gravy. Liz — we don't know who you are, but we love you. Your version is a revelation. The light, fluffy biscuits have a crisp exterior, and then they're sliced, buttered and griddled to lightly crunch up the interior, too. The creamy sausage gravy is comforting, strikes the right amount of richness and packs the perfect peppery punch.
Messy Fries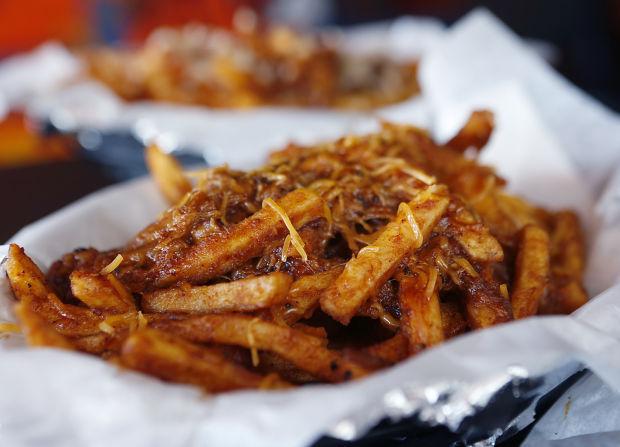 Messy Fries from BrushFire BBQ Co., 2745 N. Campbell Ave., 7080 E. 22nd St.; brushfirebbq.com. Warning: If you go for the "hungry"-size portion of fries, you will be eating them for three days. It will be the best three days of your life. These fries eat like a meal — 'cause they are. On the thin side with a crispy outside, the fries make up the base. They're topped with a light smattering of the cheese of your choice and heaped with the meat and barbecue sauce you want. You can't go wrong with the smoky-sweet brisket or the exquisitely tender BrushFire Pork. Definitely not finger food.
Focaccia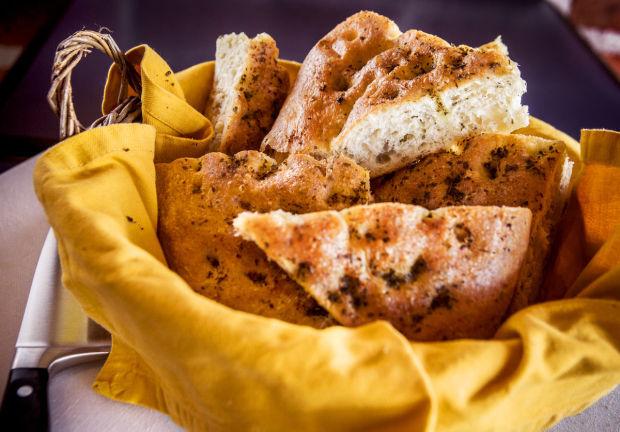 Focaccia at Beyond Bread, 421 W. Ina Road; 3026 N. Campbell Ave., and 6260 E. Speedway, beyondbread.com. A confession: Sometimes — OK, often — we stroll into Beyond Bread, order a loaf of focaccia to go, rip off a chunk or two the minute we get back to the car and eat it slowly, with eyes closed. The round loaf is tangy with sourdough, drizzled with olive oil, and topped with herbs such as oregano and rosemary. There is no food as comforting as bread, and no bread as comforting as Beyond Bread's focaccia. It makes great bookends for sandwiches, is perfection as a dinner bread, and is sublime as you sit alone in your car sneaking that first bite of the loaf.