There are a few things I look forward to around Easter. Fish Fridays, perfect picnic weather, and everyone asking me what I gave up for Lent.
Sure, I might be joking about the last one, but Easter is a time many of us dust off the ol' spring traditions and celebrate with family. And one tradition I can't wait to break into, literally, every year is my family's epic cascarónes battle. 
You might be asking, "what is a casa-roni? And what sort of beef did you start with your family?"
I promise it's all in good Easter fun.
Cascarónes are eggs that hallowed out, dyed, stuffed with confetti and covered in tissue paper. The word itself is Spanish and means "eggshells."
Once assembled, the cascarón is a beautiful thing to marvel, but even better to destroy. It's believed having one of these bad boys broken over your head is a sign of good luck and fortune.
According to the University of Arizona's folk art page, in the late 19th and early 20th centuries, cascarónes were used by youths as highly-effective flirting tools. Break an egg over your crush's head at the next dance and they'll be sure to get the picture.
This type of playfulness supposedly can be traced back even further to when Marco Polo brought the idea of eggs filled with perfumed powder from Asia to Italy. The practice of giving these eggs as gifts spread to Spain and eventually Mexico in the 18th century. Overtime the perfume was replaced with confetti and slowly morphed into the cascarón we use today. 
Nowadays you can find these tissue-covered eggs at all sorts of celebrations. Halloween, Día de los Muertos, Cinco de Mayo, birthdays and the list goes on.
One of my fun and fondest memories of graduating from high school was smashing a few cascarónes on friends' heads before the ceremony.
But the time the cascarón reigns supreme is Easter. They're the perfect substitution to the average Easter egg and can bring a lot of festive flare to the party. Not to mention no more hardboiled eggs taking up your fridge space.  
My family added cascarónes battles to the list when I was a tween as a way to give the kids who had outgrown the egg hunts something to do. It's quickly developed however to include everyone.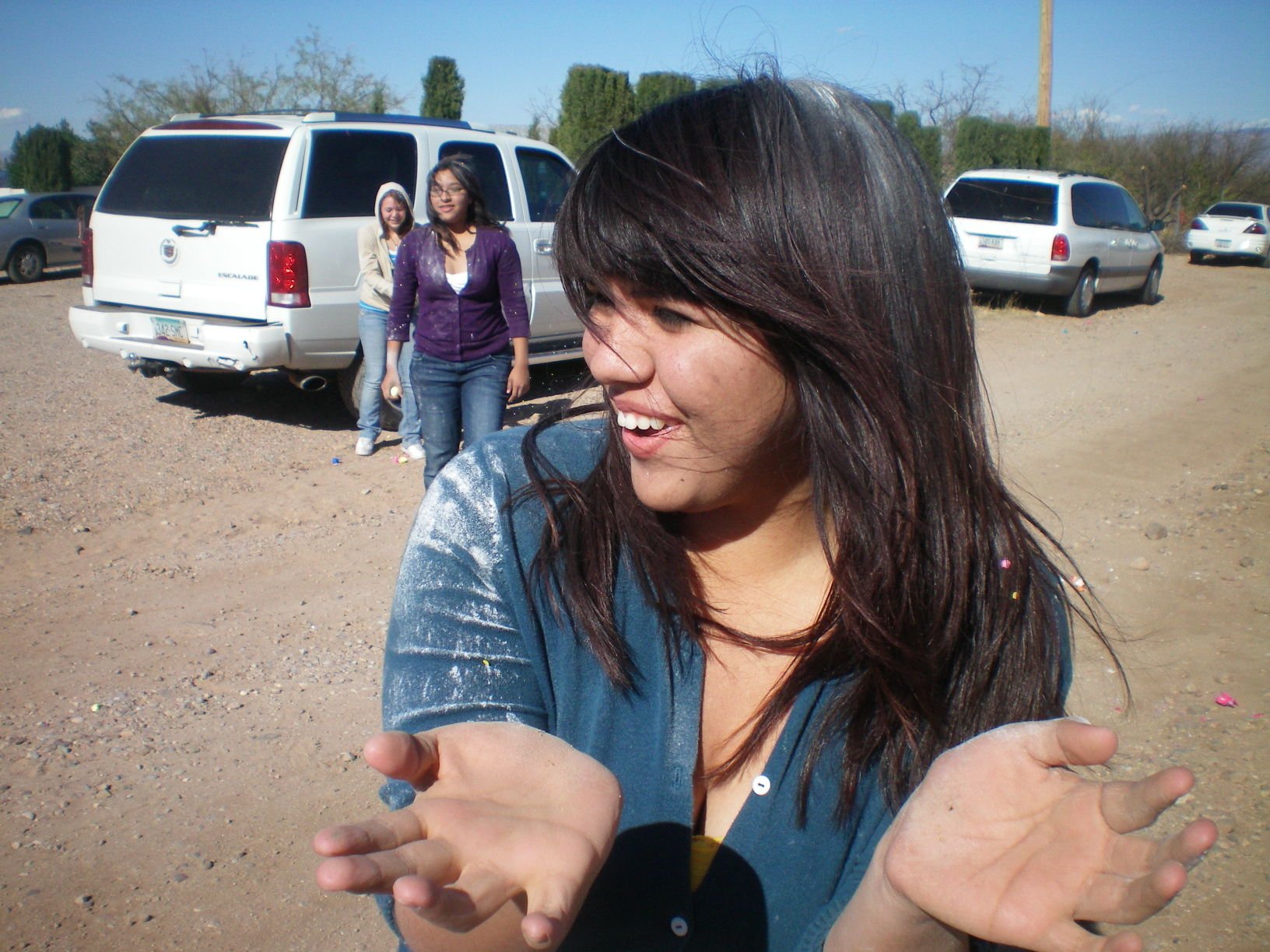 This is me in the aftermath of a 2009 cascarónes battle. Eggs were filled with flour that year.
And the objective to one of these battles is very simple; you have to find and smash a cascarón over an opponent's head until all the eggs are gone. 
For a dramatic and messy effect, my family has up the ante by filling eggs with flour and glitter in addition to confetti. 
You can buy cascarónes at a few of the big retailers this time of year, but I find making these little guys part of the fun.
Just remember the more you use, the more you have to clean up!
How to make cascarónes 
Eggs. Use as many as you like. I stick to the dozen or so range for maximum egg-battling fun.
A pin or thumbtack
Small container
Egg dying kit. We used the trusty PAAS kit this go around, but any way you color your eggs will work.
Confetti
Flour (optional)
Glitter (optional)
Glue
Paintbrush
Tissue paper cut into 2.5 inch by 2.5 inch squares
Create a small hole at the bottom of a raw egg by poking the shell with a pin or thumbtack. This will make it easier for the inners of the egg to spill out.
On a hard surface, carefully tap the around the top of the egg until the shell starts to crack. Use your fingers to remove the broken pieces until you create a large hole, about the size of a quarter, at the top of the egg.
Use the large hole to remove the inside of the egg. Put the yolk and egg white aside in a container for future cooking. I made a quiche from a recipe I found on Pinterest with my egg guts.
Clean your hallowed out eggs with warm water. Let dry.
Color dried eggs with egg dying kit. Use kit as directed.
Once dried, insert as much confetti as you would like inside the egg. I usually fill up the egg a little more than halfway. You can also step up your game by adding flour and/or glitter to the mix.
With a paintbrush, dab a small amount of glue around the large hole of the egg.
Use a small square piece of tissue paper to cover the hole. 
Congratulations! You've made a cascarón!