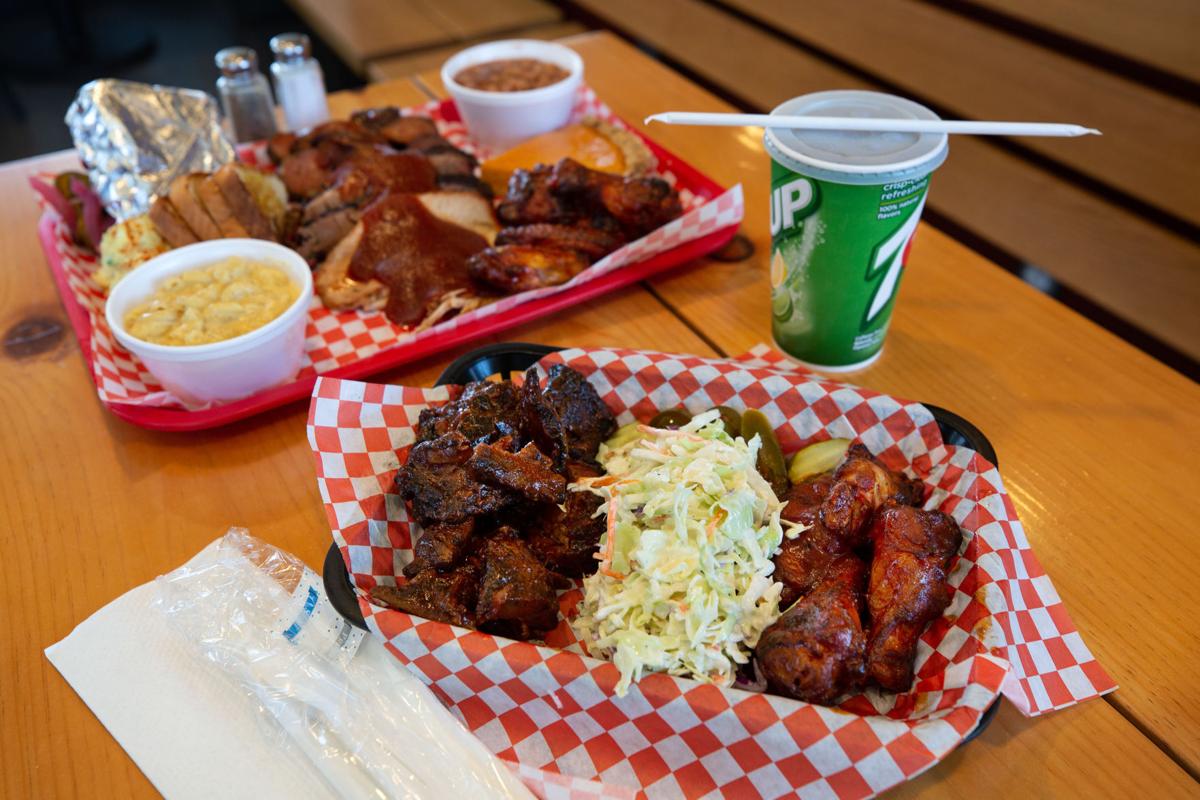 This Sunday, the Kansas City Chiefs will face off against the Tampa Bay Buccaneers to determine who rules the gridiron at this year's Super Bowl.
Looking for snacks for the big game? Try these meals that fall in line with the hometowns of each team.
Kansas City barbecue
Visit Ocie Davis at his place of business and there is no question who he'll be rooting for at this year's Super Bowl.
You can see it on his face, his mask emblazoned in brightly colored Kansas City Chiefs imagery.
Then there is the work itself: Serving slow-cooked, Kansas City-style barbecue as the pitmaster and co-owner of Smokey Mo restaurant in the old home of Shari's Drive-in, 2650 N. First Ave.
Don't let Davis' 20 years in Tucson fool you. He is Kansas City born and raised and has been barbecuing in restaurants since he was 16 years old.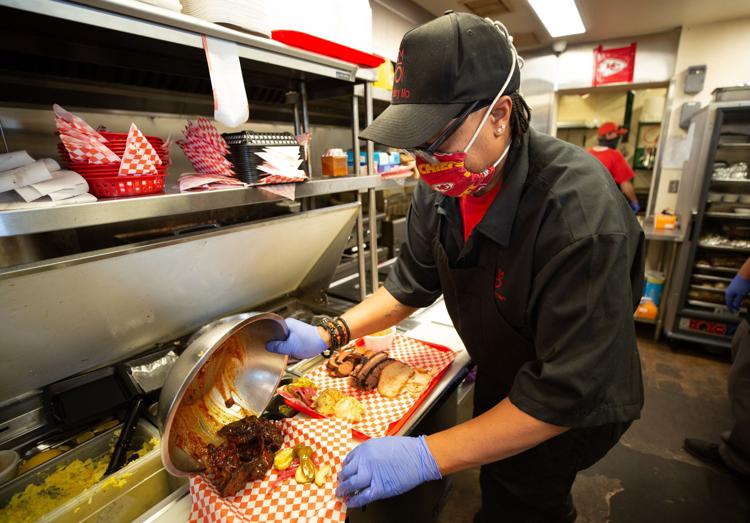 Davis took over Smokey Mo last March, with his partners, Patricia Jorgenson and Brandon Johnson, right before the lockdown.
"We were totally scared," Davis said. "But we've thrived in this. This is an easy food to pick up and take home. Most of our regulars still do takeout. On warm days, we have the patio. That fills up quick, too."
Davis said the restaurant's strict focus on Kansas City-style barbecue has earned it a strong following from Midwest transplants looking for those hometown flavors.
He throws out several customer favorites. The brisket is a big seller, as are the wings. Then there are the "burnt ends," a Kansas City staple, consisting of the juicy chunks of meat with an outer char from the point end of the brisket.
"We call them brisket candy," Davis said.
Davis said the secret to Smokey Mo's Kansas City barbecue is the rubs and sauces that he makes himself.
"It is what you put in the rub that sets it apart," he said, "I'm not going to tell you the secret, but it is there."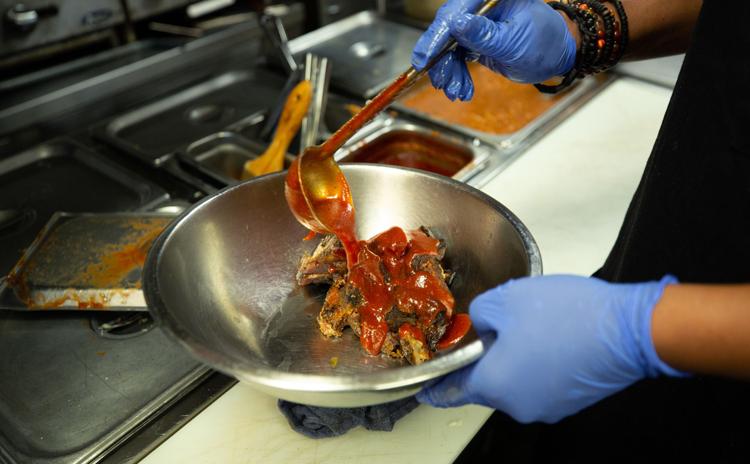 The slow cook process is what has Davis in the restaurant at 4 a.m. every day. Brisket takes around 15-18 hours; pulled pork, six to eight hours; ribs can take up to six.
"We sell a lot of ribs, but I like to keep it fresh," he said. "If we run out, you know next time to get here a little bit earlier."
Davis said the restaurant is already packed with orders for Sunday's Super Bowl.
It is offering a Super Bowl sampler special that includes rib tips, burnt ends, pulled pork and wings, that needs to be ordered by 2 p.m. Friday, Feb. 5.
Davis will be working hard, but only up to a point. The Super Bowl awaits.
"I get off at 3 (p.m.) Sunday, so I can go home and get my own stuff done," he said.
Tampa's Cuban sandwiches
Check the online menus at any traditional restaurant in Tampa and you are likely to find the Cuban sandwich, or Cubano, in the mix.
The ham and Swiss cheese-based dish can also be found at restaurants across Tucson, from the Cup Café at Hotel Congress downtown, to Firetruck Brewing Co., with three locations, including its original location at 4746 E. Grant Road.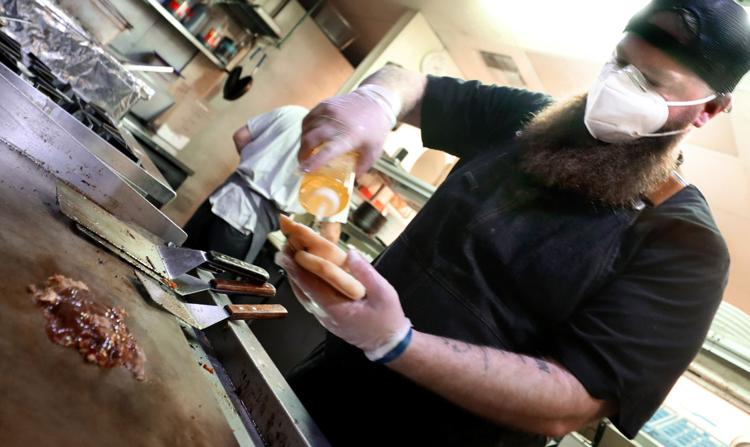 Each spot puts its own twist on the Cuban.
Johnny's Cubano at Johnny Gibson's Downtown Market, 11 S. Sixth Ave., incorporates a mouthwatering mix of shredded pork shoulder, ham, Swiss cheese, pickles, a spicy Dijonaise and roasted jalapeños for an added kick.
At Fini's Landing, a foothills staple at 5689 N. Swan Road, Chef Ryan Jones braises his Cubanos' carnitas in Dr. Pepper. It is served in a torta with apple-smoked bacon instead of ham, Swiss cheese, pickles, cabbage, and a mustard using Barrio Brewing's Beached Ale as its base.
The restaurant sells between 75 and 125 Cubano tortas a week.
"It is one of our more popular items," Jones said.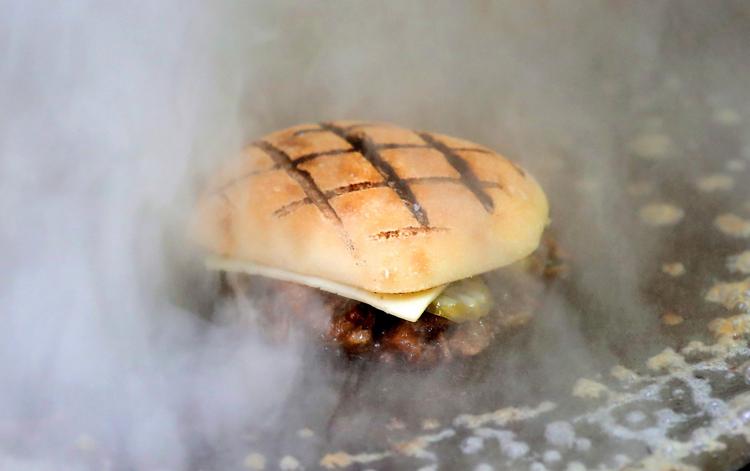 For a closer look at Fini's Cubanos or some of its other Super Bowl snacks, including its Chubasco wings and coconut shrimp, visit the restaurant's website at finislanding.com