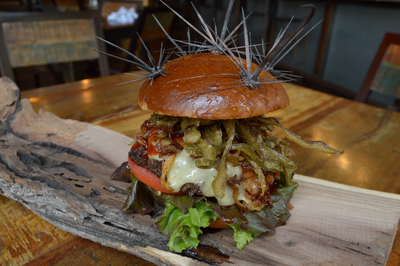 Get ready to cast your vote! A Tucson steakhouse has been named a finalist for the James Beard Foundation's 2017 Blended Burger Project.
The annual project challenges contestants to "make burgers better by blending ground meat with chopped mushrooms, creating an incredibly delicious patty that's healthier for your guests and more sustainable for the planet," according to the website.
Charro Steak, 188 E. Broadway, has submitted the aptly named Tucson Temptation, which contains a blend of grass fed beef and Bacon Oyster Mushrooms from local purveyor, Sonoran Mushroom Company.
Built on a locally baked bun, the burger's toppings include green chiles, white cheddar, nopalito shoe strings, prickly pear barbecue sauce, locally grown tomatoes and red leaf lettuce.
The Tucson Temptation is facing off against dozens of restaurants from across the country, including two others in Arizona (both in Goodyear.)
Voting opened on May 29 and runs through July 31.
As part of the competition, the burger must be on the restaurant's menu through the voting period, so if the Tucson Temptation sounds tasty to you, get down to Charro Steak and have one.
Check out the entries and vote here.