A trip to Guatemala persuaded Marcy Ellis to devote herself to helping others through art.
Growing up, her parents encouraged her to draw and she took advanced placement art classes in high school. But by the time she enrolled at the University of Arizona, her dream was to open a boutique, so she pursued a degree and started down a path in retail and consumer sciences.
Then came that trip to Guatemala nine years ago. Ellis brought art materials to a school for the deaf and blind and discovered how art can shape a child's life. That's when she changed her own path yet again.
"I just kind of realized in that moment with all of these little kids that I have so much more to give than maybe the route that I was thinking of going on," said Ellis, who returned to Tucson and switched to a double major in art education and studio art.
Now, in addition to managing her art business, she works full-time as an art teacher at Prince Elementary School and teaches classes to people of all ages at The Drawing Studio. Her work is also on view at PopCycle, a shop on North Fourth Avenue.
"I'm around a demographic of students that don't get art at home," said Ellis, 28. "Their first experience with art usually is in my classroom."
She said her students' curiosity and hunger to learn remind her that it's okay to experiment in something uncomfortable or to start drawing something new and unfamiliar. Ellis has even seen some of her students from Prince Elementary take extra art classes at the Drawing Studio.
Balancing three different jobs is no easy task, and Ellis admits that she burns out at times. She copes by staying organized and setting deadlines for herself, making sure there's ample time for creativity to sprout.
"I try to find ways to be inspired," she said. "I read a lot, get outside a lot and connect with important friendships in my life. That's what is kind of helping me carve through the blocks that I have."
Much of Ellis' work weaves womanly figures with familiar desert plants, mountains, animal skeletons and insects.
"My whole body of work is centered around human life and how we transcribe and transform," she said.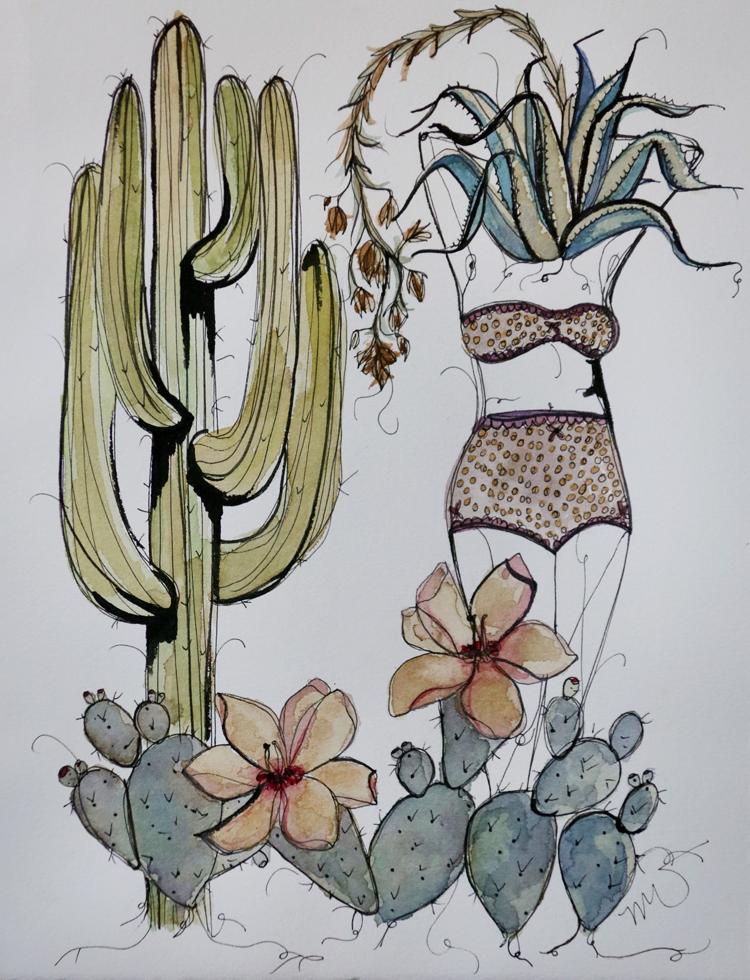 By contrasting humans and nature, Ellis tries to show the flawless life cycle of plants and the spontaneity of our lives. She often researches botanicals — she says understanding the meanings and origins of plants and how they react to the human body allows her to translate those concepts into drawings.
Throughout Ellis' home studio, potted plants line the walls and shelves, many of which are often illustrated in her prints. Her favorite is yarrow, Achillea millefolium, which represents rebirth. The flowers remind her of her childhood, and the versatile plant can be burned for a smudge or boiled down for tea. Ellis takes these details into consideration while working on commissions, and especially when designing tattoos for strangers.
"I ask them to tell me a story of what they think they want to see on them all the time," Ellis said. "What type of flower do you remember growing up? What type of scenery or where in open space did you feel at home?"
She believes that designing tattoos is a deeply personal act, allowing her to learn about each individual who trusts her to create imagery for their body. Ellis said she sees herself making tattoo commissions a priority for her business .
That business is centered in her home studio, where sunlight pours in through two black-framed windows. Glass cups full of pencils and paintbrushes sit on her desk, waiting within reach. When Ellis puts ink to paper, her hand moves slowly but with confidence.
Her medium of choice is ink and watercolor. Discovered by accident, she mixes paint with other substances to create appealing styles: Coffee grounds make a stain that gives an aged effect, red onion skins create an unmatchable shade of green, and turmeric produces a bright, warm orange.
The walls in her studio are covered with large, framed paintings, and in the corners you can find small polaroids of her with friends and family, some of whom inspire her art, taped to the glass.
"The female form is how I see all life and how I see strength and how I view courage," Ellis said, sitting at her studio desk. "I create these women, they're different people I've experienced in my life. It's my mother, it's my sister, it's my best friend."
Ellis said she never wants to create just one type of woman. Her hope is that every woman can look at her work and feel a connection or see her own body in it. She doesn't create faces or skin tones for the women she draws because she doesn't want to put a profile on any part of it.
"I love to connect with people, especially women, who admire my work, and they see something else than what my intention was for drawing it," she said. "That's the best part."