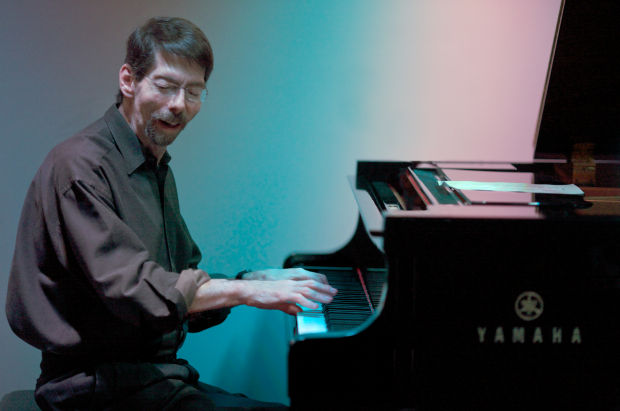 "I'm first and foremost a jazz pianist playing songs," said Fred Hersch, lest there be any mistake about it. This general confusion can come from the classical feeling in Hersch's music.
No matter the piece, his playing is filled with lush phrasing that calls on symphonic chords to contribute lyrical thoughts that create lovely passages free of strident impulses.
His music is always beautiful — and it swings.
Wednesday, the Tucson Jazz Society brings the Fred Hersch Trio to the Temple of Music and Art. John Hébert, bass, and Eric McPherson, drums, fill out the trio.
Please note, you compulsive organizers of music by genres, that "Fred jazz" (as he likes to call it), is not filed under Third Stream, classical fusion or some other made-up label.
"I was around the New England Conservatory in the late 1970s when Ran Blake coined that term," Hersch said during a Skype call from Italy, where he was on a monthlong artist residency in a 15th-century castle.
"I don't think that term 'Third Stream' is relevant today," he said.
Third Stream takes its name from two other streams, jazz and classical. Between them would be the Third Stream, combining qualities of the first two streams.
"Fred jazz," he adds, "is music from the heart."
"His body of work is clearly recognizable as a manifesto of contemporary jazz," piano colleague Brad Mehldau told the New York Times a couple of years ago.
"Fred's musical world is a world where a lot of the developments of jazz history and all of music history come together in a very contemporary way. His style has a lot to do with thinking as an individual and it has a lot to do with beauty."
In the aftermath of World War II, followed by the Korean War, the war for civil rights, the Vietnam War and the ongoing culture wars, jazz lost its appreciation for beauty. Fortunately, Hersch has that reputation for being indifferent to genre and unbeholden to musical fashion.
Tucson freelance writer Chuck Graham has written about the Tucson arts scene for more than 30 years.
Stay up-to-date on what's happening
Receive the latest in local entertainment news in your inbox weekly!