Tucsonans have lots to talk about:
Food. Sports. Spooky places. Politics.
They are among the topics that are covered in locally-produced podcasts.
It's a nationwide craze. The online publication Fastcompany.com reports there are more than 500,000 podcasts available through Apple's iTunes.
And people are listening: This year, almost half of all Americans ages 12 and older have tuned into a podcast, according to Edison Research and Triton Digital survey data.
There are plenty of compelling podcasts originating in the Old Pueblo. Here are four of them:
"The many rules
of FILM CLUB"
The first rule Film Club podcasters follow is that no topic is off the table, be it box office blockbusters, classical films or the evolution of Nicolas Cage's hair.
Film Club Rule #237: Watch the hair. The hair defines the performance.
Rusty Boulet-Stephenson, Jeff Yanc and Heather Lares created the podcast. The three of them lead different lives, but all share a common passion for film and television. Boulet-Stephenson produces and edits the podcast for the group, but during the day he works for Visit Tucson. Yanc lives and breathes film as program director at The Loft Cinema. Lares is multimedia manager at the University of Arizona for instructional purposes.
They love doing the podcast together because they introduce one another to new genres and films.
"I was complaining the other day about scrolling through Netflix for 45 minutes trying to decide what to watch, but I like having us because it gives me reasons to watch specific things so it makes the decisions for me," Lares says.
Yanc's favorite episodes are when the topic is more specific, like their Patrick Swayze tribute.
"I don't think we've ever had a bad episode, but maybe mediocre," Lares says.
They used to record three episodes a day, but by the end of the session they were exhausted. Yanc says it's all about pacing, so now they record just two episodes per day.
Boulet-Stephenson says some of the most important things that make a good podcast are audience engagement and authentic voices.
"I like podcasts that are very conversational and people seem like they're learning from each other," Yanc says.
Film Club was on a hiatus because Yanc was on grand jury duty. They plan to record their 50th episode this month. You can catch their podcast on the radio at 91.3 KXCI or their website, themanyrulesoffilmclub.com
"BETWEEN THE LINES WITH JASON MARTINEZ"
From professional Flamenco dancer to Tucson podcaster, Jason Martinez explores the rich cultures in Tucson providing new and fresh perspectives. Martinez grew up in New Mexico but moved to Tucson in 2006. As a half-Anglo, half-Chicano man he hopes to provide a different perspective through his diverse experiences.
"It's a platform for people in Tucson who don't normally have a platform but they should," he says about his podcast, which is released monthly on Podbean. Martinez is interested in the perspectives of Chicano families who have lived in Tucson for generations as well as giving a voice to young people.
One of his most recent guests, Francisco Cantú, is a young, recently published author who attended the University of Arizona.
His memoir, "The Line Becomes a River," recounts his experience as a Border Patrol agent. Martinez says he enjoyed the conversation because it was spontaneous, as he met Cantú for the first the day of the podcast.
Martinez gives potential local podcasters two important tips: Find a clear, specific subject and be consistent with presentation and content. He started off using a simple USB plug-in microphone, but says he's seen people use their phones to record audio.
"TUCSON PINBALL PODCAST"
(tncms-asset)8bf54157-de61-52c5-9772-9c0e41ea708c[0](/tncms-asset)
"There's Chevy guys, and there's Ford guys," says Wayne Saeger, creator of Tucson Pinball Podcast. "Well, in pinball there's definitely Stern fans and there's Jersey Jack Pinball fans and there's Spooky fans. Those are the three main manufacturers now."
Saeger uses his podcast to talk about the niche hobby of pinball in Tucson. He discusses technique and travels to pinball conventions .
Saeger bought his first pinball machine in 2010.
"I found a Mario Brothers machine on Craiglist and I bought it," he says. "I had to go to Gilbert to get it, but I loaded it up and brought it home."
In late 2015 he started Tucson Pinball LLC with Robert Whipp. He says pinball is what brought them together. They offer a range of pinball machines around Tucson and host events where players can compete .
However, Saeger is now sole owner of Tucson Pinball after Whipp passed away a few weeks ago.
"I would talk to him almost every single day about stuff, so that's left a pretty big hole in kind of the social fabric," he says.
Saeger plans on interviewing more people in his podcast and doing a points breakdown of his scores during Pinsburgh, a pinball competition in Pittsburgh, Pennsylvania.
"I'm kind of a numbers person," he says. "There's different generations of machines, and that's how Pinsburgh is set up, like each machine in a bank is a different generation."
He says analyzing his scores on his podcast helps him become a better player because he can find his weaknesses. His podcast for all things pinball is at tucsonpinball.com
"FRONT ROW GEEKS"
Eddie Espinoza is a self-proclaimed geek.
He says being a geek is all about being passionate about anything from gardening to flying to video games. For Espinoza and his friend David Williams, it's video games, though they talk television, movies, books and even music on their podcast, "Front Row Geeks."
"When we watch our favorite stuff or play our favorite games it was on a couch, and we wanted to be up front and center whenever we were doing it," Espinoza says of how the podcast name came about.
"Our favorite thing amongst our friends, and even just David and I, we love video games, and I think that's really what got us to do it in the first place is that we couldn't get enough about just talking with ourselves," Espinoza says. "We wanted to be something that people could go to for more localized news about all the stuff we cared about, and at the time we didn't see a lot of that."
Espinoza and Williams met at Vail Academy and High School. Espinoza had some experience with video and audio recording, but mostly, he says, he's self-taught.
"Don't be afraid to get in front of the mic and do what you think is going to work for you," he says.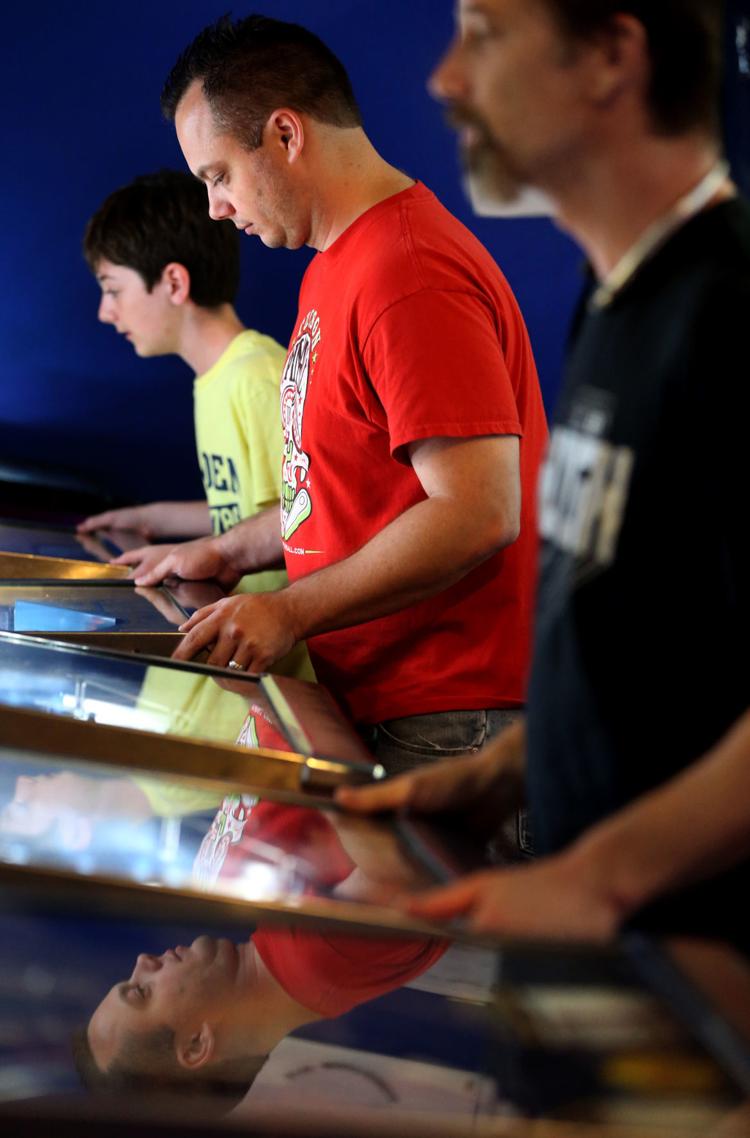 Espinoza and Williams now live in Phoenix, but plan on continuing their podcast. They are looking forward to discussing new video-game releases and conventions happening this fall. Listen at frontrowgeeks.weebly.com