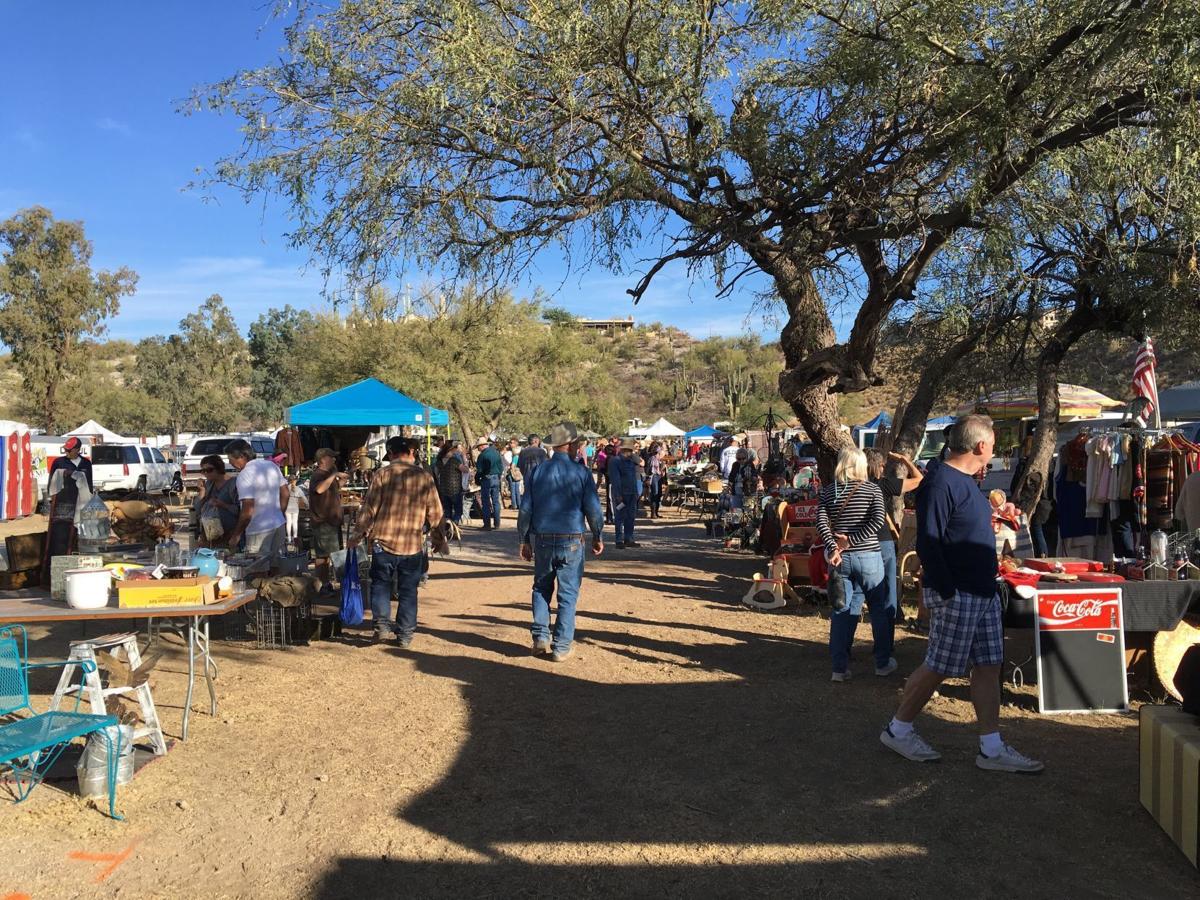 If you hear a barrage of thumping, rattling and clanging coming from your antique dealer neighbor's garage, he or she is probably just gathering inventory for the fall season.
Over the next couple of months, all of the big antique fairs in Tucson, most of which take place monthly, will be starting up again, providing residents the chance to buy everything from WWII flight suits to midcentury furniture to 1980s "He-Man" action figures.
Here is what to expect through the rest of 2021.
First Sunday Antique Fair
Where: Medella Vina Ranch, 4450 S. Houghton Road
When: 8 a.m.-2 p.m. every first Sunday of the month starting Sunday, Sept. 5.
Set amid the sights and sounds of a modern ranch, the First Sunday Antique Fair is a totally Tucson experience and the only fair that runs year-round. The fall is a good time to visit the fair, as the weather is cooler and the dealers are hungry to sell after a long dry summer. The ranch also has goats to play with, several food trucks and food vendors at each fair and drinks, including beer and mimosas for sale. facebook.com/MedellaVina
East Side Vintage Market
Where: Broadway East Plaza, 8740 E. Broadway
When: 8 a.m.-1 p.m. every first Sunday of the month starting Sunday, Sept. 5.
Located in a parking lot along busy Broadway, the East Side Vintage Market kicks back into gear in September, with a little bit of everything: rusty junk, studio pottery, vinyl records. The market keeps nearly the exact same hours as Medella Vina, but the two fairs actually complement each other. Finish your shopping at one and the other is only 12 minutes away by car. The East Side Vintage Market runs through May. facebook.com/eastsidevintagemarket
2nd Sunday Vintage Market
Where: 4500 N. Oracle Road
When: 8 a.m.-2 p.m. every second Sunday of the month starting Sunday, Sept. 12.
This vintage market in the parking lot of the old Sears, on the west end of the Tucson Mall, has become a popular destination for antique hunters who live on the northwest side of town. Folks come from as far as Marana and Catalina to stroll through its rows of vintage and antique dealers. Plus, there is usually at least one food truck or coffee vendor onsite. facebook.com/ 2ndsundayvintagemarket
Mercado Flea
Where: MSA Annex, 267 S. Avenida del Convento
When: 8 a.m.-2 p.m. every second Sunday of the month starting Sunday, Oct. 10.
Lining the sidewalks that run from West Congress north past the Mercado San Agustín and MSA Annex, antique dealers have plenty of the rare and unique to offer at the Mercado Flea. The flea has the advantage of being downtown, right along the Sun Link Streetcar line. Pick up some old taxidermy or tin toys, then hop on the streetcar to grab lunch downtown, along North Fourth Avenue or on East University Boulevard. mercadodistrict.com
Gather A Vintage Market
Where: Wildcat Storage, 657 W. St Mary's Road
When: Every second weekend of the month; 10 a.m.-5 p.m. Thursdays-Saturdays and 10 a.m.-3 p.m. Sundays. Next sale dates are Sept. 9-12.
This four-day pop-up market experience offers a more curated selection of antiques and vintage items, well staged in an indoor setting. The best part about Gather is that it lasts four days, giving you the opportunity to think on an item and come back (provided another shopper hasn't snagged it first). Downtown's restaurants and attractions are nearby if you want to make a day of it. Each month has a theme. gatheravintagemarket.com