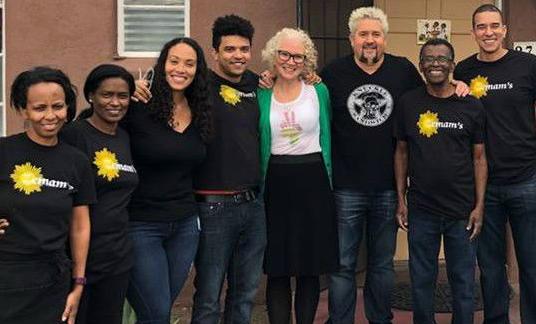 Zemam's Ethiopian Cuisine is set for its first taste of national television exposure after playing host to Guy Fieri, the face of the Food Network's "Diners Drive-ins and Dives" and his film crew for the last week. 
Zemam's was one of several Tucson restaurants visited by Fieri, as evidenced by numerous photos, videos and posts on social media platforms placing him everywhere from Chef Alisah's Bosnian restaurant on North Oracle Road to Rocco's Little Chicago Pizzeria on East Broadway. 
The Food Network would not confirm if Fieri was in town to film "Diners, Drive-ins and Dives" or some other show, or whether he was in town at all. 
Zemam's owner Amanuel Gebremariam said Fieri and his crew started filming at his restaurant on Sunday and returned two more times, including Thursday morning for a couple of hours. 
"It was so pleasant," Gebremariam said. "The crew was really nice to work with."
Gebremariam, who opened his original location in 1994 and his second spot, Zemam's Too, on East Speedway in 2013, spent much of Fieri's visit preparing select dishes, inspired by food that his mother used to make. 
He was enthusiastic about what kind of business a national television appearance might bring his restaurant.   
"I am really fortunate," Gebremariam said. "There are so many people who don't get this kind of opportunity and exposure." 
Stay up-to-date on what's happening
Receive the latest in local entertainment news in your inbox weekly!