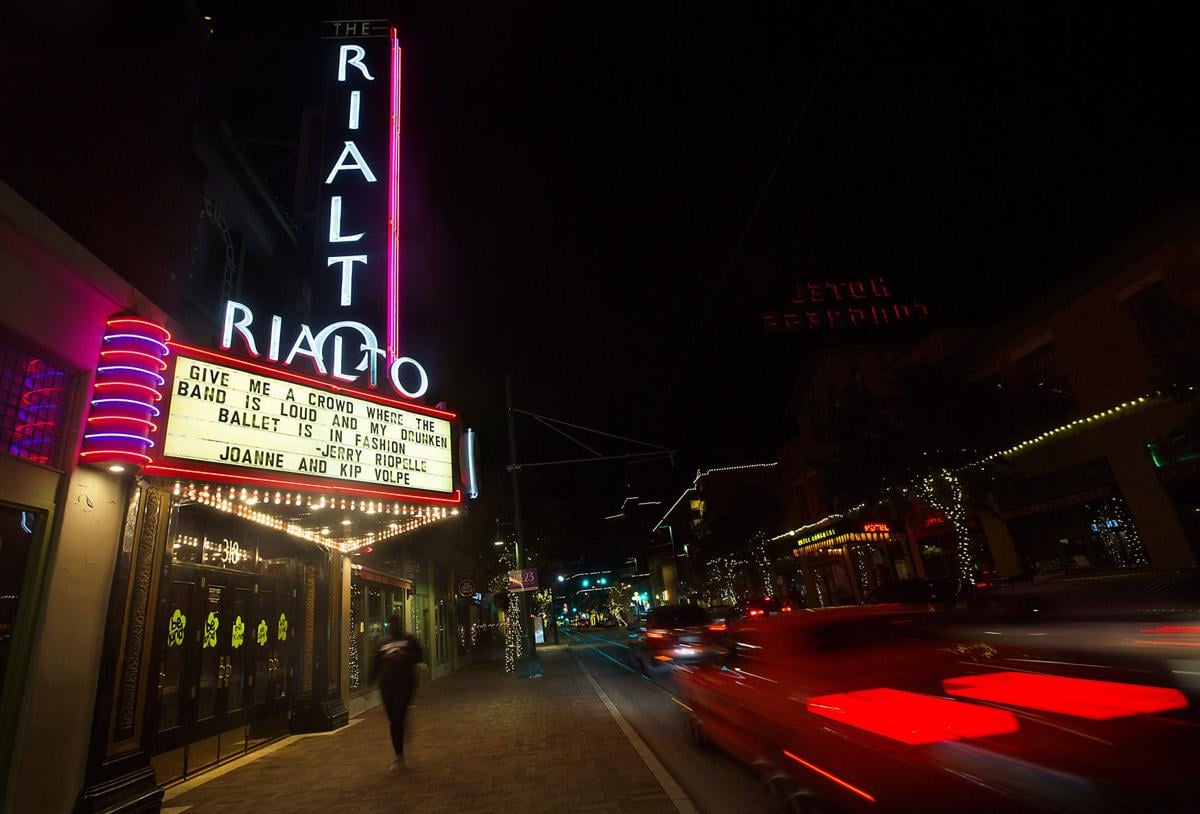 Tucson's Rialto Theatre, Fox Tucson Theatre, Club Congress and 191 Toole will soon require event and concertgoers to show proof of vaccination or a negative COVID-19 test.
The independent venues joined together with others from around the state to adopt the policy which goes into effect by Sept. 20, if not sooner.
Logistics including how far in advance community members would have to test are still in the works and will be shared on the individual venue websites and social media pages in the coming days.
"We are taking this necessary step for Arizona's music fans to ensure that all concerts this fall can happen as scheduled," the participating venues said in a joint statement. "We have a responsibility to our community and there are expectations for all who want to participate in activities in which they share an environment with other people."
Fox Tucson Theatre has been closed since the pandemic struck in March 2020 and is set to reopen for the first time on Thursday, Aug. 19.
When concertgoers attend the sold-out Mavericks show, the new policy will not yet be in place but masks will be required for all despite vaccination status, said Fox Executive Director Bonnie Schock.
The venue, which can hold 1,164 people, will be operating at 100% capacity.
"We are so excited to get back open and start doing events again and we are really grateful to those who have been supportive in what we know are changing conditions," Schock said. "We honestly believe this type of step is our best step that we can take to try to minimize further disruption. … Live performance is so vital to our community."
Understanding that some will not be in agreement with the new policy, Schock said the Fox will issue refunds for those who have already purchased tickets. The Rialto is also willing to provide refunds to customers who do not agree with the policy, though they ask patrons to consider using the ticket purchase as donation instead to support the nonprofit Rialto Theatre Foundation.
"None of us want to be in this spot, but it's where we are," Schock said. "From a practical business perspective, this is what our industry needs to do to best continue. The truth is, we're among the most high-risk industries, and live events were the first to shut down and the last to reopen. We can't do that again if we want to preserve the business model and keep live events happening."
Starting Friday, Aug. 20, the Rialto and 191 Toole will require patrons to wear masks while attending a show unless they're actively enjoying a beverage.
The policies don't apply only to customers, the Fox, Rialto and 191 Toole all have required staffers to be vaccinated.
At Hotel Congress' Club Congress, the policy will be in effect as early as this Friday, Aug. 20, for an indoor show featuring The Hangmen from Los Angeles. The band recently requested that guests be vaccinated or show proof of vaccination, said David Slutes, the hotel's entertainment director.
Slutes said the policy primarily applies to Club Congress' indoor space, not the plaza stage where masks are recommended but not required, unless an artist requests that the policy be put in place for an outdoor show.
In the case of The Hangmen, patrons who have yet to be vaccinated will have to provide a negative test taken within the last 72 hours, Slutes said. Anyone who is uncomfortable with the policy can have their tickets refunded, though Slutes says most of Hotel Congress' clientele has been supportive of the decision.
"Most of our guests applaud it and feel better about it, and our artists are happy that we are taking care of them," Slutes said. "It's paramount that we respond to the situation and we're trying to be as nimble and as sensitive as we can."
Slutes likened planning events during this phase of the pandemic to a chess game, making strategic moves as events unfold.
Club Congress' indoor space can hold 300 people, however, discussions have been had about limiting capacity or moving some indoor shows outdoors, even with the vaccination-test policy in place.
Other participating venues include:
Celebrity Theatre, Phoenix
Crescent Ballroom, Phoenix
The Marquee Theatre, Tempe
The Orpheum Theater, Flagstaff
The Rebel Lounge, Phoenix
Walter Where?House, Phoenix
WestSide Blues & Jazz, Glendale