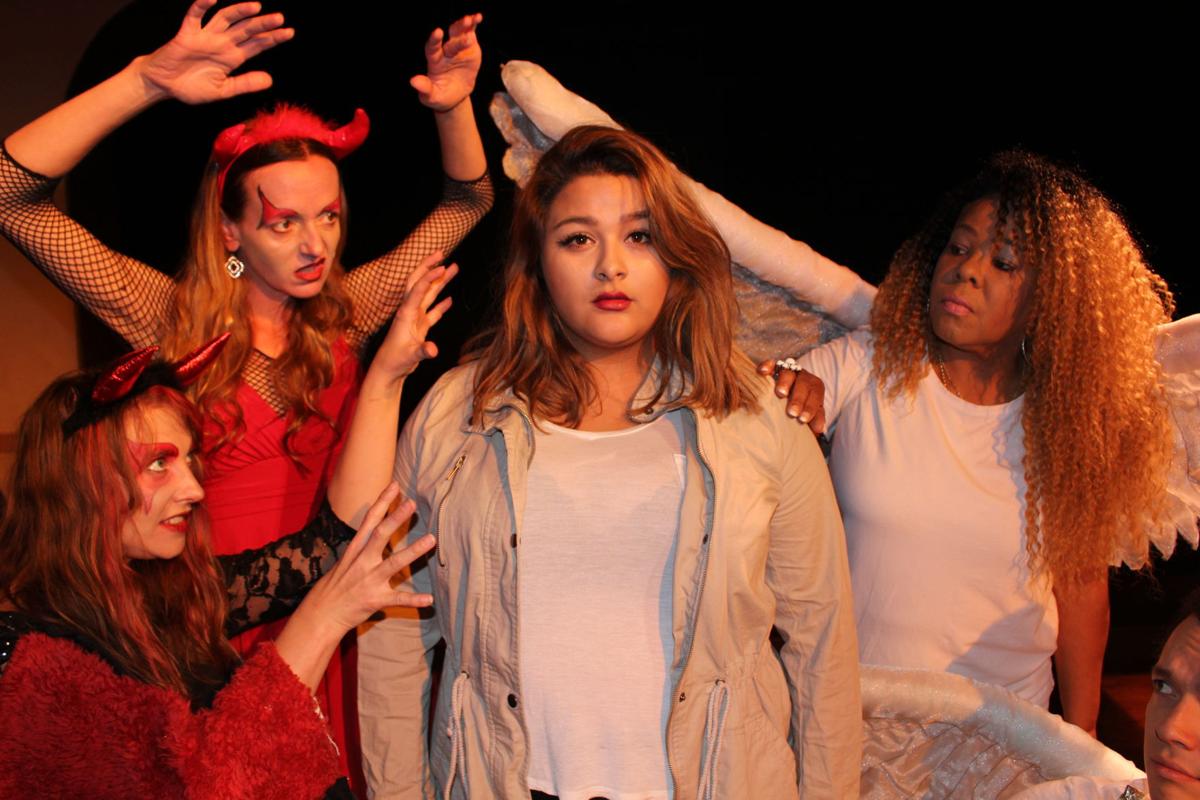 This has been a lousy year, full of acrimony, losses, greed.
And Borderlands Theater's annual "A Tucson Pastorela" can provide one.
Pastorelas mix topical and local events with the story of the shepherd's journey to see the newborn Jesus. The play, written in rhyme, makes us laugh, offers some release, and actually some hope.
Borderlands' "Pastorela" opens at a gathering point for protesters headed to North Dakota to protest the Dakota pipeline. It's hard to get motivated, however — the legalize-marijuana supporters in the group have taken one too many tokes.
A dedicated feminist, Stephanie, is frustrated beyond belief at the inaction; she wants to get moving to the protest. Then a strange thing happens — she's sent back in time, to the day the shepherds begin their journey to see baby Jesus.
They are confused; she's confused — after all, she's in a different time and place, and this one has talking dogs and sheep. Still, she joins the journey.
Michael the Archangel and her sidekick Gabriel float in on a cloud to give them the lowdown: They are to follow the star to Bethlehem, and they are not to be tempted. Evil forces will try to stop them.
Sure enough, Lucifer pops in, trying to sway them with tickets to "Hamilton" and other graft. Lucifer takes on different guises, including Donald Trump and Martin Shkreli, the pharmaceutical exec who jacked up the price of a livesaving drug by 5,000 percent.
Emily Pratt's Lucifer was wickedly wicked; as were her sidekicks Kat McIntosh as Satan and Eddie Diaz
. Feliz Torralba's Stephanie was strident and soft . Julia Mike, Amanda Lopez and Lucia Grijalva as the talking animals were a total delight.
There's much to love about this, especially the singing of Christmas carols in Spanish, backed by Gertie and the T.O. Boyz. Leticia Gonzalez sings "Silent Night" with a crystalline voice.
Written by Milta Ortiz and directed by Katherine Monberg, "A Tucson Pastorela" helps us laugh. And leaves us feeling optimistic with these near-closing words: "Our world changed forever that blessed morn / A new hope and optimism was born/ of all virtues of Earth and Heaven above/ The greatest of all mankind's talents is love."
Contact reporter Kathleen Allen at kallen@tucson.com or 573-4128. On Twitter: @kallenStar.