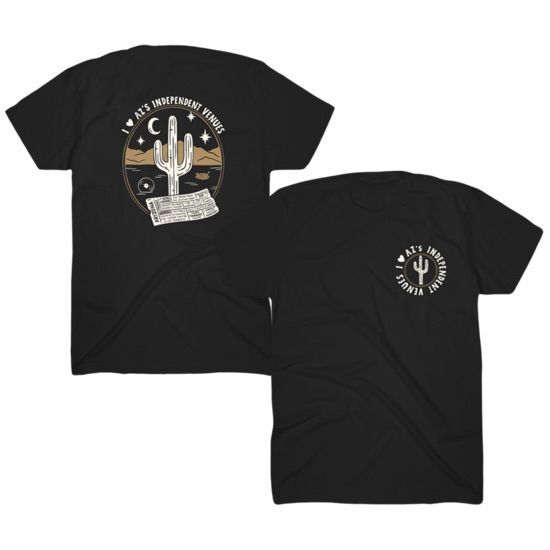 Four independent venues in Tucson are joining a dozen others statewide in a fundraising effort to help rescue independent theaters and concert halls affected by COVID-19.
The venues — Fox Tucson Theatre, Rialto Theatre, Club Congress and 191 Toole — are part of the "I (heart) AZ'S Independent Venues" promotion launched this week. The goal is to sell shirts and other promotional clothing to raise money for the shuttered venues, which have not been open since March 2020.
Part of the proceeds also will go to the National Independent Venue Association's Emergency Relief Fund, which is providing funds to independent venues to help them reopen.
"We're just working forward in anticipation of the (COVID venues) funding," said Kip Volpe, president of the Rialto Theatre's governing board, the Rialto Theatre Foundation.
Volpe said he doesn't know how much money the nonprofit theater will receive from the federal government's Shuttered Venue Operators grant fund, established late last year. But "we should get enough to reopen" possibly in late July. The Rialto has guitar great Kenny Wayne Shepherd booked for July 29, although if the state's COVID numbers go south, that date could be moved "back a month or two beyond that," Volpe said.
The $2 billion SVO fund could provide venues up to 45% of their 2019 gross revenues, topped out at $10 million, according to the U.S. Small Business Administration which is overseeing the program.
The names of the Rialto and its much smaller sister venue 191 Toole, Club Congress and the Fox appear on the back of the T-shirt along with the names of the 12 other venues from around the state including Flagstaff's famed Orpheum Theater and Phoenix's Crescent Ballroom, where plenty of Southern Arizona artists have regularly played.
Also listed on the T-shirt: Celebrity Theatre, Last Exit Live, The Nash, The Rebel Lounge, The Rhythm Room, The Trunk Space, The Womack and Valley Bar from Phoenix; Mesa's Nile Theater; and Marquee Theatre in Tempe.
The campaign comes as the venues are approaching the one-year anniversary of being forced to close. On March 12, 2020, the Fox was the first to announce it was going to pause shows for three weeks amid concerns of the pandemic.
Within days, the Rialto, Club Congress and every venue big and small throughout Tucson followed suit, and most have remained closed since, relying on donors and fundraising efforts including the Rialto's marquee program — people pay a nominal fee to have a greeting (from wedding anniversaries to birthdays) put up in neon on the downtown theater's marquee — to keep the lights on.