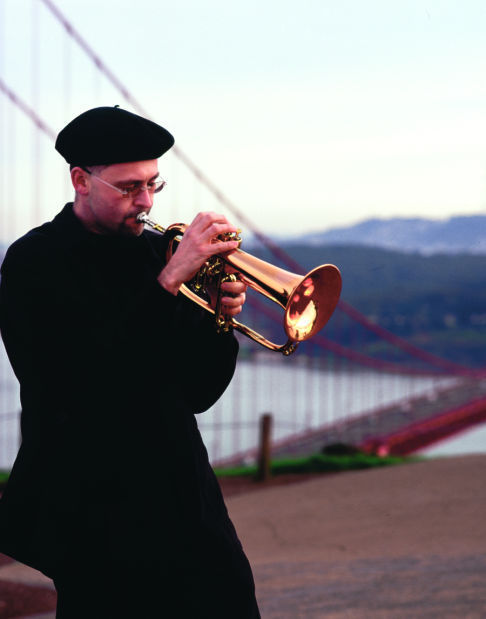 Jazz romantics of Tucson, this is your night. There is no greater lover of enchanting melodies than flugelhorn artist Dmitri Matheny, bringing his quartet to the Loews Ventana Canyon Resort on Saturday for a Tucson Jazz Society concert under the stars.
"I'm a romantic who loves to create an atmosphere, set a mood or establish a scene in the mind of the listener," Matheny told All About Jazz. "As a flugelhornist, I play jazz. Lyrical, modern, mainstream jazz in the tradition of Miles Davis, Chet Baker and Stan Getz."
A graduate of Canyon del Oro High School and the Berklee School of Music (magna cum laude in 1989), a longtime resident of the San Francisco Bay area and more recently based in Phoenix, the 48-year-old Matheny has recorded 10 albums and developed an international reputation for a warm, dark tone and soaring lyricism shaped by his masterful technique.
Now he's on tour with his newest CD, "Sagebrush Rebellion," released August 9 using the same quartet format. Pianist Nick Mason plays on the album and will be on the bandstand Saturday, joined by two other Matheny regulars, T-Bone Sistrunk, bass, and John Lewis, drums.
"I'm on the road 200 nights a year," said Matheny, actually on the phone from his own home for a change. "To make money in this business, you have to stay on the road.
"I'm going to the Pacific Northwest next, to Seattle and those parts."
Not that Matheny ever feels the loneliness of the long distance musician on his 100-city tour. For him, every night of performing is another opportunity to converse with his audience.
"In every concert I try to connect with people emotionally, mixing up the songs and the rhythms, including some classic songbook favorites, some of the tracks from earlier albums. And some of the new stuff.
"Lately, I've been playing 'Stormy Weather' a lot," he added with a chuckle. "It's becoming kind of my theme song. But jazz should always be a conversation, a choice to be musical. It's never just a performance to show off technique."
In other words, while many high-profile players are busy trying to cram as many notes as possible into as short a space as possible, Matheny goes off looking for melodies that were only hinted at in an earlier chorus.
"I'm all about melody and lyricism. For me, melody is the soul of a song. It comes first and matters most" is a favorite Matheny line of thought.
Referring back to those buzzy soloists who never met a complicated scale they didn't like, he told All About Jazz that "a melody is a precious, heaven-sent thing. My band is bringing melody back, and people dig that."
Chuck Graham has written about the Tucson arts scene for more than 30 years.