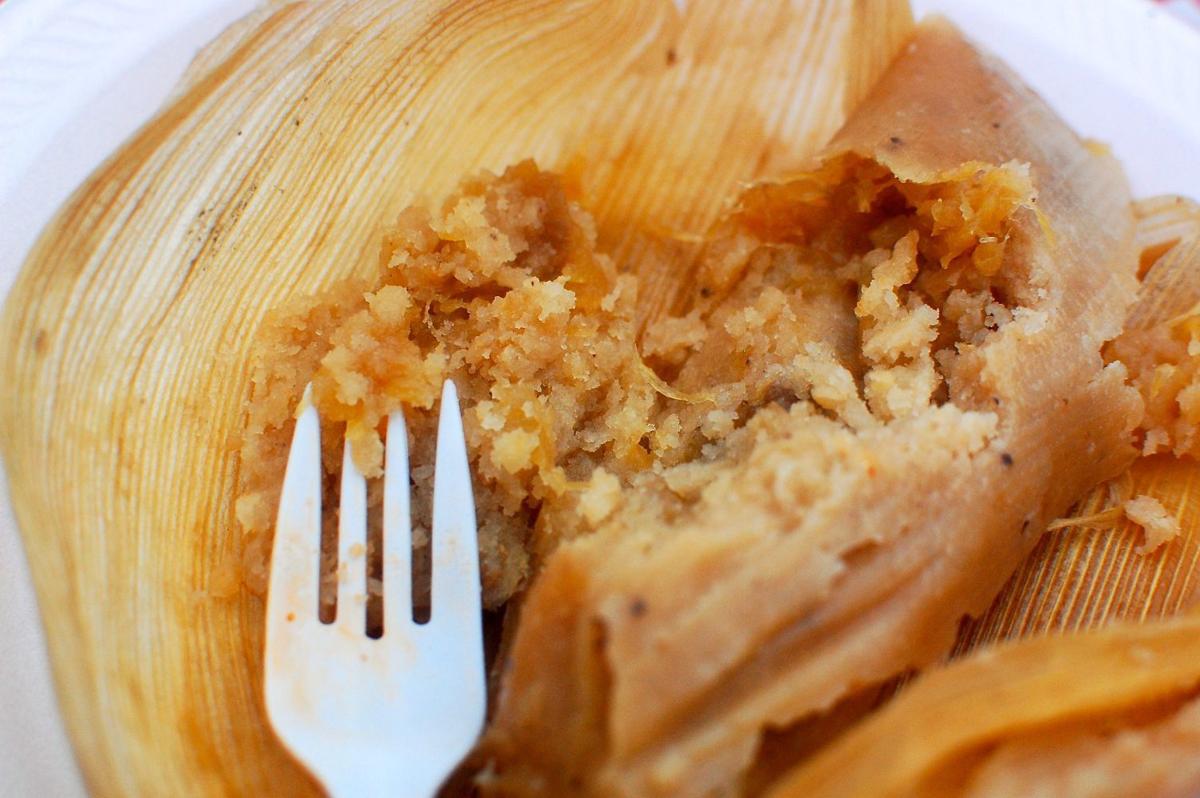 More years ago than I care to confess, I worked in the kitchen at Pima Community College's west campus.
While a big part of my daily routine was frying dozens of donuts and then decorating them, at this time of year, it was all hands on deck to make tamales.
We made them by the thousands. Sometimes we did it assembly-line style: One person spread the masa on the corn husk, the next dabbed on the red chile-beef filling, the next carefully placed a pimento-stuffed green olive smack in the middle, and the last person folded them and tied them with a little strand of husk if needed. Other times, each of us made the tamales in their entirety.
I learned a lot about making tamales from my colleagues, who were mostly Mexican-American. It was congenial work, with the buzz of chatter in both English and Spanish, and lots and lots of laughter.
In the intervening years, far from Tucson, I occasionally made tamales for a company potluck or a party. For these events, I worked alone – usually with an audio book or a movie to keep me company. Tamales are labor-intensive, but their preparation is not hard labor by any means.
While writing about food at the Detroit News, I learned about tamales dulces – the sweet tamales that are hard to find at restaurants, but figure in family celebrations. I tried making a variety of them, from cream cheese and dulce de leche to fruit tamales filled with fresh pineapple, or stewed chopped apple, or strawberries. Thenceforth, whenever tamales were indicated for an event, I typically made tamales dulces.
In the end, I came to prefer something like the recipe I'm sharing with you here. I found that I wanted the flavor hit to come from the masa, not from the filling alone. This masa, seasoned with anise and cinnamon and lightly sweetened with brown sugar, has become my go-to for tamales dulces. Pine nuts or chopped pecans offer a crunchy contrast to the smooth steamed masa, and fat little plumped raisins offer a sugary hit in each bite.
It seems that every Tucsonan has a favorite spot for getting a tamale fix, whether that's a restaurant or a retail outlet. So good ahead and pick up a couple of dozen from your secret place. But chances are, if you want tamales dulces, you're going to have to make a few yourself.
Tamales dulces (sweet tamales)
Makes 30 to 35 tamales, depending on their size
Some cooks like to color the dough with food coloring, but I prefer to leave the masa dough in its natural state. Make the dough up to two days ahead and refrigerate, covered, or form the tamales up to a day ahead and refrigerate until ready to steam.
If you have an electric pressure cooker, such as an Instant Pot, these are a snap to cook: Cook for 20 minutes at high pressure and allow the pressure to drop naturally. These freeze well, uncooked, for up to six months.
1 1/2 cups golden raisins
4 1/2 cups masa harina, such as Maseca
3 3/4 cups water, at room temperature
1 1/2 cups packed light brown sugar
1 3/4 teaspoons baking powder
1 1/2 teaspoons ground anise
1 1/2 teaspoons ground cinnamon
1 1/2 cups lard or vegetable shortening
1 cup toasted pine nuts or chopped pecans
Place the corn husks in a large bowl or casserole and cover with hot water. Use something heavy, such as a pan lid or a couple of cans of food, to keep them submerged. Soak the corn husks for at least two hours; longer won't hurt. The more pliable they are, the less likely they are to tear when forming the tamales.
While the corn husks soak, place the golden raisins into a medium bowl and pour boiling water over them until they are submerged. Soak the raisins until they have plumped, about two hours.
To make the tamale dough, combine the masa harina, water, brown sugar, baking powder, anise and cinnamon. Stir, using your hands or a wooden spoon, until the mixture is well-blended. It should have the consistency of Play-Doh.
In the work bowl of a stand mixer, combine the lard and salt. Beat on medium speed with the paddle attachment for two minutes, or until the lard is very white and fluffy. Beat in the masa harina mixture, handful by handful, until the mixture is well blended and smooth.
To form the tamales, lay a corn husk on a kitchen towel with the widest part toward you (this is the bottom). Spread about 4 tablespoons of the masa mixture across the middle of the husk, leaving a half-inch margin around it. Spoon some plumped raisins and nuts into a middle stripe from top to bottom atop the masa mixture. Roll the tamal up like a cigar, then fold the pointed top over the rolled tamal. If it doesn't want to stay closed, tear a smaller husk into strips to use to tie each tamal shut.
Place the tamales into a steamer as you finish them, open end up. If you don't have enough to fill the steamer, crumple a generous sheet of aluminum foil into a ball and lean the first few tamales on it, then fill the steamer with the remaining tamales.
Add water to the steamer to a depth of 1 to 2 inches, as much as possible without touching the tamales. Place the steamer insert into the pot, cover and bring to a boil. Reduce heat slightly so water doesn't cook away and steam the tamales for 2 to 2 1/2 hours. (Or, in an electric pressure cooker, 20 minutes on high pressure, allowing pressure to reduce naturally.)
Robin Mather is a longtime food journalist and the author of "The Feast Nearby." Follow her blog as she writes her third book, "The Feast of the Dove," at thefeastofthedove.com.
Stay up-to-date on what's happening
Receive the latest in local entertainment news in your inbox weekly!