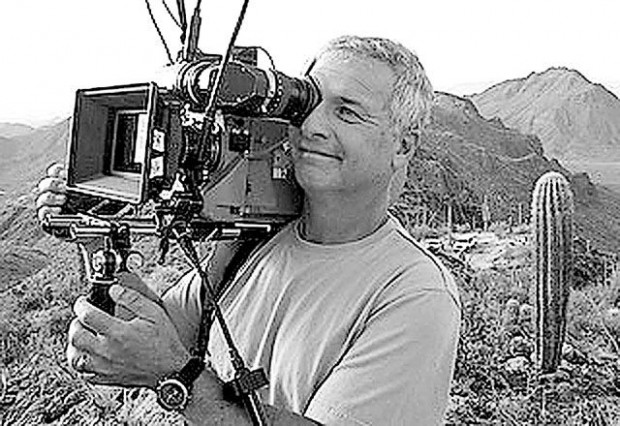 Walking down the street, a tween girl overhears a classmate talking about bringing a gun to school to shoot his teacher.
She doesn't know what to do with the information until she sees a poster for 88-Crime, a hot line that solicits anonymous tips and offers cash rewards for information that leads to arrests.
The scene comes from the short educational film "Trouble at Hand," which led to director Dick Fisher receiving 88-Crime's inaugural Citizen of the Year award.
He'll get a certificate at a fundraising dinner Sunday at Trail Dust Town.
"It's very unexpected and I'm really honored and thrilled," said Fisher, 58, who volunteered his time to make the film with 88-Crime.
"The title of the award is a little embarrassing. I'm used to the more 'best filmmaker' kind of awards. I did the project because I do believe in citizenship and I'm certainly happy to be able to give something back to the community and use my talents in a positive, constructive way."
Fisher adapted the film from a Albuquerque Police Department Crime Stoppers comic book. The Pima County Attorney's Office paid the department $250 so 88-Crime could use the story.
Law enforcement officers show the film when visiting classrooms.
Fisher began his career in television, shooting commercials and newsreels for a station in Utica, N.Y. He set up his own company, Videography Productions, and his work appeared on "Entertainment Tonight," "Lifestyles of the Rich and Famous" and "A Current Affair."
"Entertainment Tonight" assigned a production assistant named Edward Burns to Fisher's company. The two became friends and eventually made "The Brothers McMullen." The 1995 no-budget sensation won the Grand Jury Prize at the Sundance Film Festival and became a crown jewel in the indie film movement.
Fisher, who says he made "a small fortune" on "The Brothers McMullen," continues to work on indie films in town and out of state. He lives with his wife, Sandra, and kids Eliot, 8, Isabella, 7, and Rebecca, 4. They moved to Tucson in 1999.
"Personal things. . . . There is no specific good reason, but I came here and really liked it. I sort of liked being a big fish in a small pond, but the pond kept getting smaller."
How did the idea for "Trouble at Hand" come about?
"I was looking for something creative to do while waiting for paid work. And I also thought it would be a good tool for 88-Crime to use in their efforts to get kids to do the right thing, so I made a little film."
So you were the initiator?
"I brought the project to them. They were very excited about the idea, but there was a bit of bureaucracy to overcome. I wrote the script, brought it to them and we had meetings about it. They participated. We shot parts at their facility."
How long did it take to make?
"Three or four days, two of what I'd call principal photography. We shot at La Cima Middle School and a home of one of the actors. Those were the two main locations. We did a couple of pickups for things we needed to fill in. And I used my own editing equipment. I did post-production on my desktop."
Are you still getting paid for "The Brothers McMullen"?
"Yes, I still receive royalties. We really did have a very productive partnership. (Burns has) obviously made some other choices. If we'd stuck together we both would have had more creative success."
• What: 88-Crime Showdown Dinner.
• When: Registration is 4:30 p.m. Sunday. Dinner starts at 6.
• Where: Savoy Opera House, Trail Dust Town, 6541 E. Tanque Verde Road.
• Watch "Trouble At Hand" online: Search for the title "Trouble at Hand" on YouTube.