About 160 movie-going patrons file into La Placita Village as the sun sets, many with canine companions, for a sendoff screening of "Best in Show."
It's May 26, the last night Cinema La Placita is playing outdoor films at its namesake location of 17 years.
The smell of popcorn wafts through the air, carried on the greetings of founder Erika O'Dowd and husband Josh Pope, telling patrons about their upcoming move.
"We're moving, to the Pima County Courthouse, the one with the dome. They have a grassy plaza on the east side. It's real pretty on the inside," Pope says, handing out popcorn.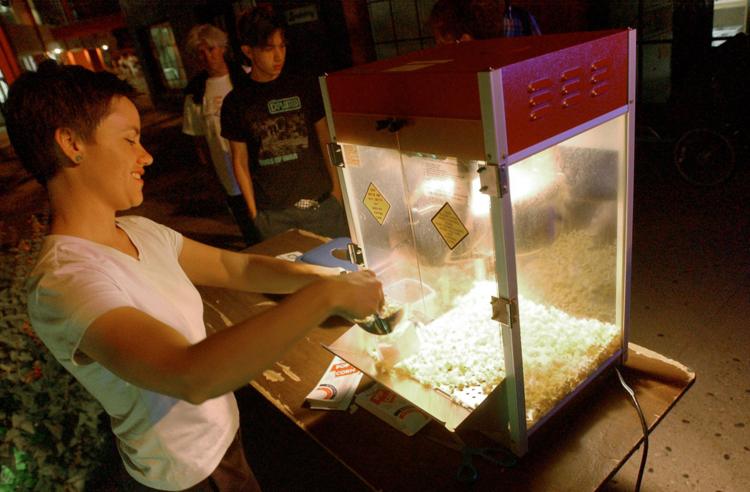 Marilynn D'Antonio says she's been attending the screenings off and on for about nine years and plans to continue doing so after the move. She carries her popcorn, tailed by Margie and Patty, the two small dogs she recently adopted from Pima Animal Care Center.
"I heard it was the last time here and that you could bring dogs, so I wanted to bring my dogs and see how they do," she says. "Kind of sad to see it go from here."
"Cinema La Placita was created for this space because I started it here," says O'Dowd. "But I gotta tell you, we were over at the new site today to do some last-minute logistical stuff, and it's going to be really pretty. Of all the places to land, I'm really happy to be there."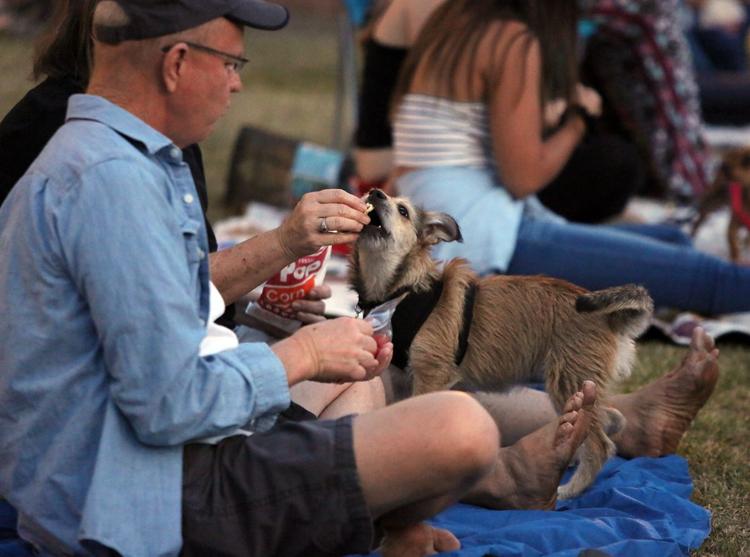 O'Dowd founded the outdoor film series in 1999 when she was marketing manager for La Placita Village. Her then-boss, Jane McCollum, who is now general manager of the Marshall Foundation, charged her with coming up with a weekly event to bring people into the plaza.
Another of McCollum's ideas to try and liven up the 1970s-era office complex included painting it in the distinct patchwork of colors that has made it a downtown icon, says O'Dowd.
But a series of ups and downs, including the 2011 default on the deed by owners BP La Placita Village Investors, ultimately resulted in the space's acquisition by HSL Properties, which has slated it for demolition. All tenants, including the non-profit film series and the Arizona Daily Star's downtown office, must find new homes by the end of July.
And so, Cinema La Placita will migrate over the foot bridges that connect it to El Presidio Park, and into the courtyard of the historic Pima County Courthouse, 115 N. Church Ave.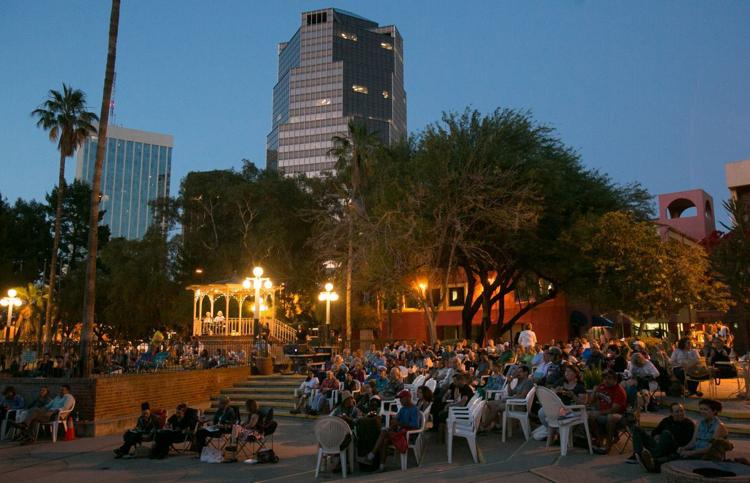 "It's a little bittersweet, and in fact I just took my daughter on a small tour of some of my favorite little nooks and crannies here," says O'Dowd. "But ultimately, I'm really excited about this move."
Cinema La Placita's impact on their lives runs deep. O'Dowd met husband Pope there when a moviegoer brought him along hoping they'd hit it off. Their 9-year-old daughter Tulla was a regular from almost the day she was born.
"There's still someone who remembers manning the popcorn machine one night because we weren't here, because we had gone and had our baby," O'Dowd says.
Projectionist Jaime Gutierrez remembers that night, too. He's been with the outdoor cinema series for about 11 years and has seen many businesses come and go as the movies maintained their weekly summertime presence.
Gutierrez and O'Dowd recalled families they've watched grow over the years — one that started as a family of three and is now a family of five, children they've watched learn to walk and go off to college. They've also lost regulars who have passed away.
"We're not saying goodbye to the whole thing, but the location's so awesome," Gutierrez says, of La Placita.
The semi-circle of steps facing the screen and the ghost of the long-gone El Cine Plaza Theatre make La Placita Village a well-suited spot. The El Cine Plaza played Spanish-language movies in the heart of downtown until the theater succumbed to the wrecking ball by 1969.
O'Dowd said she learned about the Cine Plaza from longtime Arizona Daily Star reporter and retired editor Joe Burchell, who worked in the Star's downtown office. That inspired her to call the series Cinema La Placita.
In another twist of fate, the Plaza, which once stood in the area of O'Dowd's outdoor theater, was designed by Tucson architect Roy Place. Place happens to be O'Dowd's great, great uncle, as well as the architect of the historic Pima County Courthouse where the outdoor film series will make its new home.
O'Dowd was thrilled at learning of the connection.
"That is so funny I didn't know that," she said. "I have literally been running around that place (La Placita) since I was little, and right across the street from the courthouse is now the library plaza, but that was the Tucson Title building right on that corner of Church and Pennington. And that was my dad's, and grandfather's business.
"What does it tell me? I don't know, I guess that things come full circle. It's a little eerie. I guess everything in Tucson comes full circle," says O'Dowd.
Joella and Tobias Bennett-Gold have a connection to La Placita, too. Sitting with their big, red-tawny rescue dog, Spark, in the grass near the historic gazebo, they mull over the venue change.
"We had our engagement photos shot here, so it's kind of sad for that reason," Joella says. "But beyond nostalgia, I know Erika's excited, so I'm happy for her, I'm glad she's taking it well." The couple plan to continue attending once the films move over the bridge.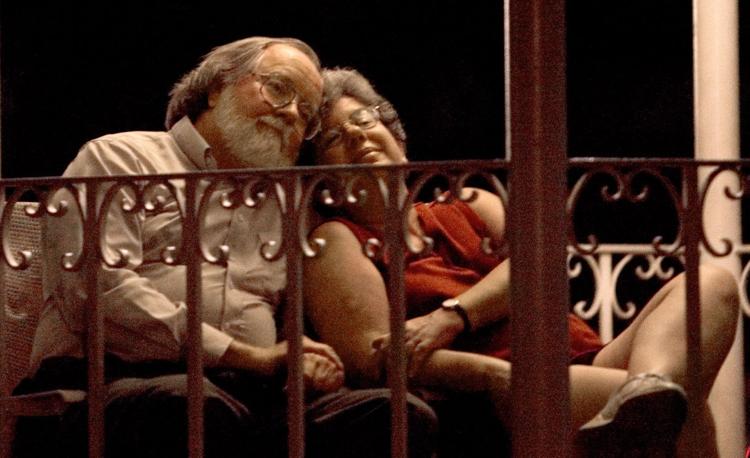 Admission still includes popcorn, but O'Dowd says that in lieu of Deb's Coney Cafe chili dogs, a La Placita staple, the food truck version of non-profit Cafe 54, called Truck 54, will be on hand with food options through the month of June.
After taking a week off to move, the series resumes Thursday, June 9, at its new location with "To Catch a Thief." Guests at that showing will get to cast votes for movies to show in August. Suggestions are also taken on the series' Facebook page.
"I guess I feel like La Placita Village has had its run, and a lot of effort has gone into it," O'Dowd says. "If La Placita Village as the commercial building didn't work, and they need to do whatever they need to do, I couldn't think of a better spot to be in, frankly.
"And to be part of starting up and revitalizing that corner of downtown will be exciting, too."
Contact reporter Hannah Gaber at HGaber@tucson.com or 573-4106. On Twitter: @HannahSGS
Stay up-to-date on what's happening
Receive the latest in local entertainment news in your inbox weekly!