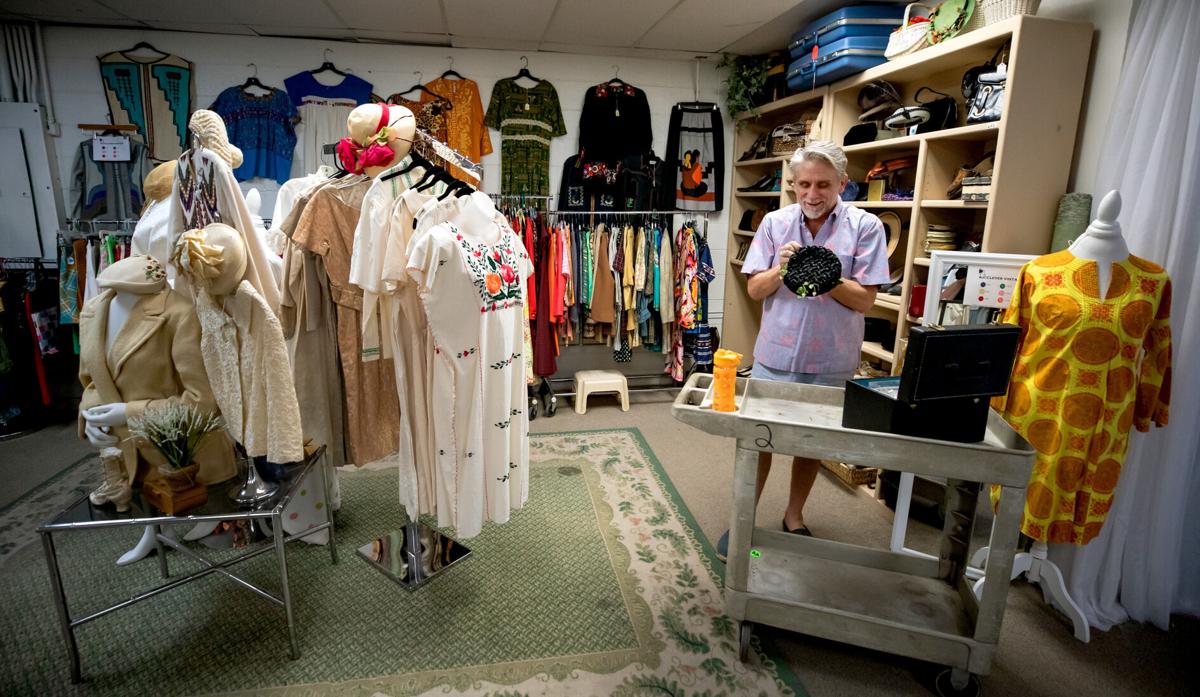 When Hollywood production companies need the perfect vintage outfit for their period films and television shows, Dave Temple and his partner Sabino Gutierrez are just a phone call away.
The Tucson duo own and operate Clever Vintage Clothing, a company that supplies costume services to private parties involved in making content for both home viewing and on the silver screen.
If you've seen projects like "Mad Men," "American Horror Story," "Hidden Figures," "The Help" or "The Man in the High Castle," chances are you've seen pieces provided or inspired by Clever Vintage.
Most recently, Temple and Gutierrez lent their eye for fashion finds to Lou Eyrich, who, along with Rebecca Guzzi, shaped the 1940s look for the Netflix series "Ratched."
"Ratched" is producer Ryan Murphy's vision of how the devious nurse Mildred Ratched, from Ken Kesey's 1962 novel "One Flew Over the Cuckoo's Nest," started her career.
Temple said they are on track to provide clothing for Season 2.
"We love everyone on Lou Eyrich and Ryan Murphy's team," Temple said. "So, as (Lou) needs items, she'll let us know and she'll come down and see things, and hopefully find a lot of great stuff for this second season."
While film and television are a good outlet for their talents, Temple and Gutierrez have found that the vintage clothing business provides individualized resources for every kind of client, from people who want to dress in the same time period as their old cars, to small theatrical productions.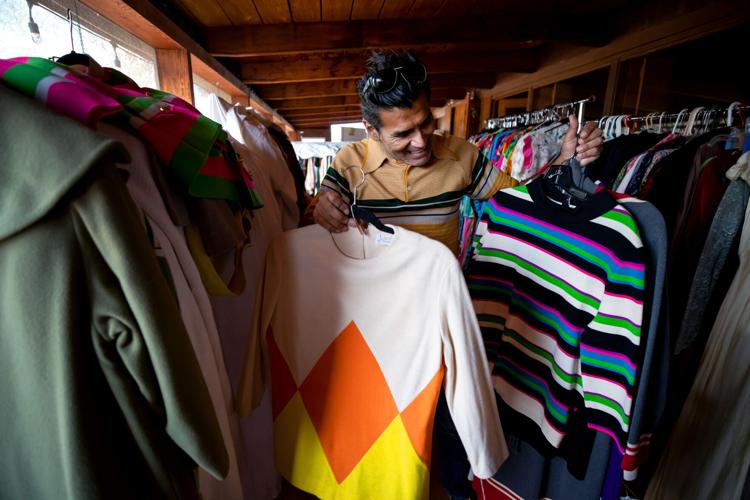 A cog in the wheel
Temple started his journey as a theatrical costumer in Los Angeles in the late 1980s, after graduating from Whittier College with a degree in bilingual education.
"I worked my way up in retail and ultimately in fashion manufacturing, so I never ended up being a Spanish teacher," Temple said. "I've always been interested in history and vintage things."
From there, Temple studied at Fashion Institute of Design and Merchandising in Los Angeles for two years.
Some of Temple's favorite fashion designers, like Christian Dior and Cristóbal Balenciaga, were major names in the 1950s.
Eventually, he had amassed so many pieces of vintage clothing in his garage that he decided to open a shop in L.A.'s garment district.
"It's become this unique niche that is sort of hard to explain to people," Temple said.
Temple created a business with a showroom environment for designers to garner inspiration from vintage clothes, he said. Retail clothing manufacturers often look to their pieces for new clothing ideas as well, by buying vintage garments.
Clever Vintage Clothing houses pieces that date back to the Civil War, Temple said, but they are mostly known for their post-World War II attire, from the 1940s to the 1960s.
The costumers behind AMC's "Mad Men," a show about a male-dominated advertising firm in the 1960s, were Clever Vintage's first major entertainment industry clients. Temple provided costume sourcing for the show from its second season until the end of the series in 2015.
"We don't deal with much past the 1980s," Temple said. "It's hard to feel like that is vintage, but it is."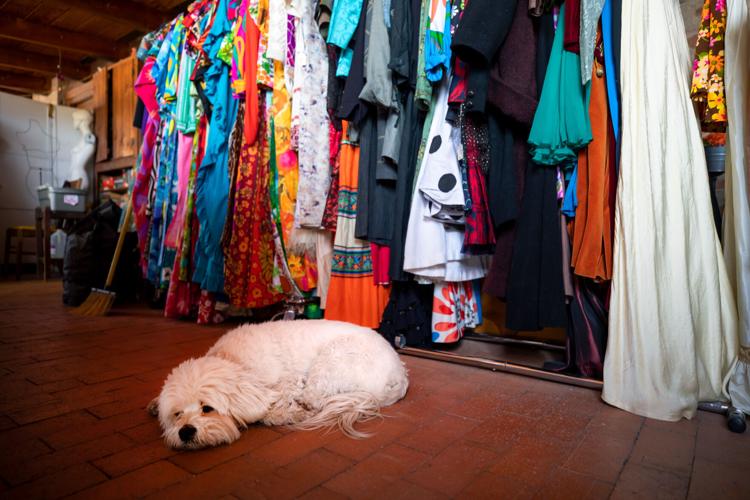 Usually, costume designers will call looking for a certain piece or pieces of clothing, and then Temple or Gutierrez will set a time to meet and discuss the project, pulling examples from their collection beforehand.
"I always try to get as much specific information as I can," Temple said. "What years does it span? What season? Where in the country does it take place, because December of 1953 was very different in Tucson than December of 1953 in Boston, Massachusetts. We present to them what meets the criteria that they're looking for."
Clients often buy pieces immediately to repurpose or reproduce, whether they're a clothing or a costume designer. Or they return later to buy additional items, sometimes leaving a list of other objects for Clever Vintage Clothing to find.
"Some costumers and production designers have very specific criteria," Temple said.
Friends will often ask Temple why their names don't appear in film or television credits.
"We're just the source," he said. "Hollywood and the film and television industry are just that. It's an industry. It's no different than the automotive industry, or the meatpacking industry. And we're just one little cog in that wheel. But because it's clothing with nostalgia attached to it, people really are interested in it."
In addition to movies and television, Temple and Gutierrez have worked with fashion designers like Trina Turk, Louise Green, Karyn Craven, and on a Pan American World Airways project that led to them being hired to design private airline flight attendant outfits.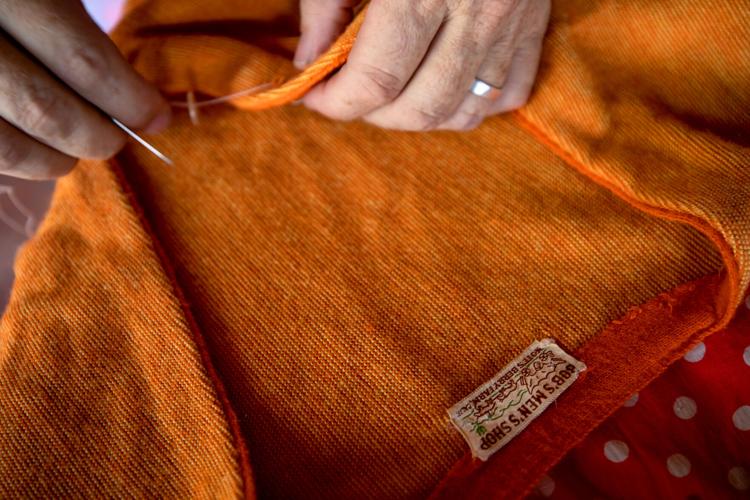 "The best costumes in most situations are the ones that you don't remember or realize," Temple said. "If you're watching a film, especially a film set in another period, and your eye is drawn to the costume, chances are it's because it's the wrong period. It doesn't look right, fit right, isn't right for the scene. It's drawing focus and that's never good."
Temple and Gutierrez moved to Tucson six years ago, and Clever Vintage Clothing has a physical location within Annabell's Attic, at 6178 E. Speedway. They also participate in and hold trade show events.
"It's a team effort," Gutierrez said. "We do events sometimes here in Tucson, but our business is more in Los Angeles. There is a vintage community here in Tucson, but you can get more money for garments in L.A. than you can here."
Gutierrez joined Clever Vintage Clothing full-time in 2012, after working in the fashion industry for 12 years.
"It's a fun business. It's a lot of work, though," Gutierrez said. "People don't realize how heavy clothes are, you know."
Making their mark
Tucsonan Wendy Dager has been a loyal customer of Clever Vintage Clothing for the past 20 years and she's been collecting vintage clothing for three decades. She has a vintage purse museum in her home with more than 2,000 purses, accessories and ephemera.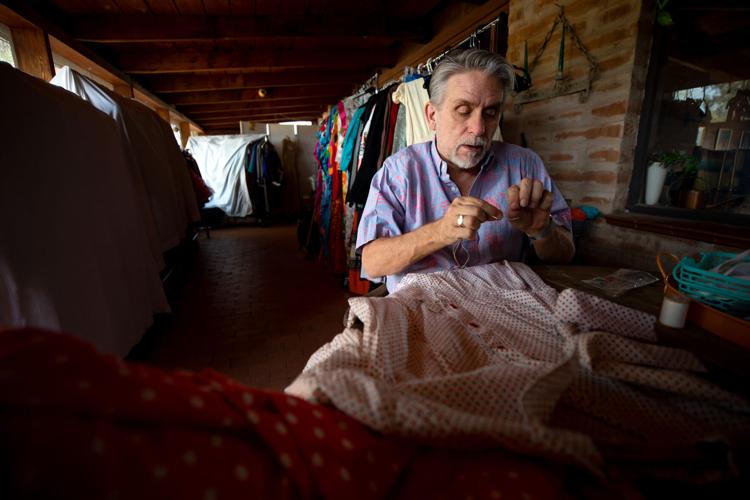 "The vintage circle is big and yet intimate; everybody knows or has heard of each other," Dager said. "Dave and Sabino are very well-respected in the vintage community. They've been doing it so long and are so smart about knowing what people want and knowing their customers really well. It's been really cool to watch shows like 'Mad Men' and 'Ratched' because their stuff is exquisite. It's like, 'I know them!'"
Temple and Gutierrez find the work satisfying, especially when the end results sneak up on them.
"Often when we are involved in a project, we know very little about that project," Temple said. "I've been sitting in a movie theater watching a film, and suddenly I'll see many characters wearing our clothes and it's a complete surprise to me.
"When we are presented a project, it is in early stages, sometimes not even fully cast yet. So, a project we are involved in that starts out being for Oprah Winfrey's film production company could turn out being something that has a different title and is on Netflix."
Temple said that seeing a piece of clothing that originated from his collection can be like "seeing an old friend."
"I remember the day I bought that item; I remember the day they bought that item," Temple said. "I think the most flattering thing to me as someone involved in that process is when the character really uses that piece of clothing."
Temple recalls a scene in the television miniseries "Feud," about the making of the 1962 film "What Ever Happened to Baby Jane?" in which Susan Sarandon, playing Bette Davis, takes off a coat and throws it.
The coat was sourced by Clever Vintage.
"That piece being ours feels different than just a dress that she's wearing," Temple said. "It helps her act. It helps her make a point. It helps her make this scene. That's really high praise."