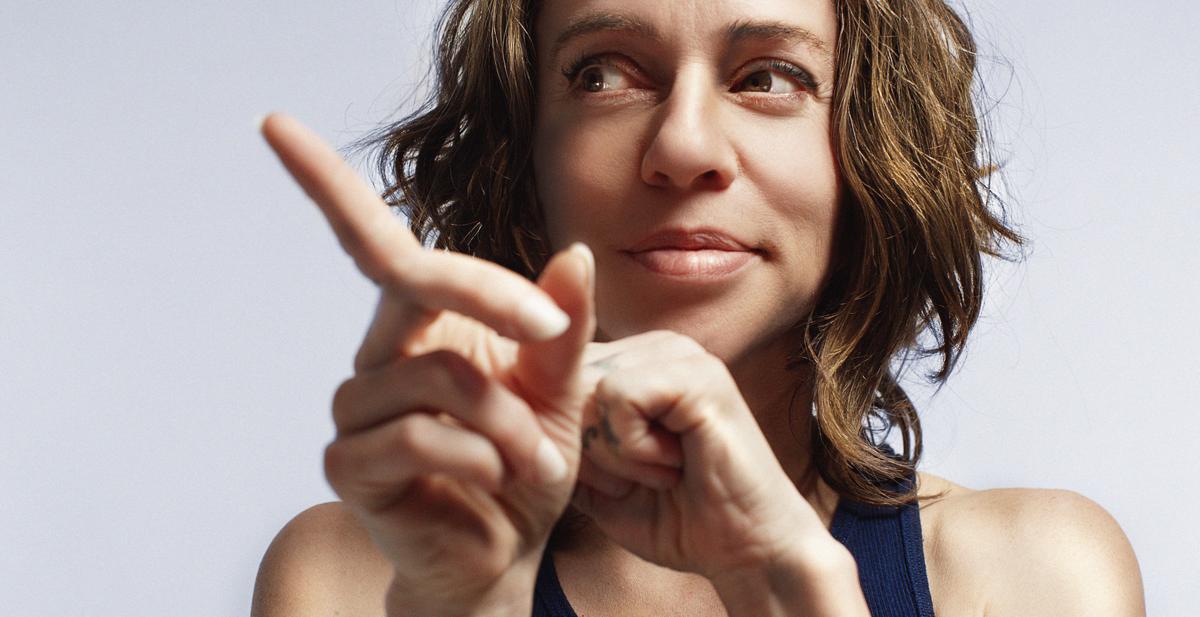 Folk singer-songwriter Ani DiFranco will play her first Tucson show in three years on Feb. 13.
She's performing a lot of "first time in X years" shows in 2020, catching up from a self-imposed slowdown around the time of her last Tucson show.
"This business of touring to pay the rent around here is really hard with kids as you can imagine, for me and for them and for dad and for everybody," said the mother of two. "Part of my oblique strategy was try to find a way to change it up, figure out a way to work from home, be an artist in the world but not have to be literally driving around in it and absent from my family as much."
Her solution: Write her memoirs.
Last May, Viking Books released "No Walls and the Recurring Dream," which recounts the Grammy-winning artist's musical journey that took DiFranco from coffee houses in her native Buffalo, New York, before she was in her teens, to launching her indie label Righteous Babe Records.
The book ends at the year 2000, long before the now 49-year-old had her children and moved from Buffalo to New Orleans, her home for the last 15 years.
"I just felt like the story of the girl finding herself and her purpose and her path was the most interesting part ... It's a whole other level of bearing oneself and truth telling in that format," she explained during a phone call from New Orleans.
During that call, DiFranco, who last month took home the People's Voice Award at the 2020 Folk Alliance International Conference, talked about the book, her vulnerabilities as a writer and what it will be like when her children, now 6 and 12, read it.
What we learn about her: "Maybe that you don't know as much of my story as you think. It was hard to write a memoir, even after hundreds of what people have deemed very revealing, personal songs, the book really upped the ante in terms of exposing myself. Vulnerability, just literally spelling it out in complete sentences, it was like, for me, growing up — my family, my friends, my loved ones, the journey to becoming the public person that I am now — is sort of what I focused on."
The hardest part was recording the audiobook: "I thought, 'Well, I wrote the book; that was the hard part. I've done it, now I'll go in a recording studio, I do that every day. I've recorded things for 30 years.' I sat down at the microphone and I completely panicked. I had a psychological meltdown. I spent the whole first day trying to record. This book was like traumatic for me. It was unexpected and I went through this sort of process of trying to unpack what was happening in my brain and trying to power through that week and record the book. And it really put me more in touch than I've ever been with the fact that the way that I am able to write such personal stuff all the years of (writing) songs and poems and now this book, is to pretend that I'm alone, to pretend that nobody is going to hear this. That's the only way that I can be as honest as I want to be and need to be in my art."
And then came the epiphany: "I think that when I sat down in front of that microphone to record what was the most revealing and in-depth thing I've ever written, it was like the jig is up. 'Ani, you are so not alone. Anybody with $9.95 can hear this, including your children, your mother.' It's like what are you doing? Somehow it all sort of came crashing down in that moment."
One day her kids will read the book: "Basically ... I avoid that reality very well. I imagine maybe they both will someday if they are curious about their mom. I try not to think about it."
Contact reporter Cathalena E. Burch at cburch@tucson.com or 573-4642. On Twitter @Starburch