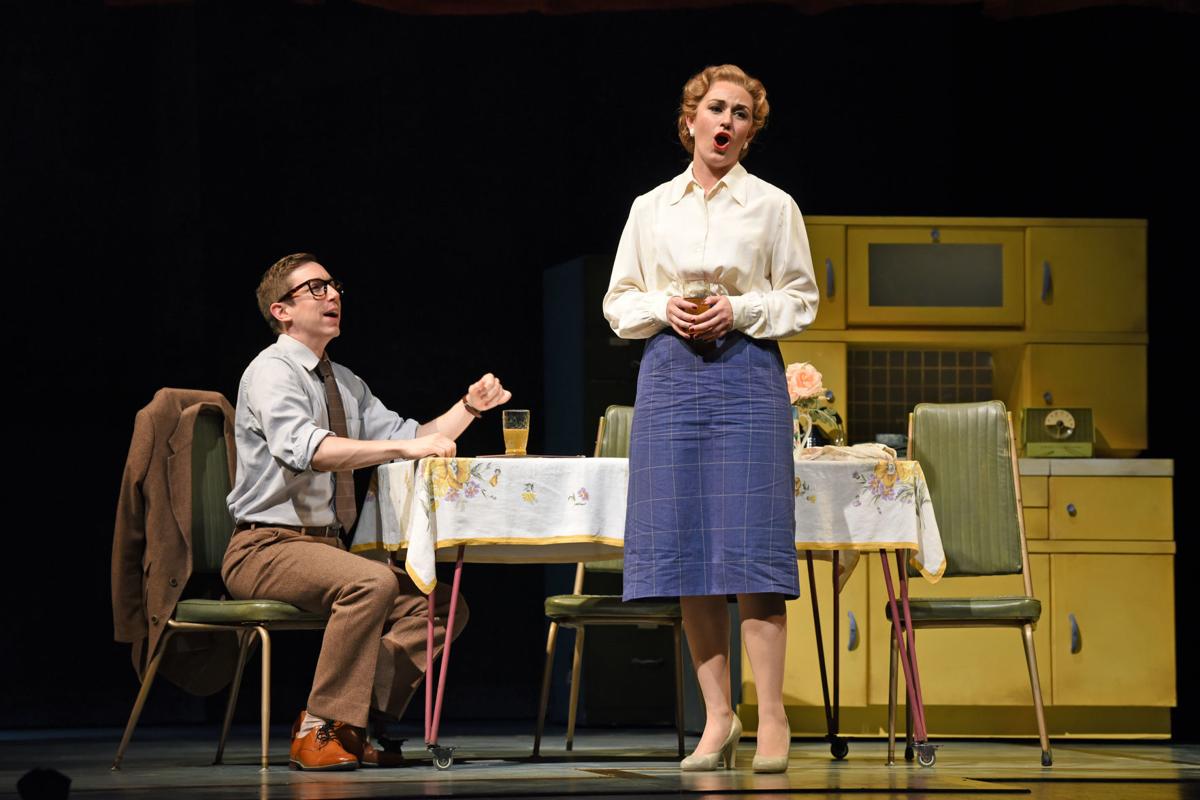 American Communist sympathizers weren't the only ones fearing for their professional lives during the McCarthyism era.
America's gay and lesbian community was equally a target of Joseph McCarthy and his witch hunt to rid America of what McCarthy described as a national security risk.
That dark episode of American history, referred to as the "Lavender Scare," is the subject of composer Gregory Spears and librettist Greg Pierce's 2016 opera "Fellow Travelers."
Arizona Opera is mounting the work, which was work-shopped in 2016 through Opera Fusion: New Works, an innovative partnership with Cincinnati Opera and the University of Cincinnati College-Conservatory of Music. Cincinnati Opera, which co-commissioned the piece, premiered it in summer 2016 and Lyric Opera of Chicago and Minnesota Opera performed it in 2018.
Arizona Opera is getting in on the ground floor of the work, only the fourth company to take it on, said stage director Marcus Shields.
"'Fellow Travelers' gets deeper and more flavorful each time," said Shields, who has been involved with the opera since he was a student at Cincinnati College-Conservatory and was cast as one of the two male leads in the workshop performance.
"Fellow Travelers" — a term that describes people who are sympathetic to an ideology or political organization and cooperate in the politics without actually being a member — tells the forbidden love story of two men working for the federal government. The older man, Hawkins "Hawk" Fuller (baritone Joseph Lattanzi), works for the State Department; Timothy Laughlin (tenor Jonas Hacker) is a recent college grad working for a U.S. senator.
"One of the reasons why it's so great and an enduring work is that it is grounded in American history and it takes up contemporary themes of gay issues, LGBTQ issues," said Shields. "But it's more about the relationship between individual and society and the tension between how society feels about the life an individual wants to live and the ways in which people are struggling to find and claim identity within the constraints of their own lives."
In today's conspiracy-driven environment that mirrors in some ways what was happening in the McCarthyism era, "Fellow Travelers" resonates with audiences, Shields said.
"There's an obvious way that the institutional context of this piece, following this era of McCarthyism and particularly the conspiracy prone times of Washington, D.C., has a resonance with what we are currently experiencing," he said. "The concept of a closeted life and those issues feel ... as real in 2019 as they were in 1953 to '57."
Shields directs a cast that includes two vocalists with deep ties to the opera. Lattanzi was in the original workshop cast and has performed the role in each of the previous productions. Hacker is making his second appearance as Laughlin after singing it in Chicago.
"Fellow Travelers" has earned praise, including from New York Times music critic Anthony Tommasini, who called Spears' score "boldly quirky." Spears combines minimalist influences with those of French troubadour tradition and ancient music, creating "a spaciousness of harmony that might call back someone like Monteverdi who can strike a chord and then live inside that harmony for a long time, drawing out and creating melodies that wrap around a single chord," director Shields said.
"It feels completely new but it feels like it's fusing together a lot of incredibly rich traditions and forging something out of them that's never been heard before," he said.
Arizona Opera opened "Fellow Travelers" in Phoenix last weekend. It will be performed twice this weekend as part of the company's McDougall Red Series of chamber operas.
Contact reporter Cathalena E. Burch at cburch@tucson.com or 573-4642. On Twitter @Starburch