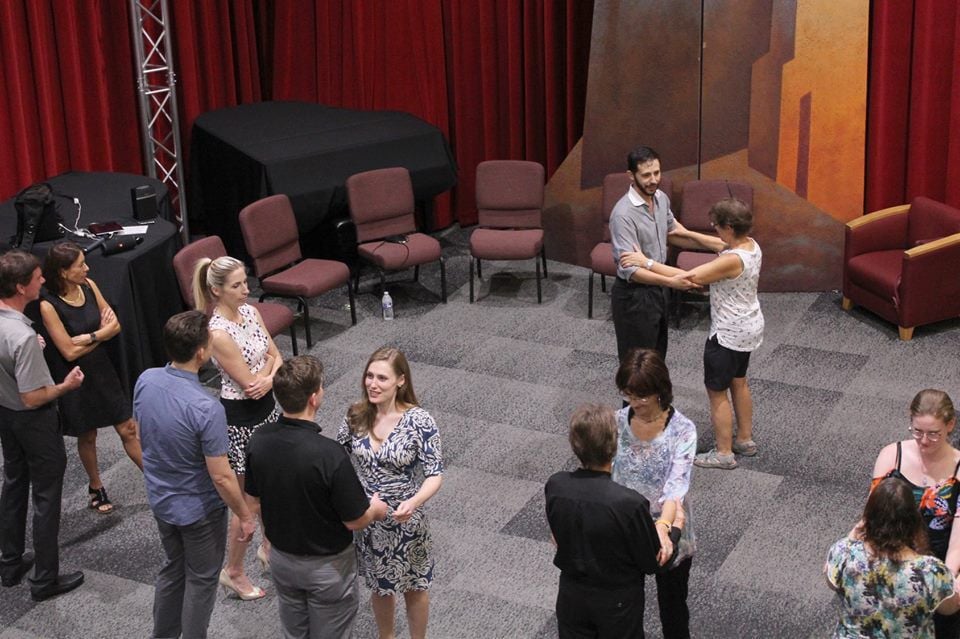 Arizona Opera spent its summer vacation working to secure its future.
The company in late August established an endowment fund seeded by a $1 million donation from by a longtime board member and loyal patron.
The company also pulled in more than $163,000 from Tucson donors interested in seeing the opera continue its tradition in the city of its birth.
All of this as Arizona Opera, which was born in 1971 as the Tucson Opera Company and started producing operas five years later in Phoenix as well, prepares to recast itself this season.
Arizona Opera will open the 2018-19 season in Phoenix with "Maria de Buenos Aires," the first performance of its inaugural McDougall Arizona Opera RED Series of smaller chamber operas. "Maria" will be staged at Phoenix's Herberger Theater next weekend and Tucson's Temple of Music and Art Oct. 6 and 7.
Arizona Opera returns to its bigger venues at Tucson Music Hall and Phoenix Symphony Center in the winter for a trio of more traditional operas including "La Traviata" in February.
"So far it looks like, from ticket sales, we did the right thing," said Sharon Landis, vice chairwoman of the Arizona Opera Board of Directors. "There's not been any falloff and that's what you're fearful of. We think we've made the right choice."
"We're excited. It's going to be a new and different season," said former board chairman Robert S. Tancer, who now chairs the board's development committee. "There's a big audience for contemporary opera and we haven't satisfied it in the past."
Arizona Opera opened its fiscal year in July by extending General Director Joseph Specter's contract through 2022, a move that the board's Chairman John Johnson applauded in a written release.
"Joe has brought enormous energy and vision to the company," Johnson said. "He has worked tirelessly with board and staff in reshaping the artistic path of the company since his arrival in 2016."
The extension came on the heals of the opera receiving the final installment to launch its $1 million endowment, established by Arizona Opera board member Roma Wittcoff. The money eventually will provide a consistent income for the company, board officials said.
Wittcoff has served on the board since 2009 and is a founding board member of Opera Theatre St. Louis.
Tancer said Wittcoff's gift is confirmation that the opera, which has been debt-free since 2014, was ready to take the next big financial step.
"She felt that we were ready for an endowment and we felt we were ready for an endowment. The endowment means that we have established a maturity of financial stability," said Tancer. The endowment "protects our future and the opera's future and it was large enough that it will provide a significant income."
Meanwhile the family of the late Tucson physician Esther Alcorn helped raise more than $163,000 for the company from more than 136 Tucson donors — 43 of whom were first-time opera donors — after launching a $75,000 dollar-for-dollar challenge. The family's gift was in addition to the money their mother, who died last November, had bequeathed to the opera.
Alcorn's family wants the money to be used to help Arizona Opera "build new and increased support in its original home city," according to a written release.
"Our family wanted to give back to the community in a way that would have pleased our mom and helped to support this art form she loved so much," Alcorn's son, Joe Alcorn, said in a written statement. "But her fondest hope I'm sure would have been to see the community of Tucson, her friends and neighbors of 63 years, keep the ball rolling."
Contact reporter Cathalena E. Burch at cburch@tucson.com or 573-4642. On Twitter @Starburch.