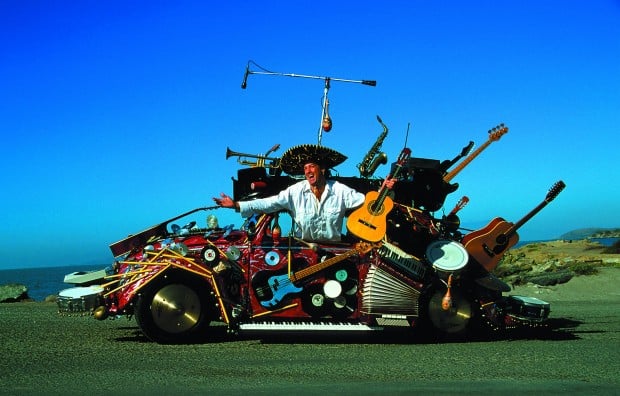 Toby Chivers admitted he is a little nervous about playing 2nd Saturdays Downtown on Saturday.
The 13-year-old will be opening for Latin jazz ensemble Descarga at the Fox Tucson Theatre. It will be the biggest show yet for the floppy-haired guitar sensation.
The concert is the centerpiece of the daylong 2nd Saturdays, which includes performances on several stages and an exhibition and screening as part of the Southwest Art Caravan & Film Tour.
At least 10 elaborately decorated art cars will be parked along East Congress Street from 5:30 p.m. to midnight and a documentary about the art car project, "Automorphosis," will be shown at 7 and 9 p.m. at The Screening Room.
Despite his young age, Toby is a student of old-school classic rock, gleaned mostly from watching his godfather Don Dodge at work with famed arena rockers Foreigner. Dodge was the band's sound engineer and he brought his godson along for some shows.
"I would go to lots of Foreigner shows growing up and I was inspired by their guitar player Mick Jones to start playing music," Toby said. "I then started playing the guitar when I was 9."
Toby also cites Aerosmith, Def Leppard and Green Day as influences.
"Green Day is one of the newer bands I listen to," he said. Green Day's first album was released 20 years ago.
Toby also plays in a band, Deceptively Innocent , with other teens. The band, which is working on a recording, was put together with Chivers' guitar teacher Bill Ganz.
Headlining band Descarga was formed as an instrumental sextet in 1992 that set its sights on revitalizing the Latin music scene in Tucson. They've succeeded by entertaining audiences with their singular brand of Latin jazz and salsa every Friday night at the popular East Broadway Mexican restaurant El Parador
Chivers said he is more excited than nervous about Saturday's concert.
"I'm mostly just excited to be playing a 2nd Saturdays show," he said. "The 2nd Saturdays people are great and I'm thankful for such an awesome opportunity."