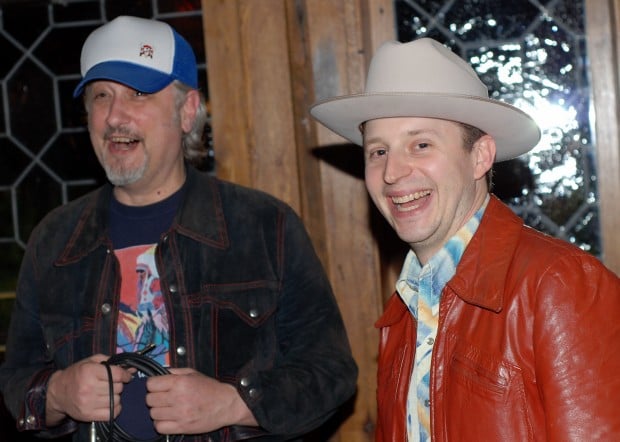 Honky-tonk duo to play free concert on Sunday  
Austin-by-way-of-Portland, Ore., guitarist Chris Miller found some time on his hands last year, so he did what you would expect from a veteran musician.
He went out and made more music.
The Texan's project with Portland honky-tonk singer James Sasser is less rocking than his regular guitar gig with roots rocker Dave Alvin's Guilty Men. (Alvin put his Guilty Men on vacation and went out with the Guilty Women this year.)
Sasser's honky-tonk recalls old twang, simple lyrics and uncomplicated melodies. It's the kind of music you'd hear in the West Texas dance halls where the guys once upon a time put on crisp shirts and ties and wore their best Stetsons, and girls were likely to wear patterned cotton sundresses and sandals.
He sings about getting over an ex to the backdrop of a three-chord melody. Toe-tapping Western melodies sneak in, the kind you can play with an acoustic guitar, a stand-up bass and a snare drum. It's comfort food for your ears.
Miller, whose Tucson tie was co-writing the title track of Troy Olsen's debut indie album, "Living in Your World," hooked up with Sasser last year when he returned to his native Portland. A prolific songwriter himself, he was struck by Sasser's honky-tonk writing style that hinted at the pop stylings of Roy Orbison and Buddy Holly.
In the year since they teamed up, they've recorded more than two albums' worth of music, some of which they will play in a free show Sunday at The Hut, 305 N. Fourth Ave.
The show begins at 6 p.m., and Tucson's El Camino Royales, a rockabilly-surf group, also are in the lineup.
Hear Haunted Graffiti tonight at Plush
Ariel Pink's music has been labeled lo-fi and other descriptors that would suggest something raw.
But if the live versions of the tracks on the Los Angeleno's new 4AD release as Ariel Pink's Haunted Graffiti are true to the recordings, the sound will be dense and glossy.
The opening of "Round and Round" sounds like Pink has been studying the '70s-era Philadelphia sound and '80s Brit pop, tossing in some Beach Boys harmonies.
Los Angeles duo Puro Instinct, formerly known as Pearl Harbor, is also on the bill, with Tucson's Electric Blankets opening at 9:30 tonight at Plush, 340 E. Sixth St.
Kinch, Seashell Radio at Plush on Friday
Kinch, a Phoenix band, leans a bit heavily on the piano, leading to comparisons to Ben Folds.
Some of the lyrics are a bit awkward, and some are confusing. But Kinch's strong lead vocals and the melodic basic-rock instrumentation are good enough to make it worth waiting out the tales.
For Tucson's Seashell Radio, the Friday show at Plush with Kinch is a CD-release party for its new album, titled "What Do You Have Against Happiness?"
Seashell Radio is Fen Ik- ner, Esme Schwall, Van Gelder and Courtney Robbins - drums, cello and keyboards, guitar, respectively. Tucson's Young Mothers will open at 9:30 p.m.
Three Dog Night here Friday; check the app
Last fall, the 1970s rock band Three Dog Night proved that it's not just an oldies group.
For the first time in a quarter-century, the band has released a double-sided single - a blistering account of "Heart of Blues" paired with the a cappella ballad "Prayer of the Children." Then Three Dog Night followed in the footsteps of seemingly everyone else on Earth: It got its own iPhone app. It's free.
Now all the the group's die-hard fans can click and see that the rock band that recorded such classic hits as "An Old Fashioned Love Song," "One," "Mama Told Me (Not to Come)," "Shambala" and "Liar" will be pulling into Desert Diamond Casino on Friday for a 7 p.m. show.
And unlike most of the bands from their generation, four of its six members, including singer Danny Hutton, are from the original lineup. The remaining members have been with the band since the early '90s.
Desert Diamond is at 1100 W. Pima Mine Road. Tickets cost $18.50 today at ticketmaster.com; the price rises to $23.50 on Friday.
Cellists of Rasputina coming to Congress
The latest iteration of Melora Creager's cello-driven trio, Rasputina, has a new album titled "Sister Kinderhook."
Striking costumes make up for the lack of movement that comes with operating a pair of cellos and a mongrel drum kit.
But unconventional instrumentation, costume obsessions and other protestations aside, Rasputina plays melodic pop.
And while cellos in pop can't help but conjure up at least a little Beatles vibe, Creager's smart, literate tales won't be confused with anything else.
The ever oddly evolving New York-based Rasputina will return to Club Congress Wednesday at 8 p.m., along with not-so-folky New York singer Larkin Grimm.
Tickets cost $15 in advance, $17 at the door for the age-21-and-over show.
Cathalena E. Burch, Dan Sorenson
Stay up-to-date on what's happening
Receive the latest in local entertainment news in your inbox weekly!