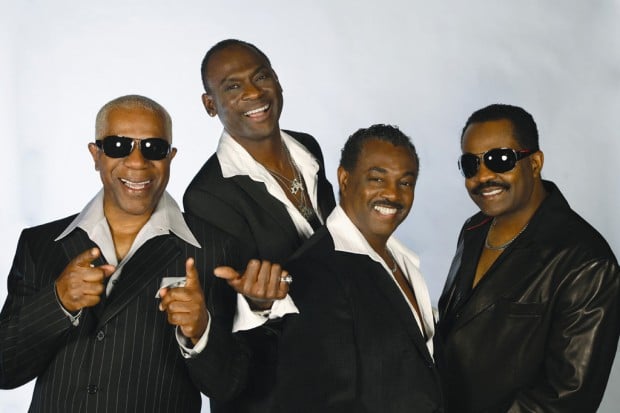 The unlikely pairing of the 1980s' top pop-funk band and top rock band is winding down.
Kool & the Gang has six more opening dates with Van Halen featuring David Lee Roth, including a show at Phoenix's US Airways Center Saturday. They sneak in to Tucson Friday for a solo show at Desert Diamond Casino.
The combo that had many people scratching their heads four months ago now has many thinking outside the music box.
"We got a call from Chicago to go out on the road. We're doing a show with them in August," said Robert "Kool" Bell, the founding member and bassist. "We just got a call from a group called Orleans, and they want to do something. Blue Oyster Cult, Survivor - a lot of rock groups."
"People didn't believe. Kool & the Gang and Van Halen? How is that gonna work? They never thought that Kool & the Gang and Van Halen would work," Bell reflected as the tour made its way across California heading to tonight's show in San Diego. "Now that we have broken the ice, it's kind of like opening the door to a whole lot of other possibilities."
Bell can thank Roth, whose brainstorm brought the two bands together. Roth had seen Kool & the Gang in London and invited them to join Van Halen's 2012 tour, which was to have run through the summer.
"David Lee told me that they were the rock band of the '80s and we were the pop-funk band of the '80s. And he said to me, 60 percent of their audience is ladies. You guys are the ones who wrote 'Ladies Night.' Why not let's go out and have a party, Kool? That's how it started out here in L.A.," Bell said.
For the last three months, it's been just that as the band known for such high-energy dance tunes as "Jungle Boogie," "Get Down On It," "Ladies Night" and "Celebration" won over fans of the band best known for hard-rocking hits "Hot for Teacher," "Jump," "Panama" and "Why Can't This Be Love."
"When we get to 'Ladies Night,' 'Get Down On It' and 'Celebration' - our last three songs - the ladies are on their seats partying. And they start looking at the guys, the hard-core Van Halen fans, and they start saying, 'What's the matter with you? You better get down on it. You came with me,' " Bell said. "By the time we get to the end of the show ... the hard-core Van Halen fans are into it."
Bell said his band agreed to open for Van Halen through June; they have their own summer tour that starts June 27 and includes stops throughout the U.S., and abroad in Lebanon and London.
As luck - or fate - would have it, the Van Halen tour is ending June 26 in New Orleans. Van Halen in May canceled more than 30 shows, later citing exhaustion, although some critics have suggested the tour was nixed because the band had fallen back into its notorious dysfunction.
"Now I'm glad we didn't agree to the summer tour," Bell said with a chuckle, downplaying speculation that fights between Roth and brothers Eddie and Alex Van Halen led to the canceled dates.
"For the most part, they're working it out. It's not smooth sailing all the time, but they ... know what to do and not to do with each other," he said. "Kool & the Gang is the same way. We've been together over 45 years. We got together back in 1964, and we have four of the original members. You don't agree on everything but you agree to disagree, and that's what makes it work."
Bell said Kool & the Gang has a few projects, including new music set to come out later this year and a possible musical based on their hits.
Bell also is working on a solo album that pairs him with other artists in a duets project.
The tour with Van Halen has emboldened him to reconsider an idea he had a few years ago to do shows with fellow New Jersey artists Bon Jovi and Bruce Springsteen. He called it Jersey Boys and envisioned a full-blown tour.
"Back then they were like, 'Wow, that ain't going to work.' But now after Van Halen, the sky's the limit," he said. "It's like a new birth for us."
There's also a chance Kool & the Gang will reunite with Van Halen. Bell said there's talk about doing dates in Australia and Europe.
"That's what's been the conversation, but as I say, until the fat lady sings, it's only a conversation," he said.
• What: Kool & the Gang in concert.
• Where: Desert Diamond Casino Diamond Entertainment Center, 1100 W. Pima Mine Road.
• More: Catch Kool & the Gang with Van Halen at 7:30 p.m. Saturday at US Airways Center, 201 E. Jefferson St., Phoenix. Tickets are $24.75 to $144.75 through www.ticketmaster.com