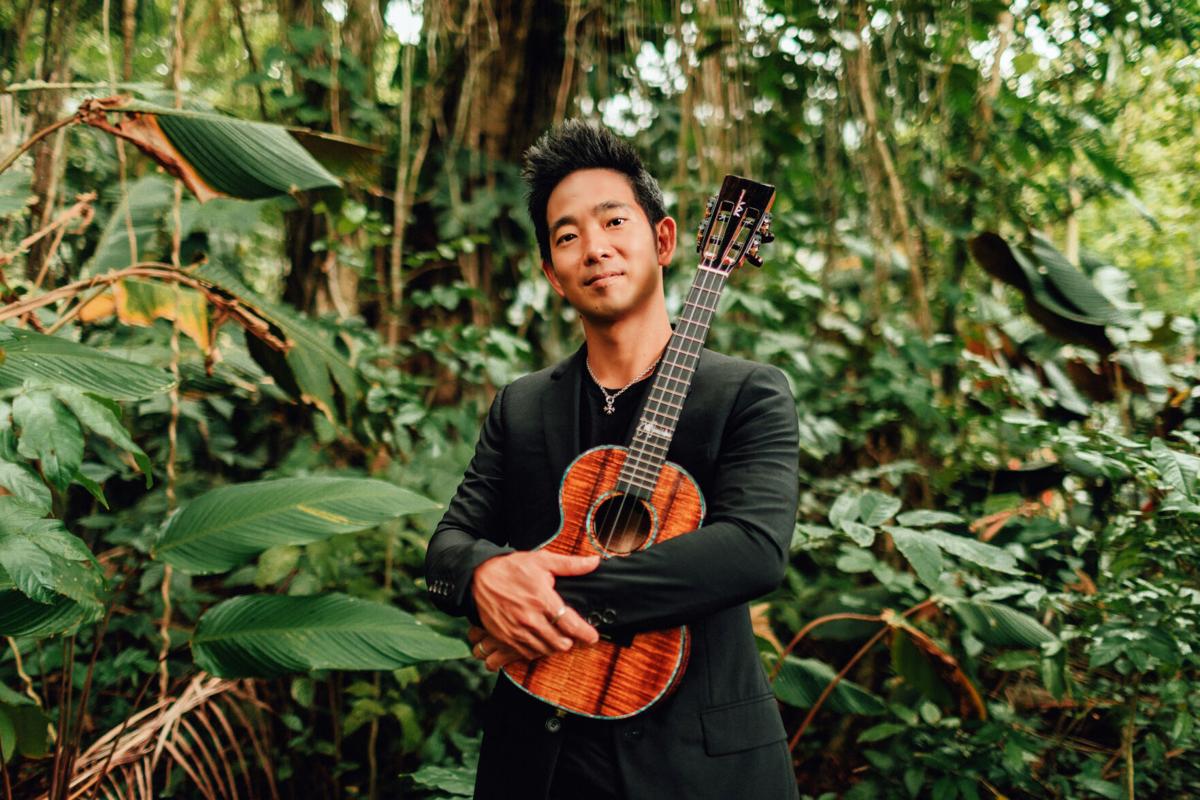 It's hard to imagine that not a single person in Tucson, over Jake Shimabukuro's nearly decade of regularly performing on our stages, has ever properly introduced the ukelele virtuoso to our signature culinary masterpiece: the Sonoran hot dog.
"How do you spell that?" the Hawaiian musician said during a phone call earlier this month to talk about his Christmas concert at Fox Tucson Theatre on Saturday, Nov. 27.
Once we gave him the low-down — bacon-wrapped hot dog, sizzled on a flat top, served with pinto beans, pico de gallo, mustard and mayo and stuffed in the pillowy soft, sweet only-available-in-Tucson-and-Sonora bun — he was sold.
We're hoping the folks at the Fox are reading this and will treat him to a pre-concert dog.
Here's a few other things we learned about Shimabukuro during our conversation.
New compilation album "Jake and Friends" dropped Nov. 12: "I should have called it 'Jake's Dreams Come True'," he gushed, then ticked off the list of top-shelf artists — many of whom he grew up listening to in his native Hawaii — that teamed up with him:
He and Willie Nelson covered "Stardust" while he partnered with Nelson's son Lukas on "Find Yourself." There's a cover of "All You Need is Love" with Ziggy Marley and "Wrapping Paper" with Ray Benson & Asleep at the Wheel.
But his mother's favorite among the 16 tracks? "The Rose" with Bette Midler, his mom's favorite singer.
"My mom used to play that song for me when I was a kid," recalled the 45-year-old father of two boys.
He and Midler recorded the song in Los Angeles and when he returned home to Hawaii, he played it for his mom, who was thrilled — and maybe a little bit hurt that Shimabukuro had not let her tag along to the studio.
Also on the album: collaborations with Jimmy Buffett, Michael McDonald, Moon Taxi, Billy Strings, Warren Haynes and Kenny Loggins.
The album was nearly four years in the making after it was stalled by the COVID-19 pandemic.
Christmas in Hawaii: Santa arrives on a surf board.
Hey, it's a tropical paradise, what did you expect.
"Our image of Santa is he has an aloha shirt on with shorts and flip flops and he's waving a shaka," Shimabukuro said.
"One of the things that our family does is we get together and everyone cooks and we have a meal that is always so amazing because everyone will cook something that they don't usually cook throughout the year," he added. "You get to eat all of these secret family recipes."
He's bringing a band and vocalist to the Fox: Don't ask Shimabukuro to sing unless you want to quickly clear a room.
"I'm a horrible singer," he confessed with a laugh.
But when he takes the stage on Saturday night, he will have a pretty fabulous vocalist sharing the spotlight. Thunderstorm Artis is so good that he came in second in the fall 2020 season of "The Voice."
"When I listen to him, I'm inspired. It's so incredible," Shimabukuro said, adding praise for bass player Jackson Waldhoff and percussionist Taku Hirano, who are also on the Christmas tour.
"When you have the opportunity to collaborate with other musicians. … I embrace it and I love it. ... When you play with musicians that have different experiences, then you can learn so much from them."