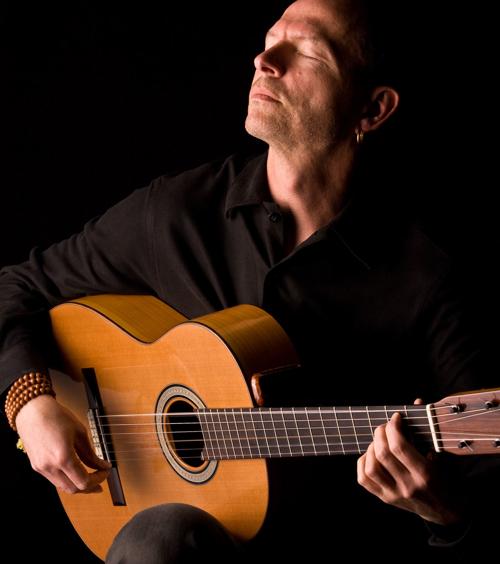 Ottmar Liebert likes Tucson in August.
The flamenco guitarist and his Luna Negra band seem to pick late August as the time to pack up the van and head West from New Mexico. Which explains why they are playing the Rialto Theatre on Tuesday, Aug. 28 — almost exactly a year after their last Rialto show.
"For years we came in the middle of the summer," Liebert said during a phone call from home in Santa Fe. "And every time I came, people said, 'Why are you doing this?' So we switched to late in August and that seems pretty damn nice."
That might be a bit of an exaggeration given that the temperatures still hits the century mark. But being a longtime New Mexico resident, Liebert doesn't let a little thing like some desert furnace blast knock him off his game.
A prolific recording artist with more than 30 CDs to his credit, Liebert returns with his latest album, "The Complete Santa Fe Sessions."
"It's definitely an unusual album. I came off a tour in 2001 with this eight-piece band and I wanted to capture some of that energy with the horn section. So we recorded this album and I called it 'The Santa Fe Sessions,'" he explained. "But there was something about it I just didn't love. So last year I went into the studio and pulled up one of the songs and got rid of a whole bunch of the tracks on that song. I just wanted to strip it and hear the music without it. And I really liked the result."
"Santa Fe Sessions" was released in 2003 but never digitally, so rearranging and stripping the album and adding a few more tracks to the original dozen became "The Complete Santa Fe Sessions."
"For some reason, there was some magic in the air and it came together and I really liked it," Liebert said. "I couldn't really tell you how that worked, but I was really pleased with the result and it seemed like a pretty logical thing to do because it had never been released digitally on iTunes and Apple Music and stuff like that."
"The original doesn't exist anymore; that's been sold out," he added, then joked, "I changed history. I did a little Orwell thing; this is really the album."
Contact reporter Cathalena E. Burch at cburch@tucson.com or 573-4642. On Twitter @Starburch.
Stay up-to-date on what's happening
Receive the latest in local entertainment news in your inbox weekly!