Mark Wystrach asked to raise the house lights and in a nanosecond Thursday night a soft white light pierced the darkness of Rialto Theatre.
"Holy shit," he said as he and his Midland bandmates Jess Carson and Cameron Duddy found themselves staring out at a sea of bodies stretching from the stagefront to the back of the theater.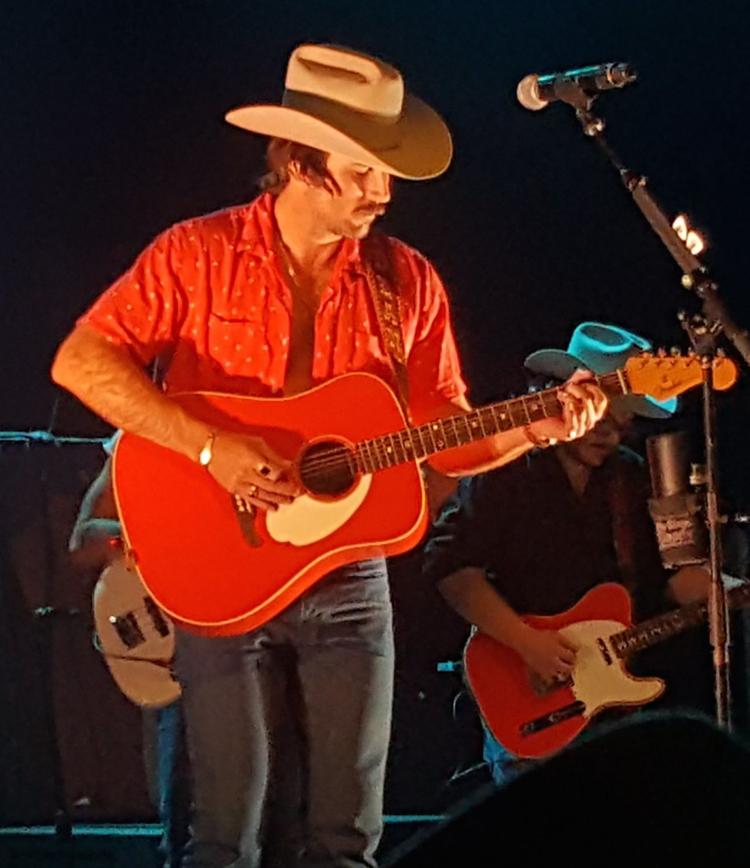 "Two-and-half years ago, we played the Rialto and there were 250 people here, and of them 220 were family and friends," he told the crowd.
The downtown concert hall's advertised capacity is 1,200, and it was every bit that full and some. Folks were stacked shoulder-to-shoulder with little wiggle room to inch your way closer to the stage. Some of the fans filling the balcony leaned into the railing for a better view. And sprinkled throughout the audience was several hundred of Wystrach's friends and family from Sonoita, bused in on a charter that was parked a block over from the Rialto, and pals from Salpointe High School, his alma mater. One tossed a Salpointe alumni T-shirt on the stage and when he picked it up, Wystrach looked like he'd just been given the coolest toy in the toy store.
But the majority of Thursday's audience had no personal ties beyond hometown pride for Wystrach, and even that was not the real reason that they rushed to get a ticket when they went on sale weeks ago. The show reportedly sold out in hours.
Most were there for the music, soulful, neo-traditional country songs that take you to "This Old Heart" that needs a little break from being broken, and to the beer-soaked, smoke-choked thrill of an "Electric Rodeo" that's comes after you stumble into "Check Cashin' Country," a place where you pay your musical dues one tip jar at a time.
Midland has only been around four years and only came to the attention of the world outside the Texas honky tonk circuit two years ago. Yet their music sounds lived in, like it's been playing in our collective souls for a lifetime. Perhaps that's because Midland prefers its country more on the side of Johnny Cash and Keith Whitley than Sam Hunt or Florida Georgia Line. It's old-school twang — weaving contemporary story lines with pitch-perfect harmonies — with a cool throwback vibe, from the vintage clothes the trio is known to favor to their wonderfully matched vocal harmonies.
And on Thursday night, Wystrach and Midland had the audience sold. They played to the crowd as if they were still criss-crossing the Texas honky-tonk circuit — "The more you drink, the better we sound," Wystrach told the audience halfway into the 90-minute show. They sprinkled a couple cover songs into the set including a rollicking take on Tom Petty and the Heartbreakers' "American Girl" and a soulful turn at Bruce Springsteen's "Tougher Than the Rest," which they quickly learned was probably not necessary.
Midland may have only three singles so far off their months-old debut "On the Rocks," but fans Thursday seemed to know every word of every song they sang. Grant it, the volume from the crowd went up two or 10 notches when they sang those three radio hits — "Make A Little," "Burn Out" and their out-of-the-box No. 1 hit "Drinkin' Problem, which they saved for last — but some in the audience even chimed in on songs that weren't on the album including the hard-driving honky-tonker "Gamble," with Carson on lead vocals.
Wystrach and Midland are playing a sold-out show Friday night in Phoenix and on Saturday, they will play their biggest show to date on the main stage of California's behemoth Stagecoach festival.