As the sun sets over downtown Tucson on a recent Saturday, cars zip down North Fourth Avenue as people head to their favorite bars.
Off in the distance an electric, bluesy sound breaks through the noise.
It's coming from 57-year-old William Cerleiro, who is playing in front of the closed gates of the United Fire Equipment Co. a block from East Seventh Street. With a white electric guitar, red felt case, amp and distortion pedals, Cerleiro strums with cool confidence as groups of people walk by.
Busking — playing music on the streets for tips — has been a way of life for Cerleiro for nearly 15 years.
"It's enough money for gas or guitar strings to keep going," he said. "I would say my favorite part of street performing is learning the way people are. I've learned that there's all kinds of people; nice people, indifferent people and there's nasty people, but very, very few."
After moving to Tucson from Miami, Florida, in 1998, Cerleiro said he fell in love with the desert. As a musician, busking is something that came naturally. Over the years, Cerleiro said he's been given a lot more than just the money he earns from people tossing tips into his guitar case.
"I get a lot of gifts from people," he said. "It's not always money, sometimes it's rings, other jewelry or food. It's a great feeling to interact with people because they're so different and so diverse."
On any given day, downtown Tucson is filled with the music of street performers. For harmonica player Phil Nau, there is a culture around street performing in Tucson. As a homeless man, Nau said he turned to street performing for income and a sense of community.
"It ain't about the money," he said on that Saturday evening. "I like to stay in practice and I like to entertain people. I don't just play music, you know. I tell jokes, talk to people and just keep them entertained."
Nau also enjoys the camaraderie that comes with street performing. Buskers on Fourth take care of one another and share the space, he said, because they appreciate each other's talent.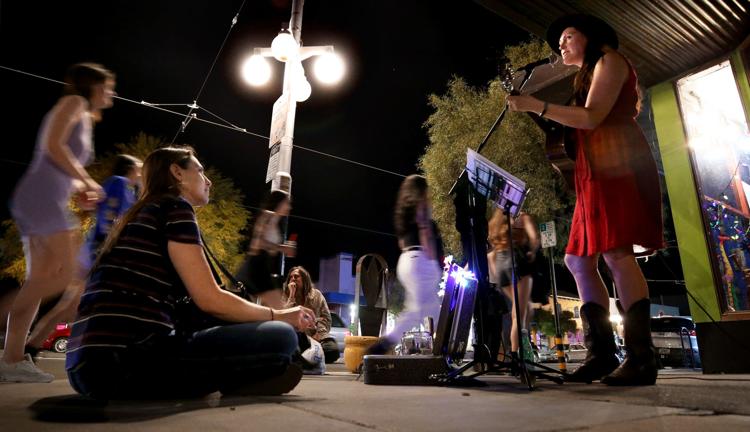 Singer, songwriter and guitar player Carra Stasney, known as Mamma Coal, has only busked in Tucson a handful of times since moving here in 2017. Although new to Tucson, Stasney is a seasoned busker who has performed on the streets of San Diego, Detroit and Portland.
"When I was living in San Diego, I made my Southern California rent by busking," she said.
Now 39 years old and the mother of two, Stasney isn't as focused on the money as she is the experience.
"I got out in Tucson doing it because I just needed to play," she said. "It's really good practice for the real stage and it also connects you to the community."
Stasney met someone on her second night busking in Tucson who persuaded her to enter a competition at the Tucson Folk Festival in April. She ran into them again at the festival and they complimented her on her wholesome sound.
"The nice thing about busking is that you're right in front of them," Stasney explained. "You can play what they want to hear and you have a much more intimate experience with your audience because you're super close. There's not a stage and there's not a barrier."
Stasney especially likes how supportive the Tucson community is to buskers. Before she set up on Fourth Avenue, she called the Tucson Police Department to learn the rules for buskers and what she needed to get started. When they called her back, she said they were very supportive and even listened to her music.
While buskers are not required to hold a permit in Tucson, they are required to adhere to sidewalk ordinances, meaning they shouldn't sit on the sidewalk, pile up their equipment or block the pathway in any way.
For Stasney, the only trouble she's had with busking in Tucson is getting into the Fourth Avenue Street Fair.
According to the street fair's busking application, street performers are required to pay $70 and are prohibited from selling any merchandise or using amplifiers.
"I just don't see how a busker who can't sell merch can recoup the $70 fee," Stasney said.
"And without amplification, a musician can't be heard. From my experience, there is little tipping unless you can be heard."
Stasney will take the music she plays on the street to a stage on June 9 when she is featured on the Arizona Originals songwriting showcase at The Maverick live country nightclub.
As the sun faded to darkness and the Saturday night crowd filled the sidewalks on Fourth, you could still hear Cerleiro's laid-back, jazzy rhythms. A group of young people danced past him and a pair on bikes yelled out "Yeah!" as they rode past. Cerleiro kept playing.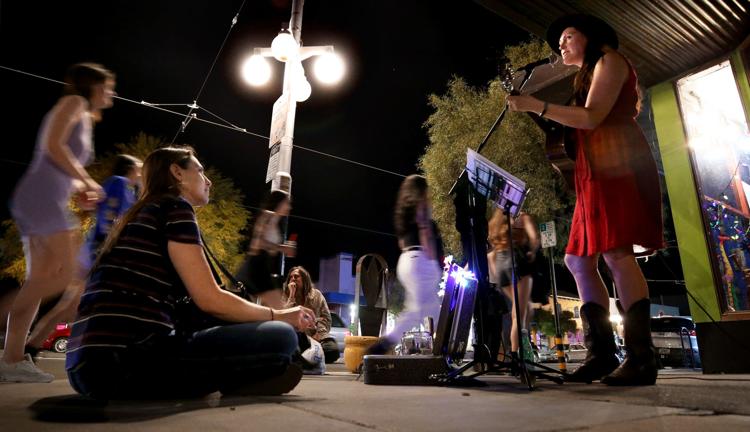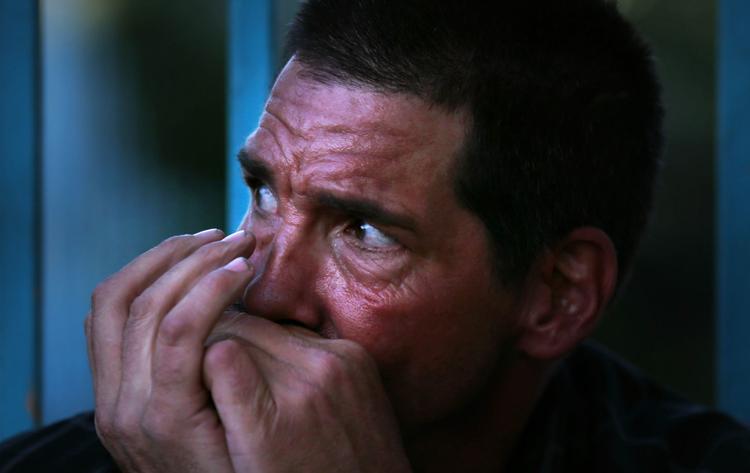 Jasmine Ann Demers is a University of Arizona School of Journalism student apprenticing at the Arizona Daily Star.