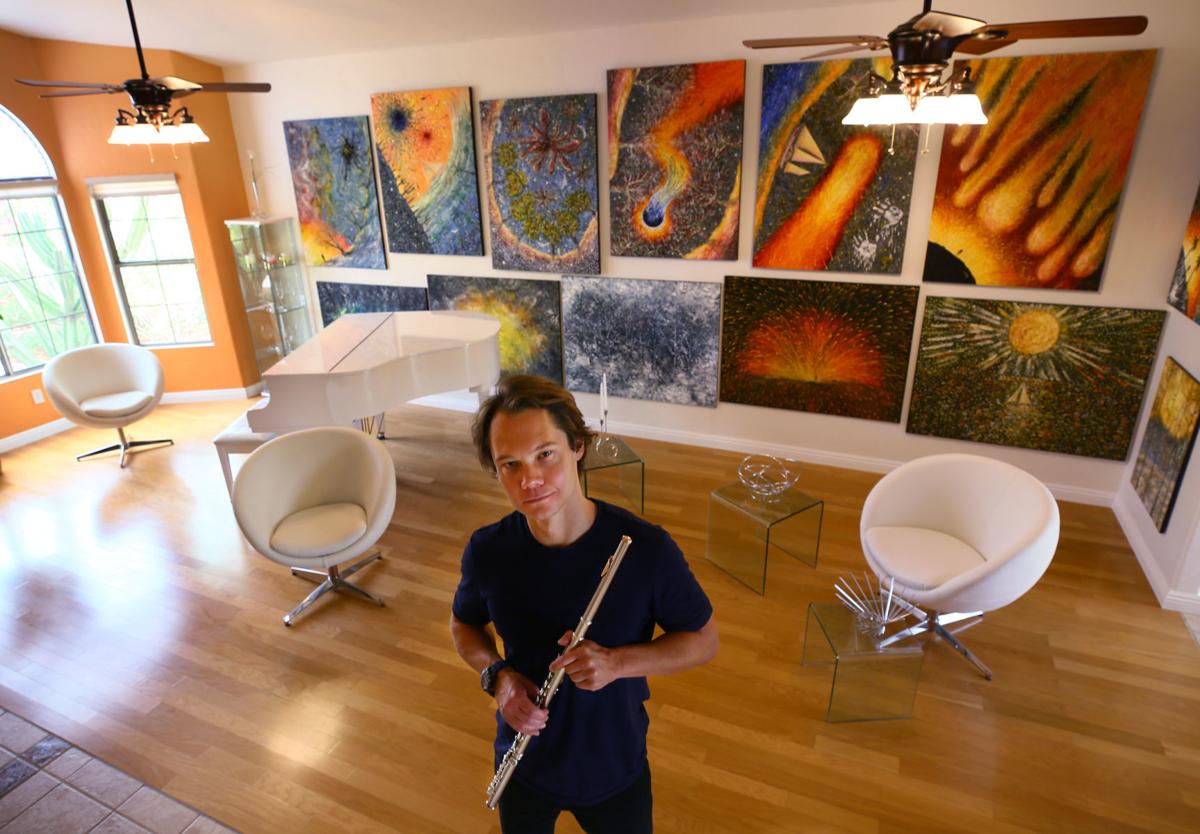 There's a glass case in Alexander "Sasha" Lipay's living room where he displays his most prized possession: a Grammy award he won in 2016 for engineering a recording with the Seattle Symphony.
Two lower shelves show off the certificates and medals he received for three other Grammy nominations.
Right around the corner is another prized possession, a framed certificate from the Guinness Book of World Records.
It reads: "The most standing ab wheel rolls in one minute (male) is 27 achieved by Alexander Lipay (USA) in Oro Valley, Arizona, USA, on 5 October 2016."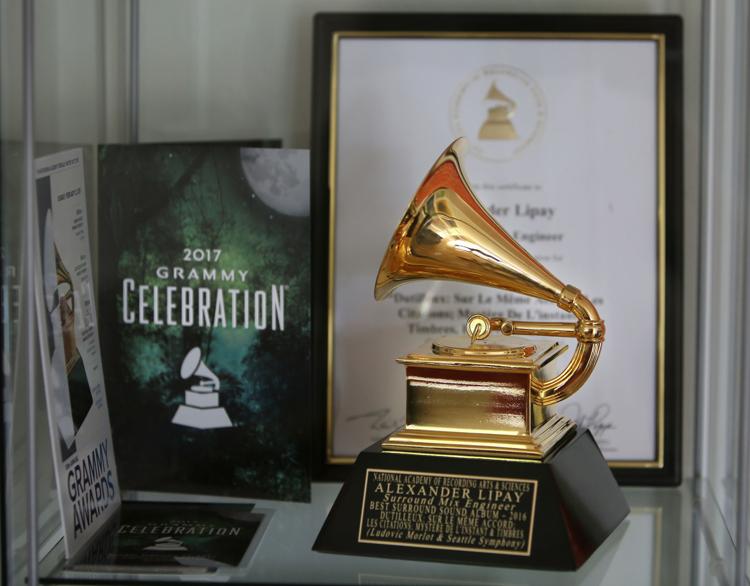 Most people who see the Tucson Symphony Orchestra principal flutist in concert are aware of the Grammy success and the work he does with his father, Seattle Symphony Orchestra recording engineer and producer Dmitriy Lipay. But few know of his athletic accolade.
"He's low-key in that way. He's not the kind of person who would broadcast his successes and all these things that he does either in person or on social media," says violinist Ben Nisbet, who has performed with Lipay since the Russian-born flutist arrived in Tucson in 2006. "He's kind of discreet in that way and I think that's how he can fly under the radar and do all these things he does, and yet it's a story that not a lot of people are necessarily aware of."
On Sunday, July 28, 36-year-old Lipay will slip into the role he's best known for, playing a solo flute recital with the popular St. Andrew's Bach Society summer concert series, which Nisbet runs. Dressed in his concert finery, fans won't see the definition in his biceps or his six-pack abs, the result of daily workouts that include five sets of 15 standing ab rolls.
"I'm a pretty athletic guy," he says, ticking off a workout routine that includes pushups, pullups, squats and weights.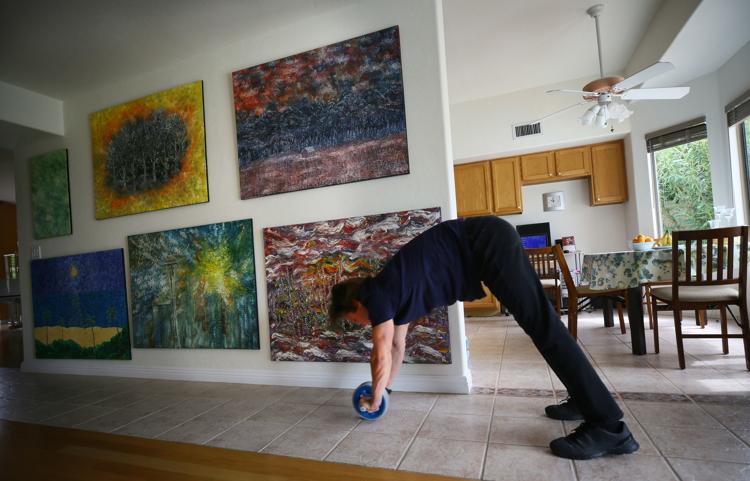 He's never played an organized sport, but he's always been athletic. When his family immigrated to Seattle when he was a teen, he told his parents he was interested in boxing.
"I was just a regular guy. I wanted to be in sports and I wanted to be a boxer, but my parents said no, you're going to get your teeth knocked out and you won't be able to play the flute," he recalled last week, standing in the living room of his Oro Valley home whose walls are decorated with dozens of 36-by-48-inch impressionist oil paintings he has done over the past decade.
Lipay picked up painting about 10 years ago as a hobby. He paints the desert landscape he sees from his second-story balcony facing the Pusch Ridge Mountains, and scenes from Seattle and California, where he went for college.
His paintings hang in the five rooms and two living rooms of his two-story home. Three of the bedrooms are for guests and another one is set up as a studio where you will find him these days editing a recording of Mahler's Symphony No. 8 that he and his father did with celebrated conductor Gustavo Dudamel and the Los Angeles Philharmonic. The album is expected to be released in the fall.
"I'm a big fan of impressionist artists like Vincent van Gogh, Degas, Manet," he said, pointing to paintings in one living room furnished with a white baby grand piano. "I just like to experiment on my own. I didn't want to take any lessons because if you take lessons someone is going to teach you a specific style and way of doing things. I wanted to experiment."
In many ways, painting is the antithesis of playing the flute.
"If you paint, you have no limits. You can kind of do whatever you want," Lipay explains in his soft Russian accent. "If you play Mozart, you have to do it a certain way. If you don't like your painting, you can paint over it. But if you mess up playing Mozart, everyone will know."
At home last week, Lipay happily demonstrated the ab rolls that landed him in the record books. Standing with his feet slightly apart, he bent over and rolled out into a plank position, then rolled back to a standing position.
After several of them, he stood up and smiled.
"See, it's not hard," he says.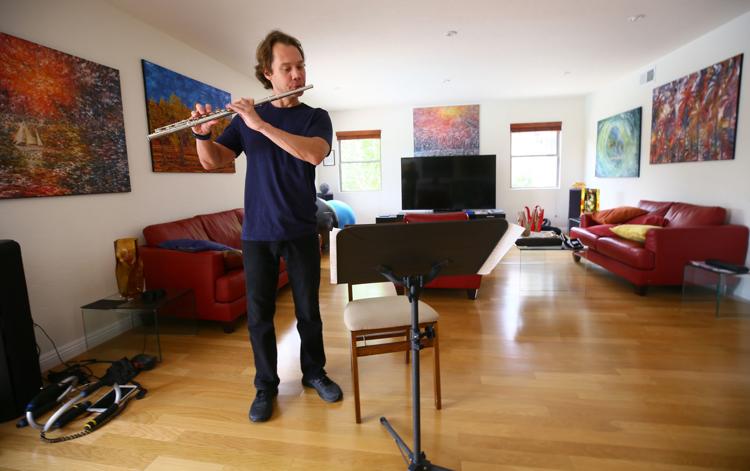 Contact reporter Cathalena E. Burch at cburch@tucson.com or 573-4642. On Twitter @Starburch.