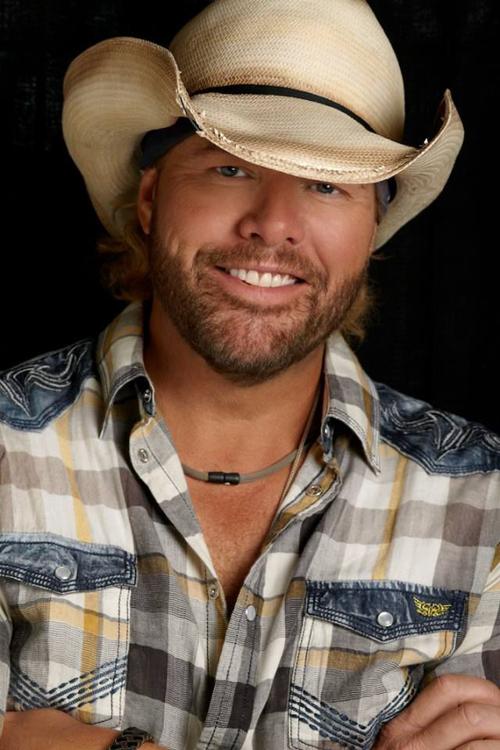 Toby Keith can hardly believe 25 years have passed since he scored his first No. 1 hit, "Should've Been A Cowboy."
"It doesn't seem like it was 25 years ago," the 56-year-old Oklahoma native said last week from his ski vacation in Beaver Creek, Colorado. "I worked so hard probably that first 15, 20 years of that, I worked so hard that I never pulled my head up long enough to even remember when it was 10 years old, or 15 years old or 20 years old. I heard it on the radio; they said, 'This song I'm gettin' ready to play was released 25 years ago tomorrow.' I was like, 'Hey what song is this,' and here my song came on. I was like, holy (expletive)."
So what do you do when you're breakout song, the one that made your career, marks such a milestone?
Keith's 20-city "Should've Been A Cowboy Tour XXV" opens in Utah April 6 and moves to Country Thunder April 7.
The tour gives Keith, who played a sold-out show at Casino del Sol's AVA in October, a chance to pay homage to the song that he credits with making him the country superstar he is.
"That song is so important to my career that I have never done a show that I didn't play that song," he said. "There's been so much great talent that I've known personally coming through the filters of Nashville and they didn't make it because they didn't hit it on their first or second songs. And then, years later, these same people who didn't make it, other people are recording their songs and having hits; they just didn't have the right ones out when they started. Fortunate for me, ('Should've Been A Cowboy') didn't just open the doors, it kicked in the walls. I had a great foundation to lay on."
"Should've Been A Cowboy," which he wrote and released on his eponymous debut album on Feb. 12, 1993, went No. 1 that November and stayed there for two weeks. But it was the song's staying power that truly propelled his career to the stratosphere he now enjoys: "Cowboy" was one of the most-played country songs of the 1990s.
Since that auspicious debut, Keith has released 19 studio albums. His latest, "Bus Songs," came out in September.
Don't expect any of the songs to hit radio or top the charts.
The 12 songs on the album are crazy novelties — some of them sexually suggestive, a couple politically incorrect and several peppered with mild profanity — that he and his band put together on the bus after their shows.
But that doesn't mean you won't hear Keith pull out one or two during his Country Thunder show.
"For some reason somebody said, 'Hey, do that 'Weed With Willy' song. You gonna do that tonight in the show?' And I say, 'Naw, that's just a bus song. That's just for sitting around on the bus and entertaining people sitting on the bus drinking a beer,'" he said.
So he added a couple more.
"It was just a fun thing to do," he said. "I started playing it out and fans started loving it."
As for how the album will do sales-wise and chart-wise? Keith isn't really worried.
He estimates he's got 70-something charted songs, 30-something of them chart-toppers.
"And a whole bunch of them was hits. My 'Red Solo Cup' never went No. 1, but it was big like No. 1," he said. "But there were certain radio stations that didn't play it. I think it ended up in the top five. It didn't matter. No. 1's a pat on the back, but I wouldn't have traded a No. 1 for 'Solo Cup.' You just kinda figure out which of these songs are we gonna play and try to get more songs in the show."
Are there any songs in his treasure trove that he doesn't play?
"I think maybe if you didn't write songs, you weren't a writer, you might have picked a song that 20 years later might make you cringe," he said. "But as a writer, they're all like little babies to you. You were there when they were founded, you watched them grow, you watched them finish. You watched them go into the studio and hit the radio. … At the end of the day, it's still just a blessing to have your own song. I don't cringe over the stuff that wasn't hits; I'm proud of it."
If You Go
Toby Keith headlines Day 3 of the 2018 Country Thunder Music Festival in Florence on April 7.
He is scheduled to go on stage at 10 p.m. after Big & Rich.
County Thunder Lineup 

Thursday, April 5, first show at 3:30 p.m.: A Boy Named Sioux, Bryan White, Adam Sanders, Lauren Alaina and headliner Cole Swindell.
Friday, April 6, first show at 2 p.m.: Harry Luge, Lukas Nelson, Neal McCoy, Drew Baldridge, Tracy Lawrence and headliner Jason Aldean.
Saturday, April 7, first show at 2 p.m.: Runaway June, Michael Ray, Williams & Ree, Cody Johnson, Big & Rich and headliner Toby Keith.
Sunday, April 8, first show at 2:30 p.m.: Michael Tyler, Morgan Wallen, Lindsay Ell, Brett Young and headliner Luke Bryan. 
Contact reporter Cathalena E. Burch at cburch@tucson.com or 573-4642. On Twitter @Starburch
Stay up-to-date on what's happening
Receive the latest in local entertainment news in your inbox weekly!