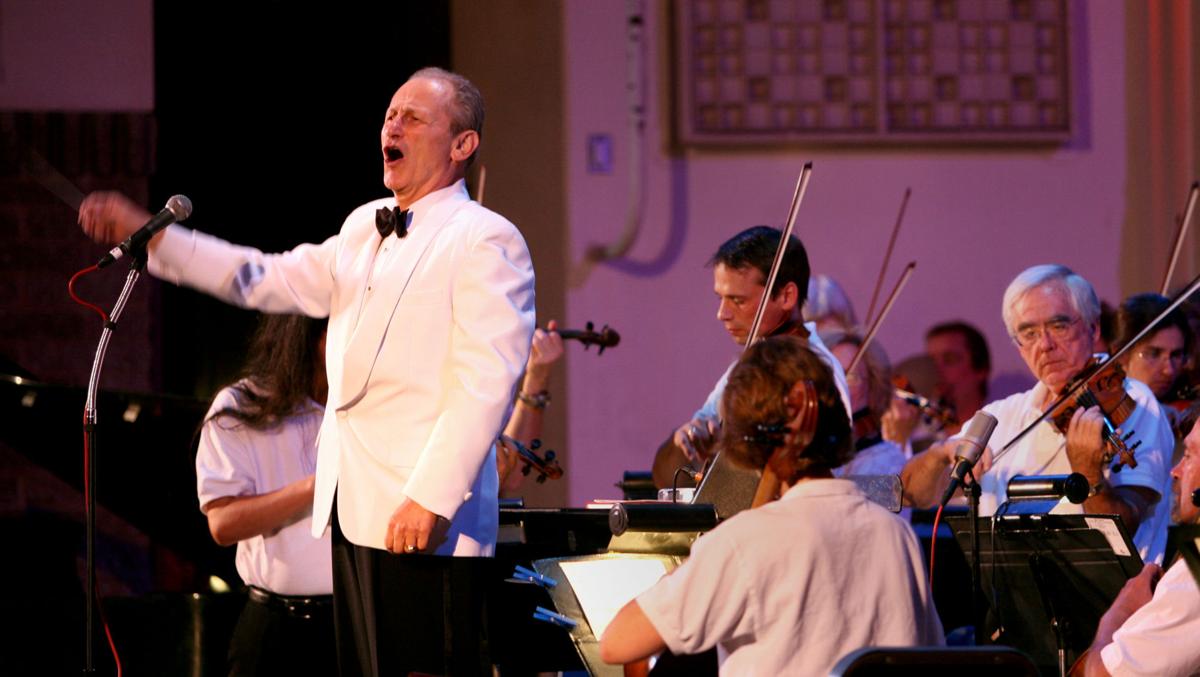 The Tucson Pops Orchestra and Arizona Public Media's KUAT-FM are teaming up to resurrect the orchestra's beloved Music Under the Stars Sunday night concert series.
While the orchestra, comprised mostly of moonlighting Tucson Symphony Orchestra players, won't be setting up in Reid Park's DeMeester Outdoor Performance Center bandshell anytime soon, their music will be playing on KUAT as part of the public radio station's community concert series.
AZPM will broadcast "The Best of the Pops" on four consecutive Sunday afternoons beginning Sunday, Sept. 6, and continuing through Sept. 27.
Longtime Tucson Pops Music Director László Veres and KUAT host Andy Bade — who also serves on the Pops board of directors — curated the series, picking three concerts from the Pops 2009 spring parks series and a fourth concert from the ensemble's 2012 series.
"We are playing whole concerts, all live. If you hear the mistakes, it's all there," Veres said. "Some of my talking will be in it, but it's not the same. When I talk I get the audience's reaction and you don't get that on the (recording). It comes up as a silence. But what you hear is what you get."
The Pops Orchestra last month announced it was canceling its fall Music Under the Stars series in response to COVID-19. But the ensemble is hopeful the health crisis will be under control by next spring when it plans to put on its springtime series beginning May 6, 2021, Veres said.
The orchestra also will release a new virtual performance of the Battle Hymn of the Republic, which 50 Pops musicians recently recorded from their respective spaces. The project is being edited by Pops Concertmaster Michael Fan and will be posted at tucsonpops.org and Facebook page (facebook.com/tucsonpops) in the next week or so, Veres said.
The Best of the Pops concerts will premiere at 3 p.m. Sundays and be rebroadcast on the following Thursday at 9 p.m. on KUAT-FM Classical 90.5 Tucson/89.7 Northwest.
The schedule and programs:
Sept. 6, rebroadcast Sept. 10: From the Memorial Day Concert on May 24, 2009, the program includes several patriotic Sousa marches and the composer's "Stars and Stripes Forever"; Broadway tunes including Richard Rodgers' "Carousel Waltz" and Andrew Lloyd Webber's "Memory" from "Cats"; and "America the Beautiful."
Sept. 13, rebroadcast Sept. 17: From the May 17, 2009, show featuring baritone Rodney Glassman. The program includes Glassman singing everything from Great American Songbook classics — "T.D's Boogie Woogie," "Come Fly With Me," "When I fall in Love" — to Hollywood movie tunes from "Gladiator" and classical (selections from Strauss' opera "Die Fledermaus").
Sept. 20, rebroadcast Sept. 24: From the June 7, 2009, show featuring soprano Nancy Davis Booth. The program includes "Donde Lieta Uscì" from Puccini's "La Boheme," Great American Songbook classics including "Chattanooga Choo Choo" and "What A Wonderful World," a Gershwin medley and an aria from Mozart's opera "Figaro."
Sept. 27, rebroadcast Oct. 1: From the June 3, 2012, show, the program includes two works by Tucson composer Richard Faith ("Legends — An Overture" and "Festivals"), Broadway tunes from Andrew Lloyd Weber and the Sherman Brothers, and classical selections from Robert Wagner, Johann Strauss.
The broadcasts are supported by Long Realty Companies, which have long championed the Pops Orchestra, and the orchestra's patrons. Public donations also are being accepted.