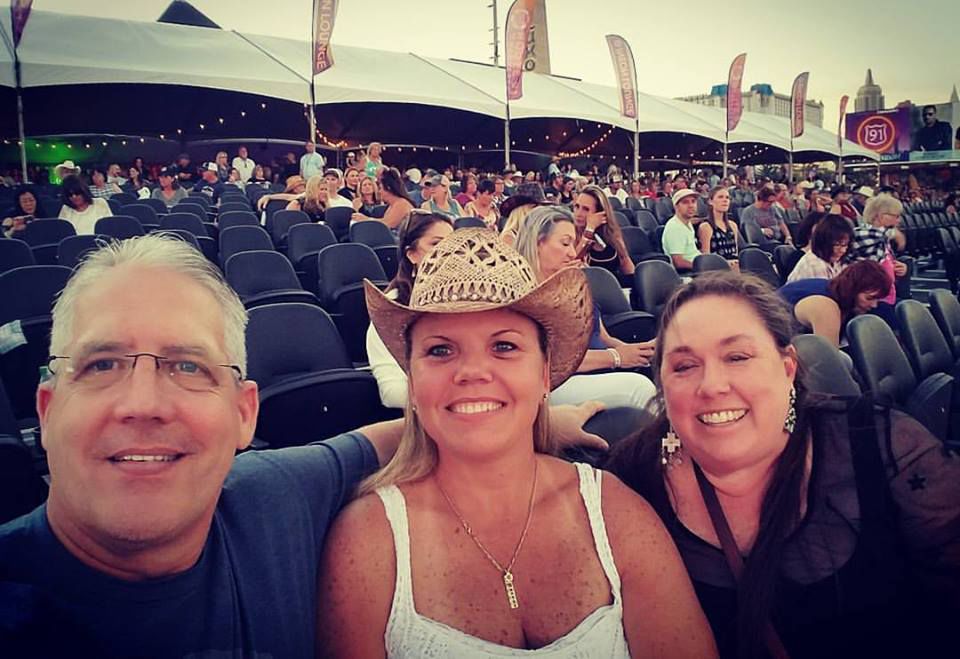 It sounded like fireworks at first, but when they realized it was gunfire, Mark and Misty Lacy and fellow Tucsonan Deborah Jane Power found themselves in the middle of the worst mass shooting in modern U.S. history.
More than 500 people were injured and at least 59 were killed in the shooting late Sunday night in the finale of the three-day Route 91 Harvest Festival in Las Vegas.
A sniper perched on the 32nd floor of Mandalay Bay Hotel, across from the makeshift parking lot amphitheater on the bustling Las Vegas Strip, fired into the crowd of 22,000 four songs into headliner Jason Aldean's festival-closing concert.
"Nothing that I've witnessed being in Saudi Arabia, Turkey, Honduras — I've seen nothing like this," said Lacy, a retired military law-enforcement officer who serves as a National Guard reservist in Tucson. "It's something that will not be easy to erase out of my mind."
Lacy and his wife, separated in the chaos from Power, joined other concertgoers to help victims reach safety.
For two hours, he carted victims in makeshift gurneys created from barricades and tables to an area where people in their cars took the wounded to hospitals. An emergency staging site was created once ambulances were given the all-clear to enter the festival grounds.
"The guy next to me was shot in the head. He didn't make it. We tried to get him out," Lacy said Monday morning, still unable to shake the images of the victims. "Another lady was shot; we got her out of the area. Then we started evacuating people. ... There was so many bodies and we started assessing who needed help."
Lacy had assumed that Power, a Tucson doctor, was off helping victims as well.
But Power had been swept up into a crowd of concertgoers ushered to safety away from the festival grounds next to the Mandalay and the shooter.
"They were yelling at us to run. I don't think they were police. But they told us to run to the Tropicana," Power said Monday morning from her hotel room in Henderson, Nevada, recalling how she hid for 30 minutes behind a giant air conditioner in the back of the Tropicana until she saw ambulances arriving and realized the shooting had stopped.
First responders were loading the wounded into the ambulances, but Power said she wasn't sure if the victims were injured at the festival or at the Tropicana.
"The rumors were that there were multiple casinos involved and multiple shooters," she said. There were even rumors of bombs planted in some casinos, she added.
At the Tropicana, she and the other concertgoers were told to run to the nearby Hooters, which emergency workers had assured them was safe.
"When I got around the backside of Hooters there was a woman in a car and she said, 'Do you need a ride somewhere?' I said, 'Yeah. Yeah I do'," Power recalled.
It was nearly 2 a.m. when the Lacys finally got to their Henderson hotel and reunited with Power.
All Lacy, who left the military 11 years ago, wanted to do was close his eyes and have those images of the injured and the chaos disappear.
"When you see parts of individual's heads off and lifeless individuals that look like they're sleeping but there's no pulse and you don't know what's happened," he said, his voice trailing off.
"It's just something you're trained for, but you don't necessarily think at a concert you're going to have to do that."
Contact reporter Cathalena E. Burch at cburch@tucson.com or 573-4642. On Twitter @Starburch
Stay up-to-date on what's happening
Receive the latest in local entertainment news in your inbox weekly!