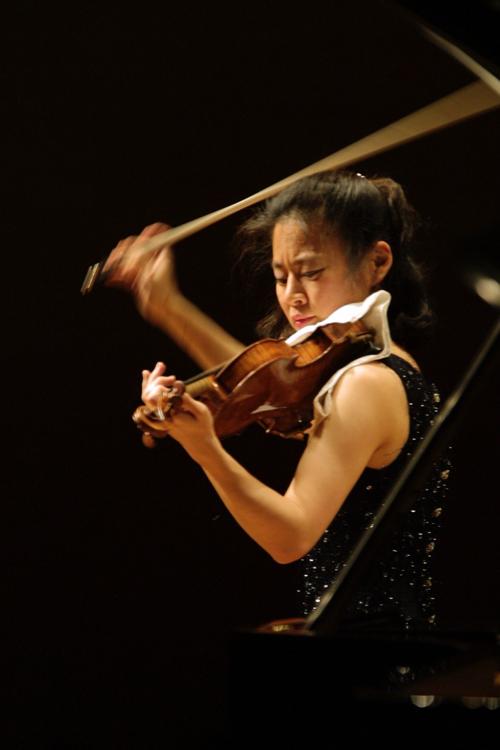 Japanese-American violinist Midori Goto — simply Midori — made the front page of the New York Times when she was just 15 years old.
She was performing at the famed Tanglewood Music Festival under the baton of Leonard Bernstein. At the time, she was already four years into her career, which she launched with a surprise appearance with the New York Philharmonic as the guest soloist at the 1982 New Year's Eve Gala.
In the three decades since, Midori, who teaches at the Curtis Institute of Music, has carved out an impressive international career. On Friday, Nov. 2, she returns to Tucson to perform an encore to her 2012 Tucson Symphony Orchestra debut.
"I am looking forward to returning to Tucson to perform the Brahms concerto," said Midori, who also holds the Jascha Heifetz Chair and is a Distinguished Professor and chairwoman of the USC Thornton School of Music Strings Department. "Needless to say, this work is one of the most beloved — and most challenging — in our repertoire. I have always loved playing it."
We caught up with Midori via email to chat about Friday's concert.
On her relationship with the Brahms
"I feel like I've known this concerto for as long as I can remember, and I have played it since when I was in my pre-teens,. I have most recently played this in South America and Germany, just in the last few weeks. As with any piece of music, I feel that the piece has had a life of its own inside me, and in the interaction with life's passing, it has constantly been changing. It is not simple to verbalize what the changes are exactly, but as life takes on years for each one of us, it partly shapes who we are, how we react, and how we respond. As a consequence, pieces we play and perform are inevitably affected by it."
On getting into the zone
"I've always loved to play the violin and to perform. There is something I love about being on stage and just being at one with the music. Some call it as 'being in the zone'; I call it simply as 'concentration.'"
On the power of music
"Music has the power to console, to inspire, to soothe, to express, to excite, to energize people."
Contact reporter Cathalena E. Burch at cburch@tucson.com or 573-4642. On Twitter @Starburch